The Simpsons had a little fun with its new corporate parent Disney on Sunday night just days before the launch of the Disney+ streaming service that will house thousands of hours of content from Disney, Pixar, Marvel, National Geographic and Lucasfilm.
In the opening credits of Sunday's episode, "Marge the Lumberjill," the Springfield town billboard stand showed a poster for Lisa and Bart Simpson's favorite The Krusty the Clown Show reading, "The only thing not on Disney+" complete with a picture of a solemn looking Krusty.
The credits gag is a humorous nod to the sheer volume of content that Disney has managed to pack into its new Disney+ service, launching on Tuesday. Disney's streaming library will include all the movies from the Marvel Cinematic Universe, its animated hits like The Lion King and Toy Story, and all of the Star Wars films.
In addition to its own works, Disney's acquisition of 21st Century Fox last year means that Disney+ is also the exclusive streaming home to 20th Century Fox movies such as Avatar, Home Alone and The Sound of Music, and all 30 previous of The Simpsons, which were previously available on Hulu.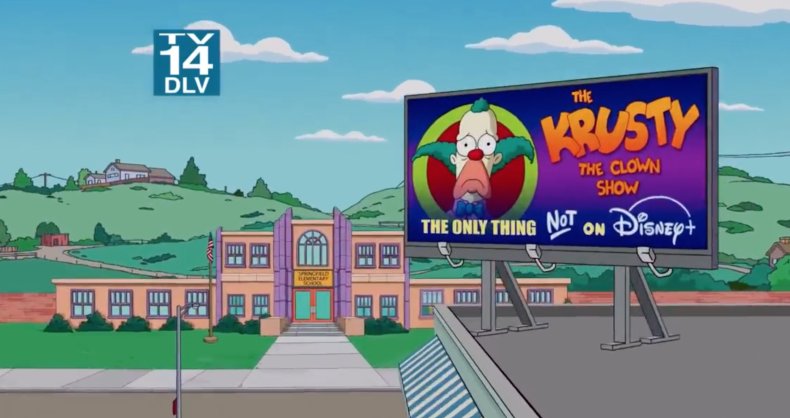 It seems the only shows missing from Disney+ are episodes of The Krusty the Clown Show and The Itchy & Scratchy Show, both of which are fictional children's shows watched by the Simpsons children in the long-running animated hit. (That said, earlier seasons of Krusty may not be appropriate for family-friendly Disney+ given original co-star Sideshow Bob's subsequent murderous fall from grace.)
The Simpsons has previously made jokes about its new home in the halls of Disney. In April, the Simpsons appeared in a promotional skit announcing the show's inclusion on Disney+ with Homer Simpson saying, "I, for one, salute our new corporate overlords." The clip featured statues of Star Wars' Darth Vader and Disney CEO Bob Iger, while a framed picture of Rupert Murdoch, 20th Century Fox's previous owner, was spotted in a trashcan.
Just last month, another teaser for Disney+ featured the Simpsons family dressing up as Disney-owned characters to plug the new streaming service. All of the family complied except a reluctant Bart, who was less than thrilled to don Mickey Mouse's nose and ears.
Sunday's Simpsons episode also featured some Fox network synergy as the residents of Springfield attended a school talent show that parodied Fox's hit The Masked Singer. The Fox network is still owned by Murdoch under a new company, Fox Corporation, which also owns Fox News.
The below graph, provided by Statista, shows the major properties owned by Disney and how they could chip away at Netflix's customer base.