'The Simpsons' Shows Trump Bribing Mueller Over Russia Probe in Twitter Cartoon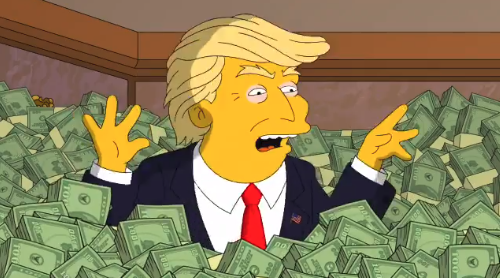 The Simpsons continued its long-standing tradition of mocking President Donald Trump on Thursday in a Twitter video that showed him giving a bribe to special counsel Robert Mueller.
The nearly-two-minute-long video opens with Attorney General Jeff Sessions, caricatured as short in stature and with large floppy ears, picking up Mueller, who carries a suitcase emblazoned with the letters "F.B.I."
Related: "The Simpsons" predicted Disney owning 20th Century Fox 19 years ago
"You're not taking me to see the president? You know I can't," Mueller says.
"What are you talking about? Our president would never stay in an overstated rip-off joint like this," Sessions replies. The cartoon cuts to an image of the controversial Trump Hotel in Washington, D.C.
The pair enter the building through a door with a plaque stating "Russians welcome" and walk down a hallway. After pushing Mueller through a door into the meeting with Trump, Sessions flutters away with the aid of his oversized ears.
"Don't worry, I'm not going to fire you," Trump, whose hair is depicted as a small dog, tells Mueller. "I wanted to share something with you," the president says. He then unleashes a cascade of cash on them both, which reaches up to their necks.
"That's $750 million, Bob," Trump says. "There's never been a bigger one. I do the best bribes, everyone says so—the best! Everyone says so."
Mueller refuses the bribe and Trump interrupts the special counsel and then says he was trying to pardon himself. Mueller and then Trump leave the room as a woman dressed as a maid comes in to clean the room.
"I don't see any money and neither do you. I was never here and neither were you," Trump says as he swims out through the sea of money.
The maid then reveals herself to be the mayor of San Juan in Puerto Rico, Carmen Yulin Cruz. "Finally, Puerto Rico catches a break," she says, before collecting up the funds with a vacuum.
The video ends with an appeal for relief aid for the victims of Hurricane Maria in Puerto Rico. The cartoon has previously mocked President Trump over his response to the disaster when he threw paper towels to Puerto Ricans on a visit in September.
In 2000, The Simpsons predicted Trump would one day become president. In 1998, the program also predicted yesterday's $60 billion deal in which Walt Disney agreed to take control of Rupert Murdoch's 20th Century Fox Inc.
In the episode, now 19 years old, the 20th Century Fox logo bore the subtitle "A Division of Walt Disney Co."