'The Simpsons' Boss Al Jean on Three Decades of 'Treehouse of Horror' Halloween Special and Episode 666
Fox on Sunday (October 20) will air "Treehouse of Horror XXX," the 30th Halloween special from The Simpsons, which is also coincidentally the 666th episode of the show.
For a special that was at first only going to last for two seasons, "Treehouse of Horror" has become a yearly Halloween tradition, with fans eagerly awaiting the latest appearance of Kang and Kodos and the latest horrible happenings.
Al Jean, a producer on The Simpsons since its very beginning, said he was once surprised at how much of a tradition the Halloween special has become. He told Newsweek: "After the first one, we knew we were going to do it again next year and when I saw the completed first one I thought [it] was unbelievable.
"But I will admit when we got to Season 4 I thought, 'Are we going to do these every year?' And 25 years later we're still doing them."
For "Treehouse of Horror XXX," The Simpsons will take aim at one of Netflix's most-watched shows as well as an Oscar-winning film.
Jean teased: "We have a Stranger Things parody, we have a segment where Homer dies before he's supposed to so he switches into the body of other people like Heaven Can Wait, and we have a Shape of Water-like romance between Selma and Kang in which Homer is happy because Kang wants to take Selma into another galaxy for the rest of her life.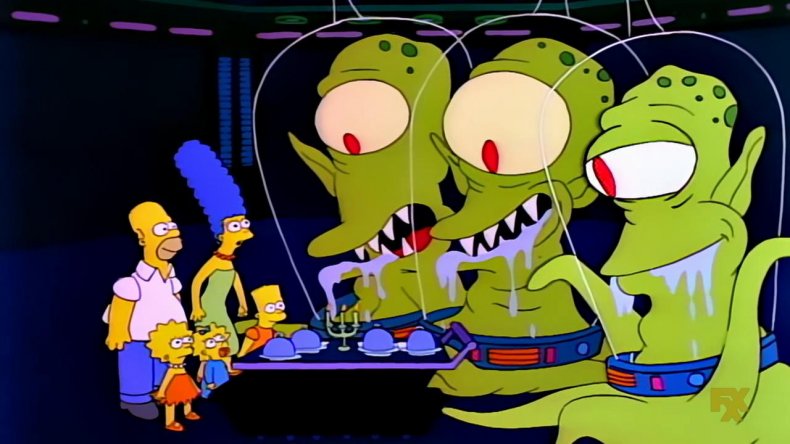 "It also starts with a little bit of a tribute to The Omen because this is Episode 666—which is this amazing coincidence."
According to Jean, it was a segment in the first-ever "Treehouse of Horror" that showed the concept would be worth doing again, as it allowed writers to exercise their creativity while staying true to The Simpsons' sense of humour.
In a segment titled "The Raven," the show does a fairly straight recreation of the Edgar Allen Poe poem of the same name, with Homer as the protagonist and Bart as the eponymous bird. Then, however, "Matt Groening wanted a little more Bart in it," Jean said, "so we pitched Raven Bart saying 'eat my shorts,' which was put in the final form."
From that point, "Treehouse of Horror" could include almost anything the writers could think of, leading to some of the most memorable moments in the show's three-decade history. Looking through the 90 segments so far, Jean picked three favourites: Clockwork Orange parody "A Clockwork Yellow" (from "Treehouse of Horror XXV"), "It's the Grand Pumpkin, Milhouse," a spoof of the classic Charlie Brown special (from "Treehouse of Horror XIX") and "Citizen Kang" (from "Treehouse of Horror VII"), which saw Kang and Kodos become presidential nominees Bill Clinton and Bob Dole.
Asked if there were any ideas for segments that he'd wanted to do but could not, Jean remembered an idea that was scrapped for an anime parody, based on Spirited Away and Howl's Moving Castle. Though it did not end up airing on Halloween, the segment did end up inspiring Season 25 episode "Married to the Blob," which features Homer entering a Studio Ghibli-like kingdom.
Speaking about the best "Treehouse of Horror" segments, Jean gave special mention to "Homer³," the visually-groundbreaking segment that featured a 3D computer animated Homer a month before Toy Story became the first full-length CGI movie.
Jean said: "That was great, it really pushed what you could do on a television show. Even watching that now, it's still amazing. It's the only live-action moment we've ever filmed, where Homer enters the real world and is walking around. In fact, we still have that 'erotic cakes' neon sign from that segment... our one prop!"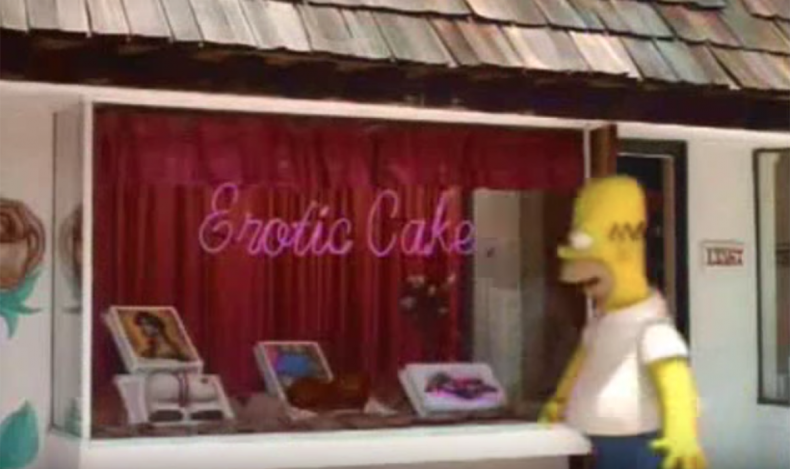 While some parts of "Treehouse of Horror" break the mold, others have become traditions of their own, like the convention where each person on the credits has to think of a new 'spooky' name. According to Jean, each person comes up with their own name which can be anything as long as it is not too lengthy or too obscure, and as long as it conforms to broadcast regulations.
The original idea to do this was Jean's, based on the writers of EC Comics who would occasionally write under spooky pseudonyms like "Oozing Joe Orlando" and "Kreepy Jack Kanan." Previous examples include Bat Groening, James Hell Brooks and The Shaws-Hank Azaria. Jean's personal favourite spooky names were the ones in the two years after his writing partner Mike Reiss left the show, where he was credited as Al "I Murdered Mike Reiss" Jean and Al "I Still Murdered Mike Reiss" Jean.
There is no time to think about past successes, however, as the writing team is hard at work on "Treehouse of Horror XXXI" for Halloween 2020.
Jean said: "We're writing a segment next year on the 2020 election so who knows how that will turn out... we can always write it and reanimate it within a few months."
The Simpsons' "Treehouse of Horror XXX" airs Sunday, October 10 on Fox.