'The Sims' 20th Birthday: Fans Bash 'Disrespectful' 'Sims 4' Celebration Patch For Only Adding One Free Hot Tub
The Sims turned 20 years old on February 4, 2020, and franchise publisher EA is celebrating with a giveaway on PC, Mac, and consoles, and with new items and updates for The Sims 4.
However, fans were less than impressed with the birthday update, which included the hot tub from the original The Sims game. Some players were underwhelmed that the update only included the hot tub as they expected a collection featuring items new to The Sims 4.
A thread in The Sims subreddit was set up for fans to express their disappointment, with Reddit user @momonoko saying: "Honestly, they could give me the most exclusive, beautiful, golden hot tub and I would still be mad for it being the anniversary gift unless it paid my bills, finished my degree, walked my dogs and gave me a massage at the end of the day. As someone who's been religiously playing and supporting The Sims for so many years, I'm kinda embarrassed for them."
Twitter user @o_kai21 said: "I personally think it's disrespectful and a slap in the face to us who have been playing for 20 years or close to it. I don't mind a hot tub, but for that to be all they do for the 20th anniversary is gross."
@jatticusmarc on Twitter said: "This is just like when men forget about their anniversaries and buy last-minute s**t gifts for their wives..."
Twitter user @Fircerygamer4527 said: "How disappointing Sims team and EA, So what we get for 20th anniversary is a giveaway and a recolored bathtub from a stuff pack, Wow, at least release The Sims 1 and 2 on Origin, Steam and GOG, goshdarnit!!"
@TouchMyGaga simply said: "I have no words" with a picture of a clown Sim.
Others are upset as they paid for the Perfect Patio stuff pack just for the hot tub, which is now available for free for everyone.
@JoshCG on Twitter said: "I love you The Sims but please stop recycling objects that we paid for and then making them free, it was the 20th anniversary, it needed to be really special, I think simmers care more about this game than EA."
Twitter user @braesunny said: "I'm disappointed because hot tubs was why I bought the Perfect Patio stuff pack. I want my $10.59 back. It's great for people who didn't buy the pack, but as someone who did it really sucks."
@simsgirl124 said: "Don't get me wrong I appreciate the thought but it's a little disappointing considering I paid for this in an expansion pack"
The Sims 4 Updates
Other than the hot tub, there are a few more new additions to The Sims 4, including a statue of "The Child", or Baby Yoda, from The Mandalorian, on consoles. The Baby Yoda statue was initially released on PC and Mac in December 2019.
Additionally, the game has been updated with new music, including "JEKYLL & HIDE" by Bishop Briggs, "Take My Hand" by Charli XCX, "We Are Young" by fun. feat Janelle Monáe and "Violet Stars Happy Hunting!" by Janelle Monáe.
For a full list of updates on The Sims, which include quality of life bug fixes across various expansion packs, check out the EA website.
Newsweek has contacted a representative for The Sims to ask if any other items will be added to celebrate the anniversary.
The Sims thanked its fans in a statement: "Twenty years ago, we never could have imagined that The Sims would be where it is today. But you made it happen. We're still here—and thriving—because of you, the community.
"Your passion for this game drives us to keep creating every day, just as it has for the last two decades. We're grateful for everything you do, from helping us create a new Stuff Pack to repping your love for The Sims with merch."
The Sims Giveaway
The Sims is celebrating the anniversary with giveaways of packs, although hardcore simmers who own all the packs are disappointed that there's nothing that they can win.
The Sims tweeted: "In celebration of our 20th birthday, hundreds of randomly chosen Simmers will receive TS4 expansion, game, and stuff packs via Origin wishlists! For those lucky winners, a gift will appear in Origin within the next 24 hours."
While PC and Mac players could be randomly gifted expansion, game, and stuff packs through Origin wishlists, console players can enter a giveaway on Twitter to win a pack of their choice.
To enter the giveaway, console players must share how they have brought The Sims to life, for example through fan art, costumes, and recipes, with the hashtag #TheSims20thBirthdayGiveaway on Twitter.
Twitter user @aldanachem said: "And is there something for those who already bought the game and the expansions these 20 years? We demand an anniversary game pack."
The Sims has also launched an apparel collection on Threadless featuring Plumbobs, characters, and famous phrases including "woohoo."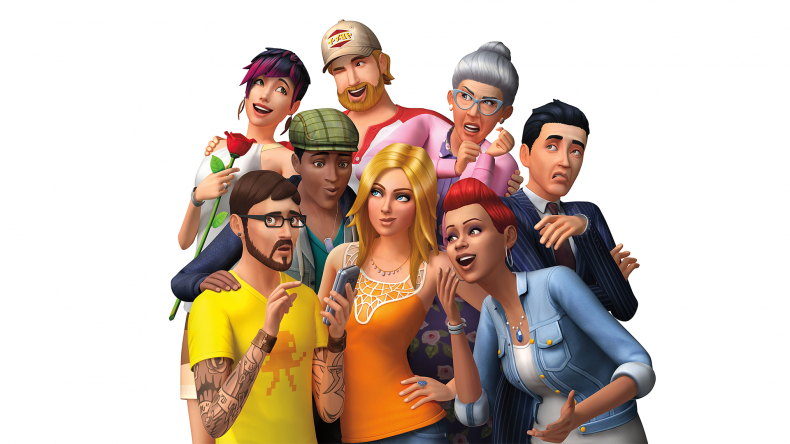 The Sims players share their favorite memories
While many players were disappointed with the giveaway and update, The Sims players are still celebrating the 20th anniversary by sharing their favorite memories of the game.
Twitter user @negaoryx said: "Growing up, I woke up early every weekend to play The Sims. It taught me so much about creating characters and telling stories through games. Thanks for 20 years of removing pool ladders and accidentally setting the kitchen on fire. Here's to many more".
Twitter user @juuljjong said: "nobody will ever scare me like the sims will" and shared a screenshot of their Sim receiving prank calls which said: "The end is near. Make preparations" and "They're coming soon. Maybe you should think twice about opening the door".
@Darthtelle on Twitter said: "I don't understand how The Sims is 20 years old. I don't understand how I've been playing The Sims for 20 years. I don't understand why I'm not playing The Sims right now."
You can buy The Sims 4 for PC, Mac, Xbox One, and Playstation 4. Additionally, from February 4 until March 4, Playstation Plus subscribers can download The Sims 4 for free.
Newsweek has affiliate partnerships. If you make a purchase using our links, we may earn a share of the sale.