How The Sims Helped Jessica Williams Remember To Shower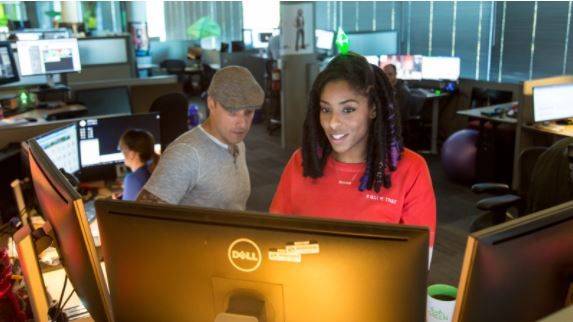 Jessica Williams loves The Sims so much, she plans out her gaming sessions in advance. Last weekend, the former Daily Show correspondent and 2 Dope Queens host had an appearance scheduled at Northwestern University.
"When I'm done with that show, I can go back to myself and turn on House Hunters and play The Sims while I'm watching TV and relaxing," Williams told Newsweek. "There is something pretty comforting about it. It's with me because it's on my laptop, so I carry it everywhere."
Williams and her brother have been fans since the original Sims game released in 2000, when she was 11 years old. The franchise has come a long way since Williams first played almost two decades ago, but she only recently made the switch from Sims 3 to Sims 4 after a recent visit to EA headquarters.
"I love The Sims 3. All the expansion packs -- World Adventures, Island Paradise, Supernatural -- were really fun. There were so many fun aspects, but it made my laptop kind of slow. I was really nervous when I went to Sims headquarters, because I love Sims 3 so much, but since then, I've been playing the Sims 4 and I love it. And my computer still runs super fast," she said. "It's really cool to see, at least for me, they do incorporate elements of the one million expansion packs they made for Sims 3 in more simpler and concise expansion packs now."
Expansion packs in The Sims aim to spice up the gameplay in unexpected ways. But vampires, witches and grim reapers aside, the game does allow players to create their own vision of a perfect world.
"That's one of the special things about The Sims, that you can be whoever you want to be. Now you can customize your Sim without gender boundaries, which rules. That to me is very progressive and exciting. You can date whoever you want, have whatever job you want, have as many kids as you want or have no kids. The Sims world is your oyster," she said.
Those values don't exist in other games, which is part of why Williams keeps coming back to The Sims.
"As I got older, I realized there were certain types of video games that I don't like. I found that I do love platform games and games where you can make a lot of choices. The Sims is great because it's good to be able to do that with such low stakes," she said. "It reminds me of when I was a kid playing dolls and make believe, except you get to see little mini people doing stuff at your bidding."
Like many Sims fans who have been playing from the beginning, the game serves a greater purpose for Williams. It's a way to both escape reality and replicate it, which has helped the busy actress and comedian stay mentally healthy during difficult periods.
"I've found that I do have anxiety, so there was a while years ago where I would be holed up in my apartment just playing The Sims and being anxious and realizing if I have to make sure that every 10 hours my Sim takes a shower, then I should get up and go take a shower," she said. "If I had to make sure my Sims are cleaning up after themselves, then I need to make sure I'm cleaning up after myself. It's a nice reminder of like, 'Oh, I should actually really take care of myself and go out and interact with humans more often.' And so it's really nice to get reminded about what life is supposed look like."
For our full interview with Jessica Williams, head over to our sister site Player.One to read the Q&A.
How The Sims Helped Jessica Williams Remember To Shower | Culture