'The Sims 4' Petition to Add Transgender Pronoun Option Soars With Close to 12,700 Signatures
A petition is asking The Sims 4 creator EA to reconsider its pronoun options in future game updates.
Created by Twitch streamer Momo Misfortune, the Change.org petition asks for non-binary and transgender-inclusive language to determine the gender identity of a Sim, instead of the game's default pronouns by body type.
"If we could have the option to choose pronouns for our Sim or for the team to switch older game texts to be gender neutral like current pack dialoged [sic] it would be impactful for those of us who are still unable to truly feel represented in the game by having our Sims selves misgendered," the petition read.
After a month of sharing the petition, Misfortune has received close to 12,700 signatures (at the time of publishing), with no implication that the petition's support will dwindle.
The Sims 4 has added a handful of transgender and non-binary options since its debut in 2014. "As far as inclusivity goes for non-binary folx in The Sims 4, the Sims has added a way for players to customize their sims gender in the way that their body looks," Misfortune wrote to Newsweek.
"You can select the physical frame, clothing preference, if your Sims can get pregnant or get others pregnant or whether they use the toilet standing or not. This was a big step in the right direction. However, say you are trying to make a trans masculine Sim. You pick a male base for the Sim, but maybe decide they want to wear feminine-based clothing. The shirts will still give the outline of a chest even if they don't have one."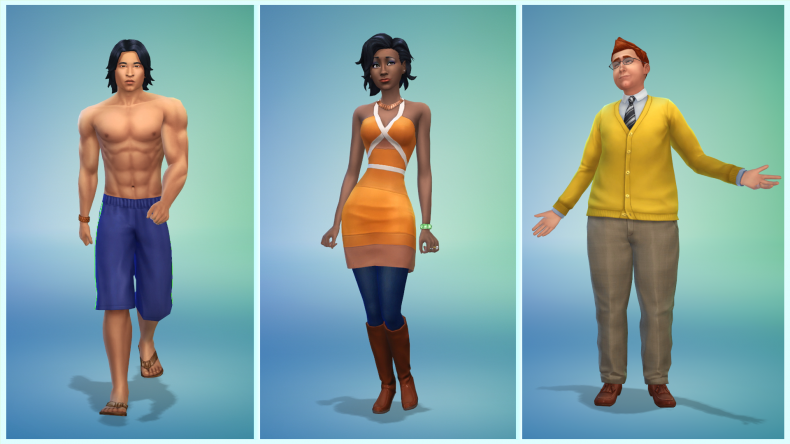 The Sims 4 has even stepped directly into supporting non-binary characters, but not through character design. "They did include the non-binary flag in an update that came out in 2019 in partnership with It Gets Better along with other pride flags," Misfortune continued. "The irony is even though the non-binary flag was included our non-binary sims don't get proper representation and still get misgendered in game dialogue."
As rumors and expectations of The Sims 5 begin to circle, it seems a fitting time to re-evaluate. The petition mentioned if The Sims 4 can't add pronoun options, maybe there's room for such a change in the next version of the life simulator.
For 50 days in a row, Misfortune has tweeted at EA, the video game company responsible for creating The Sims 4, with the same request. So far, the company has yet to respond. It also didn't respond to Newsweek when asked for comment.
Misfortune's goal in the petition is not to bash the company, but to inspire change that can impact the real lives of players.
"My main goal with this campaign is to show the Sims team and EA how meaningful something like this is in a life simulation game," they wrote. "The Sims markets itself on 'playing with life,' yet is lacking in such an important part in representation. Adding things like pronoun options, disability representation, mobility devices, etc. would be so impactful to folx who are constantly put down in their personal lives."
Currently, there is a mod (a game update that's downloadable, and not created by EA) that allows players to customize their Sims with the appropriate, transgender or non-binary pronouns. "My thought, as well as many others, is that if a modder can do it, why can't EA?" Misfortune explained.
There's one conversation that may be standing in the way. "The biggest argument has been the lack of gender neutral pronouns or any pronouns at all in languages the game is translated into. Of course what folx are not realizing is that lgbtqia2+ communities all over the globe are making efforts to change strictly gendered languages to create new ways of referring to those who do not fall into the gender binary," Misfortunate noted.
While there's no immediate update on what the future of The Sims (4 or 5) may look like, in terms of non-binary and transgender inclusivity, it seems certain that there is a large audience of gamers who would be thrilled to see such changes.
Some games, like Animal Crossing: New Horizons, which debuted on Nintendo Switch in 2020, have resorted to using no personal pronouns in order to make all players feel accepted. Misfortune also listed an upcoming release, Coral Island, which is expected to allow players to choose from three gender descriptors: Mr., Mrs. or Mx.
Misfortune ended the conversation on a note about self-acceptance, regardless of which games allow for total self-expression. "There is no 'correct' way to be non-binary. You can be masculine and be non-binary. You can be feminine and be non-binary. Non-binary folx do not owe anyone androgyny and that is something so many people need to be reminded," they explained.
"It is something I have struggled with for many years. Now I built my community on Twitch up by reminding people it's okay to be who they are and that they are trans enough, queer enough. Just because society tries to tell you you need to fit in a box doesn't mean you have to."