'Sims 4' Might Finally Get a Spiral Staircase… OMG
The spiral staircase hype is, and always has been, very real in the Sims 4. To an outsider, it sounds stupid. Who cares about stairs? Sims fans do, and anyone who's ever built mansions in the Sims 4 will understand. Spiral staircases not only look cool, but are much easier to place in a home, especially one with limited space. So far, The Sims 4 only offers the standard stair. However, that could change if a recent social media post from a Sims producer is any indication.
Lead producer Grant Rodiek posted a poll on Twitter with four stair options to get an idea of what Sims players would be most excited about in a potential future DLC. "Stop stairing at me. Pick your most desired new type of stair," he said, clarifying, "Note that this is not an affirmation of working on it or not working on it. We want to hear from you guys to guide us."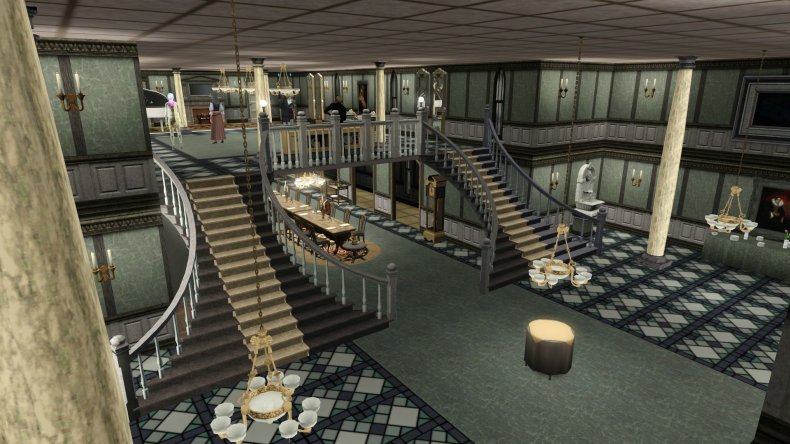 The options are: Spiral, L-shaped, U-shaped and stair landings. So far, spiral is winning with 57 percent of the vote, with L shaped following at 27 percent. There are still 22 hours of the poll remaining, so there's plenty of time for these results to change. It's safe to say spiral could be winning on principle alone—players have asked for spiral stairs in pretty much every DLC to date, even if it doesn't fit with the theme. It's become a Sims tradition at this point.
The Sims: Unleashed, The Sims: Superstar , The Sims 2: Apartment Life and The Sims 3: Generations all added spiral staircases (and if we are getting technical, after Generations, spiral stairs were added to the base game in TS3 patch 55). They have a 2x2 footprint on both levels, along with an extra square on each level reserved for the landing. Compared to one square wide, five squares long on the lower level and four squares long on the upper level for a standard stairway, the spiral is a very useful option when building small houses in particular.
In a perfect world, we would get all the stair options Rodiek listed—after all, pretty much every mansion must have jaw-dropping staircases, whether they are spiral, U-shaped or L-shaped. Sometimes, the standard stairs just don't cut it. Which stairs would you prefer to see in Sims 4 first? Let us know in the comments. In the meantime, here's what some fellow Simmers are saying: