'Sims 4' February 2019 Update: Lunar New Year Brings New Recipes, Objects, Clothing and More
The Lunar New year has made its way to Sims 4. Check out everything new and changed in the February 2019 update, here.
Sims 4 is getting in the holiday spirit with a new Lunar New Year content update. To help players get celebrate The Year of the Pig, the devs added everything players will need to throw a truly delectable reunion dinner party. The update not only adds new Lunar-themed recipes, items and clothing, it also fixes some pesky bugs and performance issues that were hiding within the game. To help you get the most out of the new update, we've put together an overview of the latest Sims 4 patch notes below.
Happy Simming!
'Sims 4' February 2019 Update: Lunar New Year Brings New Recipes, Objects, Clothing and More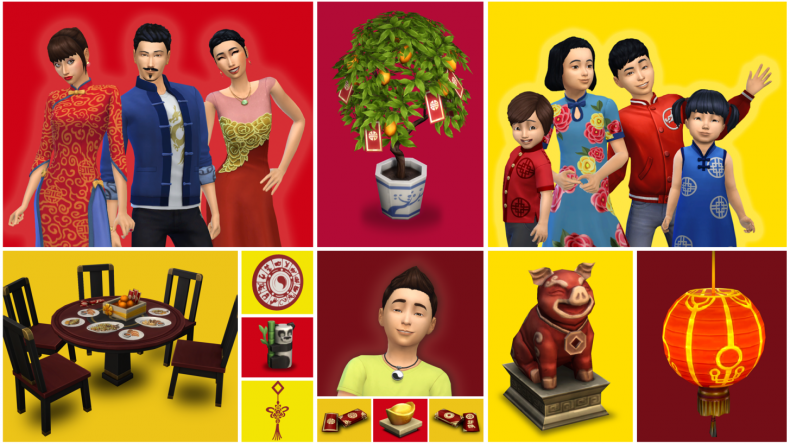 To instill your Sims with hope for prosperity in the year ahead, we've added everything you'll need to throw an extravagant reunion dinner party. New recipes are available that symbolize wealth and abundance (be sure to leave one serving of fish behind to ensure you're blessed with abundance for the entire year!). You'll also find an elegant new dining set, festive decor, and colorful clothing for all ages to round out the celebration.
New Recipes
Vegetable Dumplings (Requires Level 1 Cooking Skill)
Mud Carp (Requires Level 7 Cooking Skill)
New Objects
Shadow of the Moon Table: A six seat round dining table – perfect for family meals!
Moon-Gazing Dining Chair
Fiery Moon Gift Centerpiece
Wealth of the Moon Envelopes
Lucky Citrus Tree of the Moon
Paper Lantern of the Wiseacre Moon
Symbols of the Watery Moon
Sycee of the Prosperous Moon
Moon Panda Toy
Year of the Pig Statuette
New Clothing & Accessories
Adults

Women - 2 dresses, 1 pair of fan earrings, 1 jade necklace
Men - 1 jacket

Children

Girls - 1 dress
Boys - 1 jacket
Unisex - 1 yin and yang necklace

Toddlers

Girls - 1 dress
Unisex - 1 hairstyle, 1 shirt
Fixes and Updates
The Digitalistic Sketchpad will no longer occasionally lose the majority of its interactions.
Style Influencer Career interactions that were causing child Sims to become distorted are no longer available for selection on children.
Fixed an issue where ghost Sims were unable to use a Book of Life to resurrect themselves.
Seed Packets can no longer become hidden under the ground on slightly uneven terrain.
Being insulted by the Lin-Z Smart Speaker will now cause relationship loss between the Sim and the speaker.
Wake-up routines set on the Lin-Z Smart Speaker will now continue to run, even if a Sim no longer has a high relationship with the speaker.
The Gallery has a new size filter to assist in searching for 40×40 lots.

One caveat: The new filter will not find 40×40 lots that were uploaded to the Gallery prior to this game update.

Camera Positions saved to the "9" key could conflict with using the "9" key to raise an object in the air when the bb.moveobjects cheat is turned on. To resolve this, we've introduced the ability to clear out a previously saved camera position.

Existing Camera Position functionality:

"Ctrl" + "5-9" will set a saved camera position.
Once a camera position has been saved…
5-9" keys will smoothly move the camera to that position.
"Shift" + "5-9" will immediately snap the camera to that position.
New Camera Position functionality:
"Alt" + "5-9" will remove a previously saved camera position from the selected number.

When time is paused after initially loading into a lot, pressing either the "~" or "p" keys will now unpause the game, instead of requiring that you press one of the game speed keys to unpause.
Hotkeys will no longer be able to open various Sim information panels that are locked during the Tutorial.
Fixed an issue where a Sim could become stuck in the Tutorial if they traveled to a park without taking a vacation day off from work.
Players will no longer be notified that someone has commented on their Gallery profile, if they were the ones writing a comment to their own profile. It seems a little egotistical to comment on your own profile… but hey — we're not judging you.
The main menu once again includes a link to the most recent patch notes. If that's how you've made your way to reading these very words, then hello — thanks for stopping by!
Misc Additional Updates
Listening to music on the Lin-Z Smart Speaker will now count towards the Listen to Music club rule.
Pet owners should, once again, no longer have their interaction queue become filled up with interactions.
Leaf Piles should no longer become stuck in neighborhoods.
Fixed a clipping issue that occurred when wearing the toddler's rain boots with certain pairs of pants.
Fixed two toddler hats which were causing unintended shadows to appear on the toddler's eyes.
Fixed an error that was preventing players from saving their game if their celebrity Sim had the Lifestyle Brand fame perk and had received royalty payments.
The chicken mask is now available for selection in Create a Sim.
Sims will now consider the split level coffee table as a valid surface for setting down food and books.
Updated one of the women's skirts to no longer have its materials influenced by the boots worn by the Sim.
Fixed an issue where shirts weren't tucking in properly to one of the pairs of men's jeans.
The Need Fixer Serum that's crafted by Scientists can now be used to satisfy a Vampire's thirst need.
A pair of jeans that was included in the 2018 update to the Holiday Celebration Pack can now be worn by male Sims.
What do you think of the Sims 4 February 2019 update? Share your favorite feature with us in the comments below.