Sinatra: Centennial Celebrations for an American Icon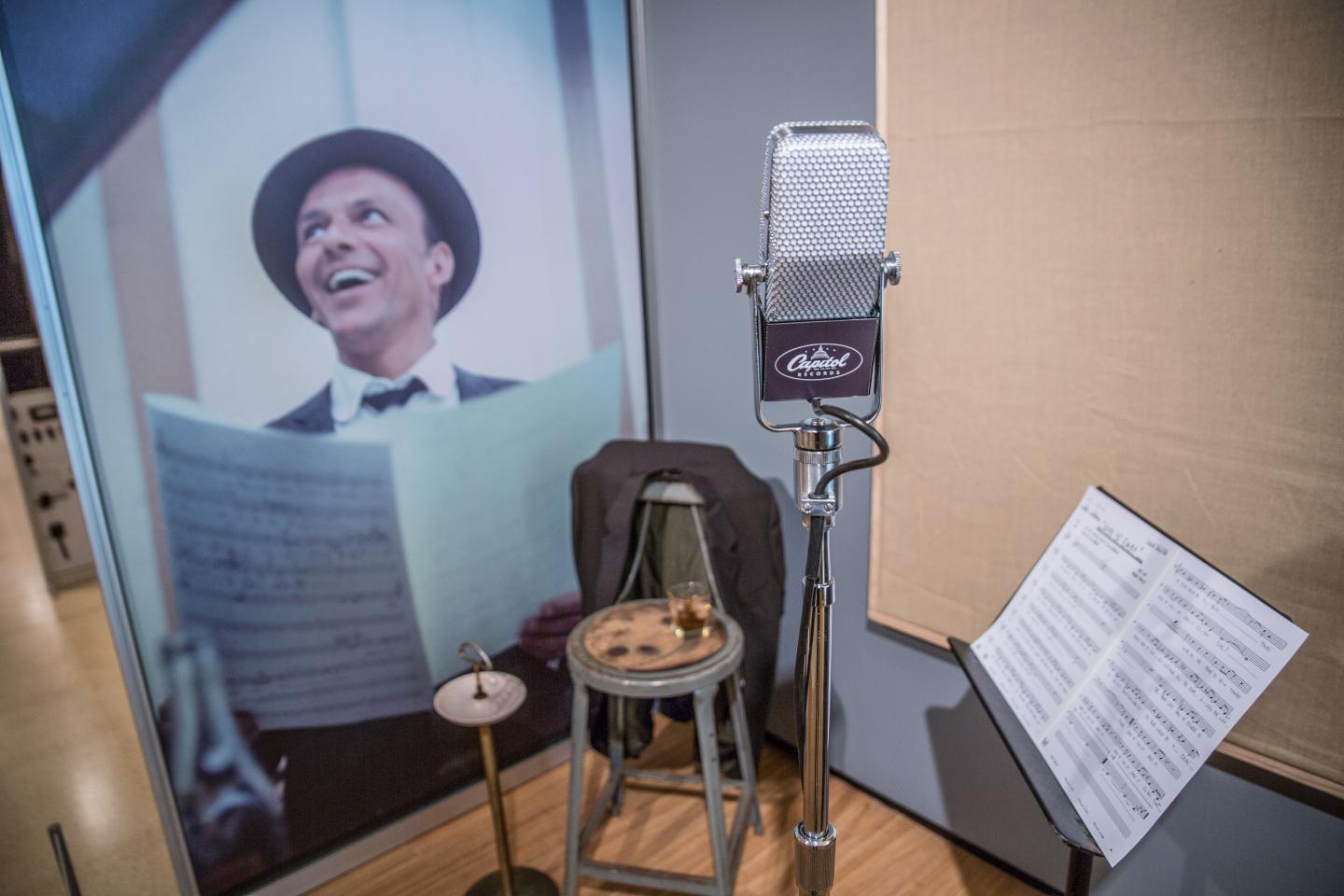 It begins with a living room. A typical mid-century American living room with a big, wood-panelled box of a radio in the corner, dad's pipe on an ashtray stand by the armchair and a game of checkers strewn on the floor. Songs by Sinatra, a live show broadcast over CBS Radio Network on April 24, 1947, fills the space between patterned wallpaper with the familiar sounds of Frank's voice.
The re-created scene, one of the first a visitor encounters in the centennial exhibit Sinatra: An American Icon, could have been a replica of living rooms anywhere in the country. But the curator, Bob Santelli, imagines it as his own grandmother's, he says, peering over the wire into the "room."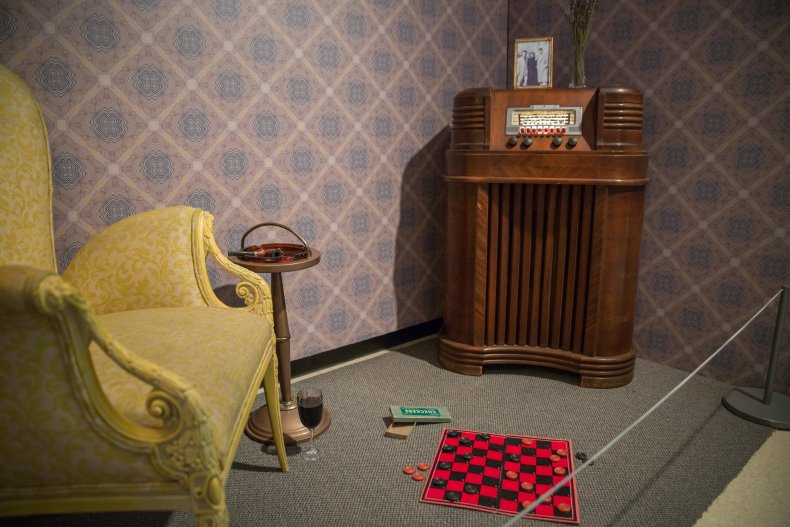 "That's my mother," he laughs, pointing at the framed black-and-white photo hanging on the wall above the yellow armchair. "She was a huge Sinatra fan." Santelli—now executive director of the Grammy Museum in Los Angeles—grew up in an Italian-American immigrant family in New Jersey, just a few miles from Hoboken, where the singer his mother adored was born and raised.
Sinatra: An American Icon opened Wednesday at the New York Public Library for the Performing Arts at Lincoln Center to kick off a year of celebrations that coincide with the 100th anniversary of Sinatra's birth. The exhibit will be on display in the title city of Sinatra's "Theme from New York, New York" through September 4, before traveling to the Grammy Museum.
Several feet away from the living room nook, the exhibit brings to life a Hoboken trolley from the same period. Moving images flicker through the windows of a partial wooden boxcar to simulate motion, and you can step onto the raised "trolley" to feel it chugging along. "Fare 5¢," reads a sign on one door.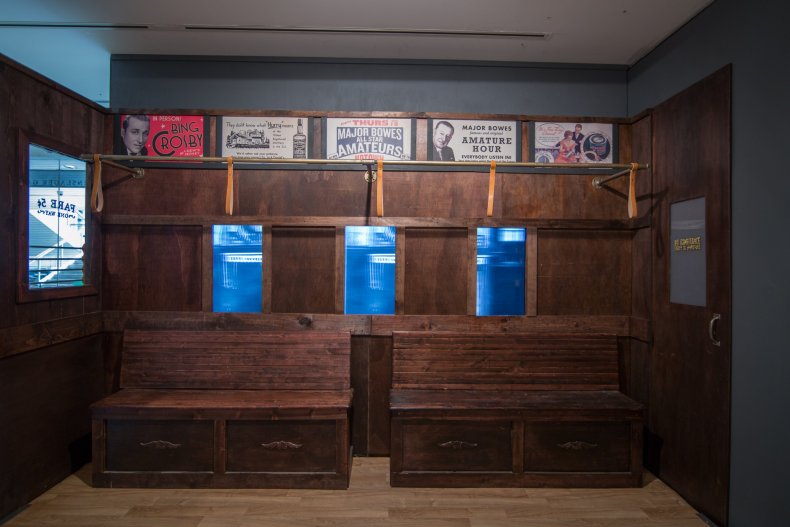 Above the benches and straps for those without a seat, posters advertise Jack Daniels, which would later become a Sinatra concert staple; the Major Bowes amateur hour, where the singer was discovered, Santelli says; and a Bing Crosby show, the first Sinatra ever saw--on a date with his future wife.
"It changes his life," Santelli says of the Crosby concert. Sinatra "wants to become the next Bing Crosby. And the famous quote that we have on the outside, it's perfect."
The prologue to the exhibit, just inside the glass doors of the gallery, consists of two black walls. On one, a classic photo of Sinatra in jacket and tie looms larger than life next to the exhibit title and description. His head is tilted to the side under a fedora, an easy smile spreading across his face. On the other wall, a single quote from Crosby reads:
"Frank Sinatra is a singer who comes along once in a lifetime, but why did he have to come in mine?"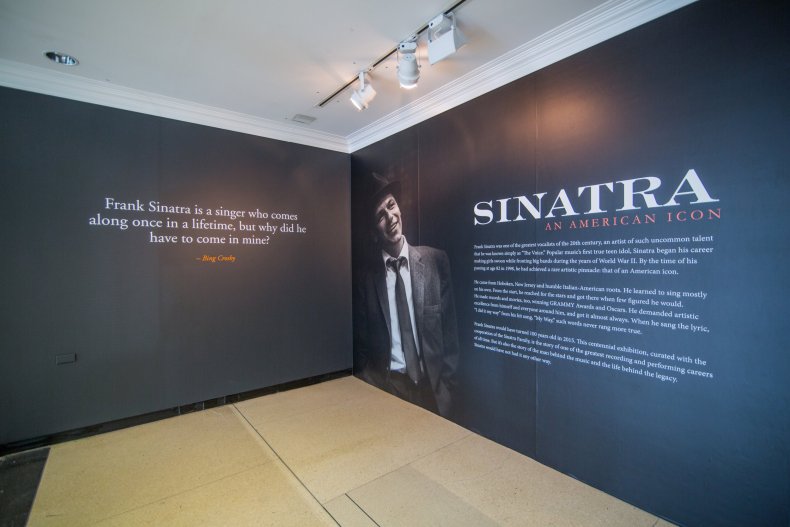 "Frank Sinatra was a complicated person. And an even more complicated artist," Santelli says, one who "drew from a variety of influences." In addition to Crosby there were Louis Armstrong, Billie Holliday and, later, Ella Fitzgerald, "whom he absolutely adored."
The show traces Sinatra's career in music, from early performances in New Jersey at the Rustic Cabin in Englewood Cliffs through big band performances, radio shows, gold and platinum records and Grammy awards. Sinatra's voice emanates from various corners, singing classics and transporting visitors to stops along a decades-long career.
In one nook, Sinatra's favorite recording studio at the Capitol Records Tower in Hollywood is assembled: a microphone is placed in front of a music stand with the sheet music for "Nice N Easy," a jacket hangs on the back of a chair and a glass of Jack rests on the seat. Studio chatter among Sinatra and his sound engineers ties the scene together.
"I think I swallowed a shot glass," Sinatra jokes in between takes, or after asking how long something took: "That's longer than the first half of Hamlet!"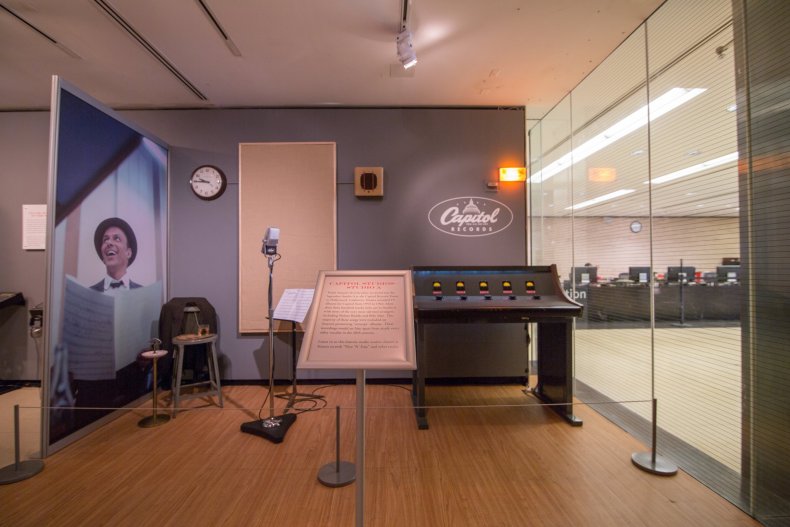 Nearby, visitors can approach one of two sound-mixing stations to listen to and mix original tracks from "Teach Me Tonight," adjusting levels of the vocals, piano, bass, drums and more. "Sinatra's vocals sounded so good, in part because of the work of the audio engineers that captured the nuance and texture of his voice," reads a placard by the stations, "and the manner in which they recorded the instrumentation behind Sinatra's vocals."
Santelli explains that interactives like the mixing stations as well as a booth at the back where visitors can sing along with "New York, New York" help engage the younger generations, who may be encountering the icon and his music for the first time.
Screens throughout the room flicker with movie trailers and clips from some of Sinatra's most famous films. The movie portion of his resume includes Anchors Aweigh and On the Town, in which he appeared alongside Gene Kelly, as well as From Here to Eternity, The Man With The Golden Arm and The Manchurian Candidate.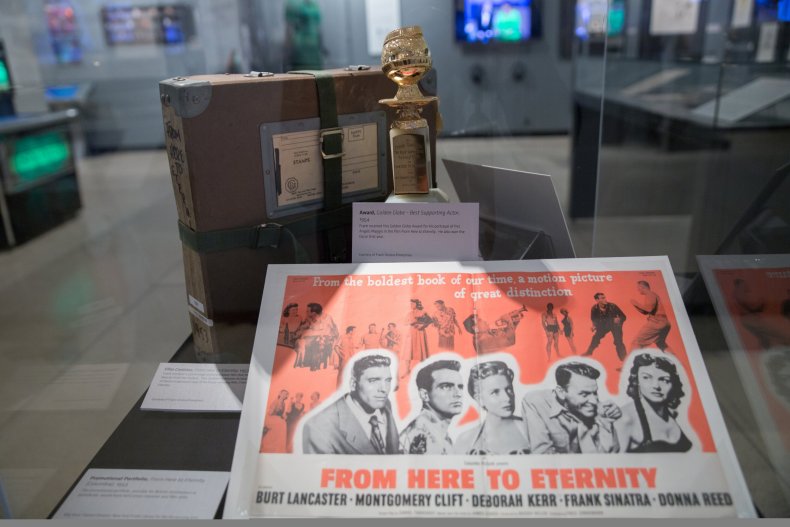 One short black-and-white film stands out. In The House I Live In, Sinatra, on a break from recording, talks with a group of children who had been taunting a Jewish boy. He gives them a little speech about religious tolerance and sings a song by the same name. "The children in the playground, the faces that I see," he sings, "all races and religions, that's America to me."
Sinatra "was someone who very early on came out and supported—and actually put his career on the line for—racial and religious tolerance," Santelli says. The House I Live In came out just months after Germany's surrender in World War II and weeks after fighting finally ceased on the Pacific front.
It was certainly not in vogue to take such a brazen stance against anti-Semitism or racism at the time, and some told Sinatra it was a risky decision just as his career was taking off, Santelli explains. But Sinatra did it nevertheless, winning a special Oscar for the film, and he continued taking stands throughout his life. Because many country clubs excluded Jews and African-Americans from membership, for example, he became a founding member of the Tamarisk Country Club in Rancho Mirage, California, which did not ban these groups from joining.
"That was a surprise for me," says Jacqueline Davis, executive director of the NYPL for the Performing Arts. The exhibit, she says, gives people "opportunities to really enjoy, to remember, to love the music, but it also places him within historical periods of time and gives you a much broader sense of the man."
Santelli says the focus on all aspects of Sinatra, both life and career, is intentional. "In order to truly understand the music we think it's important to understand the man behind the music and the life behind the legacy," he says.
The exhibit, therefore, sheds light on lesser-known aspects of the famous singer, like his social activism, often with help from photos and documents as well as clothing and other personal effects from the Sinatra family's personal archives.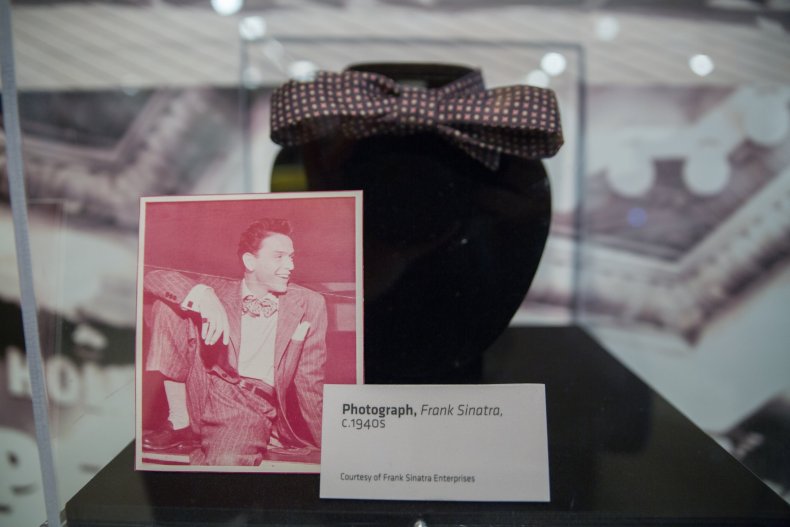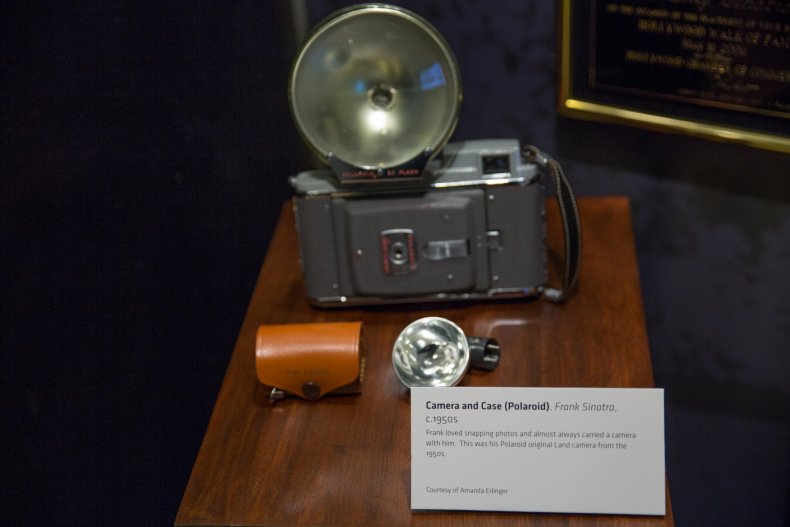 Visitors get a glimpse of Sinatra the boy and Sinatra the grandfather, even Sinatra the painter. Several of his pieces are on display toward the back of the room, including a couple he made for his grandchildren and a huge photo of him teaching his granddaughter to paint, along with a re-creation of his studio setup.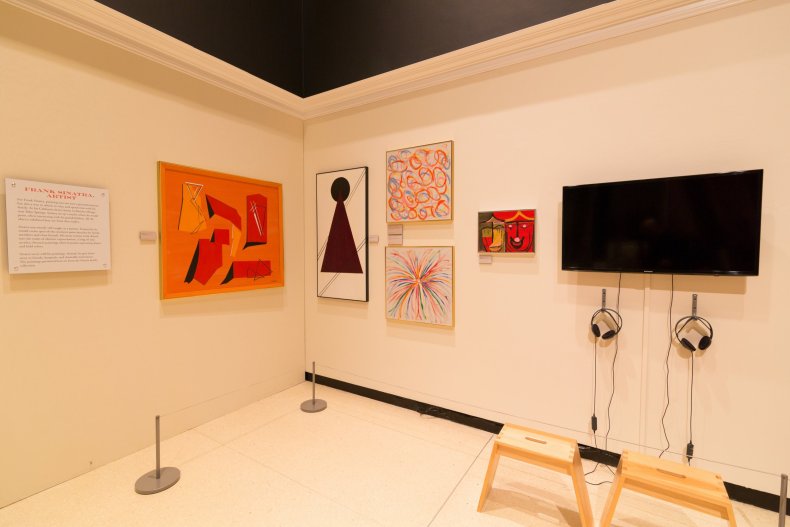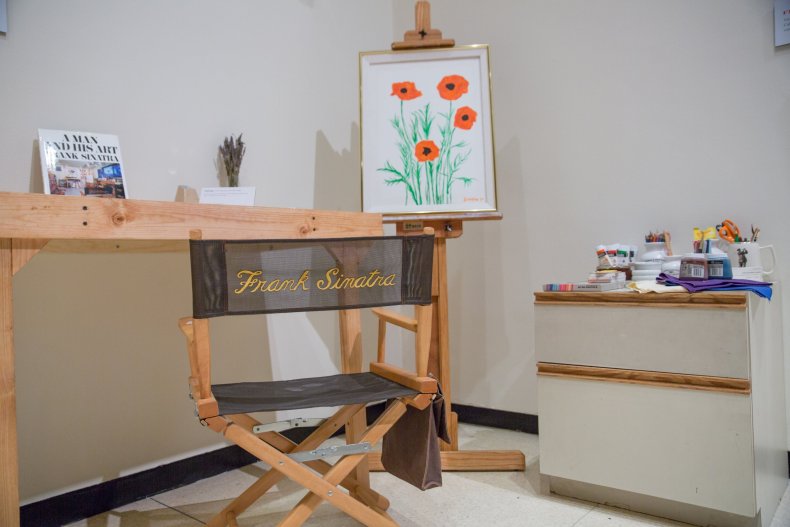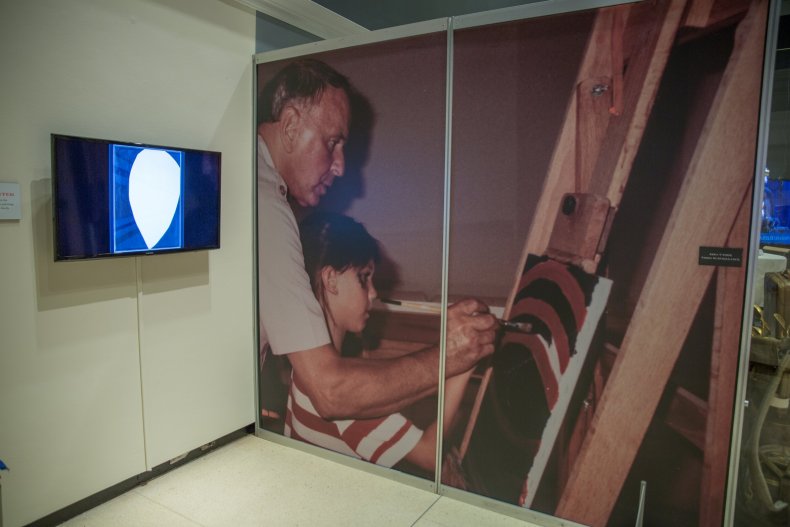 When Davis began telling people about the upcoming exhibit, she says, "what struck me is everybody, no matter what their age was, wanted to tell story about him." Maybe they saw him perform at Madison Square Garden, or they wanted to tell her about the songs they love or why Sinatra is their favorite, or tell a story about a wedding or romantic evening. In its first few days, she says, the exhibit was packed.
Throughout the six months that Sinatra: An American Icon is on display at Lincoln Center, the library will be hosting screenings of Sinatra's films, talks and panel discussions, while Michael Feinstein at Jazz at Lincoln Center will present three special shows dedicated to Sinatra: All or Nothing at All: Origins of a Legend; Blue Eyed Saloon Songs; and Swinging Songs for Lovers.
Downtown in SoHo, the Morrison Hotel Gallery is hosting a smaller exhibit of Sinatra family photographs through March 26, and the Tribeca Film Festival in April will feature screenings of Sinatra films. Panel discussions are scheduled throughout the country, including at SXSW in Austin this month, at Yale University in June in conjunction with the International Festival of Arts and Ideas, and at the University of Southern California in December.
There's a two-part HBO documentary coming April 5, new recording collections, radio programs on SiriusXM, a special Jack Daniels Sinatra Select whiskey blend and, finally, an app to keep track of the myriad centennial celebrations: Frank Sinatra 100.
"The hope is for a Sinatra fan to rediscover the music, to go back and listen to it with different ears, maybe with a little more knowledge," Santelli says. "And for young people to begin to understand exactly what all the fuss was about."