After four years of working long shifts for modest pay at WPEC News, a Sinclair-owned CBS-affiliated television station in West Palm Beach, Florida, Lauren Hills decided to leave her on-air reporting job for the more lucrative world of public relations. She gave her two week's notice and packed her desk. And then Sinclair served her with a lawsuit for $17,050 for breaking her $46,500-a-year contract.
"I left the industry entirely. I was like, 'This is a no-brainer,' you know. I'd given Sinclair my absolute best and was proud of everything I had done there, but I was just ready to move on," she told Newsweek last week.
Hills knew that she had 11 months left on her contract and that it had a liquidated damages clause allowing Sinclair to collect 40 percent of her annual compensation if she left early, but she didn't think it applied to her situation. "I literally left the industry. It's not like I jumped ship for another TV station," she said.
In November 2017, more than a year after she left her job, Sinclair filed the civil suit against Hills to collect $17,050 in liquidated damages.
"This is a ton of money for me, but for Sinclair it's just a drop in the bucket, less than a rounding error," she said. "To me, this is just a bully tactic, it's meant to scare other people from leaving their jobs if they're unhappy."
One employment law expert contended that the lawsuit and other similar cases brought against employees by Sinclair were "unprecedented" and "problematic."
Sinclair Broadcast Group is the largest television station operator and owner in the United States, owning or operating 193 stations in more than 80 markets and reaching about 38 percent of all households. The company, which reported a profit of $443.5 million last quarter, is awaiting government approval to acquire Tribune Media for $3.9 billion. The deal would dramatically increase Sinclair's reach, giving it 215 stations covering over 72 percent of households.
The company has recently come under fire for requiring some of its anchors to read a script warning about biased news.
"We're concerned about the troubling trend of irresponsible, one-sided news stories plaguing our country. The sharing of biased and false news has become all too common on social media," the anchors said. "More alarming, some media outlets publish these same fake stories...stories that just aren't true without checking facts first."
Some anchors expressed discomfort with the script, which they said closely parroted President Donald Trump's messaging and rhetoric. "At my station, everyone was uncomfortable doing it," one anchor told CNN. "I felt like a POW recording a message," said another.
The complaints led some critics to ask why anchors and reporters who disagreed with the messaging didn't just leave their jobs. Yet Hill's case may shed light on a reason why many have stayed put.
"These contracts are just a joke. I'm not a slave to Sinclair Broadcasting," said Hills. "And that's the frustrating thing about this—you end up becoming a slave to these contracts and having to put up with things you're not happy with because you're forced to because you're so scared of the financial penalty."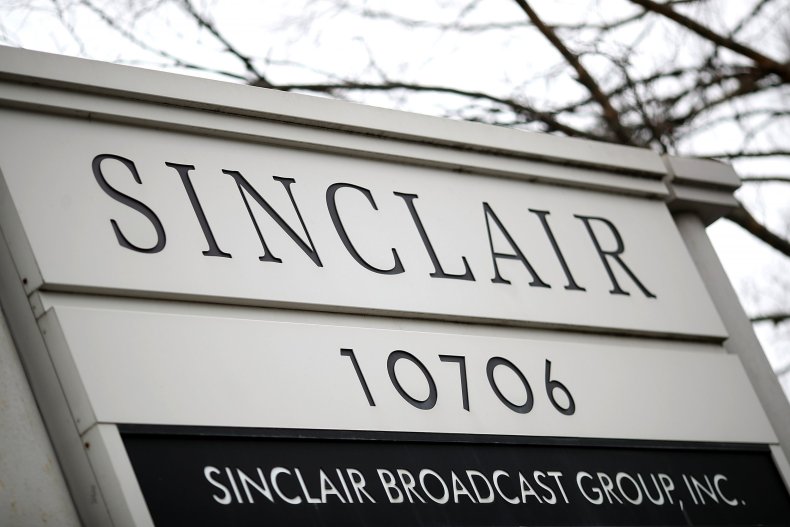 Hills said that while she was at WPEC News, Sinclair's corporate offices would often send "must-run" news segments about a hot-button political topic, which would play at the end of the station's 6 p.m. newscast. Sinclair would also send down political questions to ask as part of WPEC's man on the street interviews.
Jonathan Beaton, a former reporter at the same affiliate, spent less than one year at the station before leaving in 2014. He was sued for $5,700 in October 2017.
"I was 22 years old when I signed the contract, and pretty soon after I realized that Sinclair ruled with an iron fist and that there was a sort of terror that came from the top down," he told Newsweek.
Beaton, a Republican, became worried about the political directives his station was getting from Sinclair. "It was all about left versus right and right versus left, 'conservatives are on the moral side and liberals aren't,'" he said.
Beaton said he was directed to use clips from interviews with local political officials that made them sound more conservative on issues, even if it meant misrepresenting what they actually said. He also thought the man on the street questions issued by Sinclair were biased in favor of the right.
"A lot of reporters felt trapped," he said. "They had families to feed."
Beaton decided to leave his job. He was tired of the hours, slanted reporting and bosses who failed to value his quality of life. He wanted to move on and start his own company in a different industry. Beaton consulted with his brother, an attorney, about breaking the contract. He said his brother told him it would be highly improbable, even "ludicrous," for Sinclair to sue him for "leaving the news business entirely."
Beaton said he was up front with Sinclair. "I told them, 'This job isn't for me, the atmosphere and culture of this company isn't for me, but I'll stick around for as long as needed until you find a replacement for me, and I'll train them and help them with contacts.' But the next day they pulled me into HR and said, 'Give us a check for $25,000 or you can't leave.'" Beaton took his chances and got out of the industry anyway.
"I've been scratching my head for months over why Sinclair would bother suing me for such a small amount of money," he said. "This is a company that holds grudges. They don't want anyone rocking the boat, and these lawsuits are a show of force to show that you can't mess with them." Sinclair, he added, "is trying to "teach us and the other people in the industry a lesson."
"These lawsuits are unprecedented," said Samuel Estreicher, director of the Center for Labor and Employment Law at New York University. "They're punitive. In the United States, you are allowed to breach contracts as long as you pay damages. In the old days in communist Russia you could be held in jail for breaking an agreement, but that's not the way things work in the United States. This is especially true in employment cases."
Sinclair is taking a "problematic and unusual" legal stance, he explained. "The general understanding in cases like these is that the employer gets back the damages they had to incur for bringing in another on-air personality. The law disfavors liquidated damages clauses, as punitive, if they are outside a reasonable account of what the actual damages are."
Estreicher called the suits a violation of public policy, adding that Sinclair may be setting itself up for a larger legal battle. "They're taking a position that is clearly unenforceable. Under the Restatement of Employment Law, that is a basis for public policy lawsuit."
Newsweek reached out to Sinclair, WPEC News (CBS12 Palm Beach) and Sinclair lawyer Ravi Batta for comment but did not hear back.