A Sinclair Broadcast Group-owned TV station announced Monday it has chosen not to air a mandated promotional message that critics said parroted President Donald Trump's attacks on the media.
The conservative broadcasting company has come under fire in recent days after news anchors on its 200 networks were made to read an identical promo attacking "biased and fake news" on other networks. In a viral video, Deadspin compiled footage of anchors repeating the script.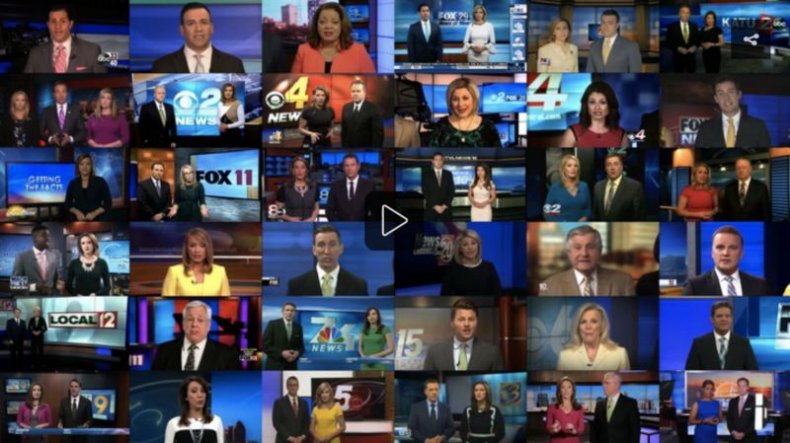 One station, however, chose not to air the promo.
"WMSN/FOX47 Madison did not air the Sinclair promotional announcement during our 9 p.m. news this weekend," the channel tweeted. "Rather, we stayed true to our commitment to provide our Madison area viewers local news, weather, and sports of interest to them."
The Sinclair-owned Fox affiliate broadcasts in Madison, Wisconsin. It did not immediately respond to Newsweek's request for further information on the decision.
Comedian John Oliver was among those who criticized Sinclair's promo. "Nothing says 'We value independent media' like dozens of reporters forced to repeat the same message over and over again like members of a brainwashed cult," he said on his HBO show.
A CNN editorial likened the promo to authoritarian propaganda and said the anchors were "echoing President Trump's dishonest attacks on the media."
Congressional candidate Amy McGrath, a Kentucky Democrat, said Monday she would pull campaign ads from local Sinclair-owned networks.
"Sinclair's corporate-mandated 'must-read' right-wing script on its nearly 200 television stations about 'fake news' is itself an extreme danger to our democracy and eerily mimics the propaganda efforts that authoritarian regimes often use to control the media in their own country," McGrath said in a statement.
Meanwhile, Trump came to the defense of the media company.
"So funny to watch Fake News Networks, among the most dishonest groups of people I have ever dealt with, criticize Sinclair Broadcasting for being biased. Sinclair is far superior to CNN and even more Fake NBC, which is a total joke," tweeted the president.
Trump has repeatedly called outlets that run stories critical of his administration "fake news" while praising those that provide supportive coverage.
An anchor on a Sinclair owned-outlet in Seattle expressed concern about the president's defense of the company.
"Actually, this isn't funny at all," Mary Nam, who anchors the news at TV station KOMO, tweeted in her response to Trump. "None of it."
She went on to question whether the Trump administration would "green-light" Sinclair's purchase of Tribune Media, which would give it control over 42 more stations and make it the nation's largest media conglomerate.
Sinclair has defended running the promo, which it described as reflecting its "commitment to our communities."
"The critics are now upset about our well-researched journalistic initiative focused on fair and objective reporting," Scott Livingston, senior vice president of news, wrote in an internal memo obtained by CNN.