Sinead O'Connor's Teenage Son, Shane, Found Dead—'My Blue-Eye Baby'
Singer Sinead O'Connor has revealed that her teenage son has died, two days after he had been reported missing.
Irish police force An Garda Síochána appealed for information on Shane O'Connor, 17, who had last been seen in the Tallaght area of Dublin.
A CCTV image of the teenager was released by police who said they were "concerned for his welfare."
But in an emotional tweet on Saturday morning, the Irish singer tweeted that her "beautiful son" had died.
She wrote: "Nevi'im Nesta Ali Shane O'Connor, the very light of my life, decided to end his earthly struggle today and is now with God."
"May he rest in peace and may no one follow his example, My baby." she added, "I love you so much. Please be at peace."
In a follow up tweet, she shared a video of the Bob Marley song Ride Natty Ride in dedication and also posted an image of him.
"This is for my Shaney. The light of my life. The lamp of my soul. My blue-eye baby. You will always be my light," she tweeted, "we will always be together. No boundary can separate us."
Her messages promoted an outpouring of sympathy from other social media users.
Shane, whose father is the musician Dónal Lunny, was one of Sinead O'Connor's four children.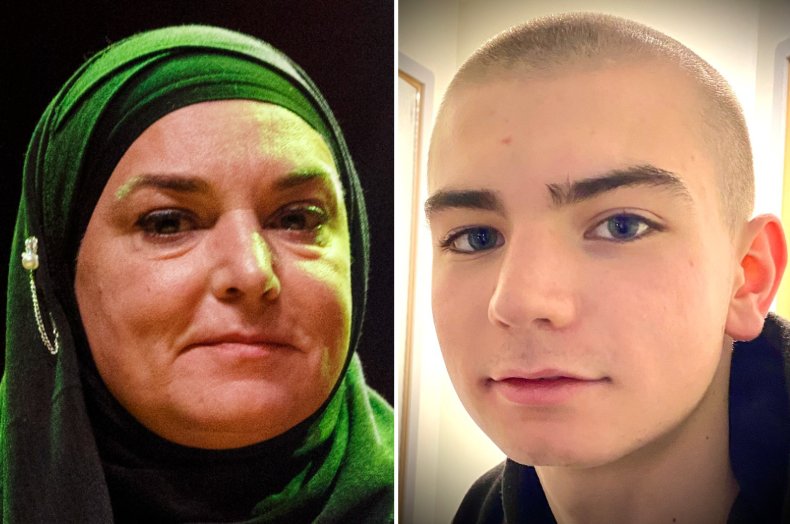 In earlier tweets on Thursday, she had made direct appeals to her son to present himself to police. "Shane, it's not funny any more, all this going missing," one said, "you are scaring the crap out of me," said one.
Another said, "your life is precious...my world would collapse without you. You are my heart. Please don't stop it from beating. Please don't harm yourself."
A police spokesman told the Irish Examiner that "following the recovery of a body in the Bray area of Wicklow on Friday, 7 January 2022, a missing person appeal in respect of Shane O'Connor, 17 years, has been stood down."
Police thanked the media and the public "for their assistance in this matter," adding that "no further action is required and no further information is available at this time." Newsweek has contacted Irish police for comment.
The singer rose to fame with the 1990 global hit "Nothing Compares to U," written by Prince, and has made a number of critically acclaimed albums. In 2018, she announced her conversion to Islam and changed her name to Shuhada Davitt.
Need help? In the U.S. call 1-800-273-8255 for the National Suicide Prevention Lifeline.