Sinema Cites Inflation, Corporate Taxes as Red Lines While Schumer Presses for BBB Vote
Senator Kyrsten Sinema, a critical vote for Democrats as they look to pass President Joe Biden's Build Back Better agenda, is drawing red lines on what she will not go for in the sprawling spending package.
Speaking to CNN in an exclusive interview, the Arizona Democrat shed some light on where she is amid the months-long negotiations.
"I won't support any legislation that increases burdens on Arizona or American businesses and reduces our ability to compete either domestically or globally," Sinema said. "And so I want to make sure that if we are crafting legislation, we're doing it in the lean and efficient way that's fiscally responsible and doesn't impact things like inflation or make our businesses less competitive."
Sinema remained non-committal as to whether she would vote in support of the bill when the time came. She also declined to share additional details on what she wants to see included in the legislation, continuing her streak of not negotiating in the press.
But she did warn leaders against overpromising the American people as to what they can achieve.
"I would never promise something to the American people that I can't deliver and I think it's not responsible for elected leaders to do that," she said "The concern I have is that first, it's not very honest. So you should just be honest."
Her comments come as Democratic leaders press forward with clearing the Build Back Better act in Congress before the end of the year. Senate Majority Leader Chuck Schumer made it clear that his goal is to get the spending bill to Biden's desk before the Christmas holiday.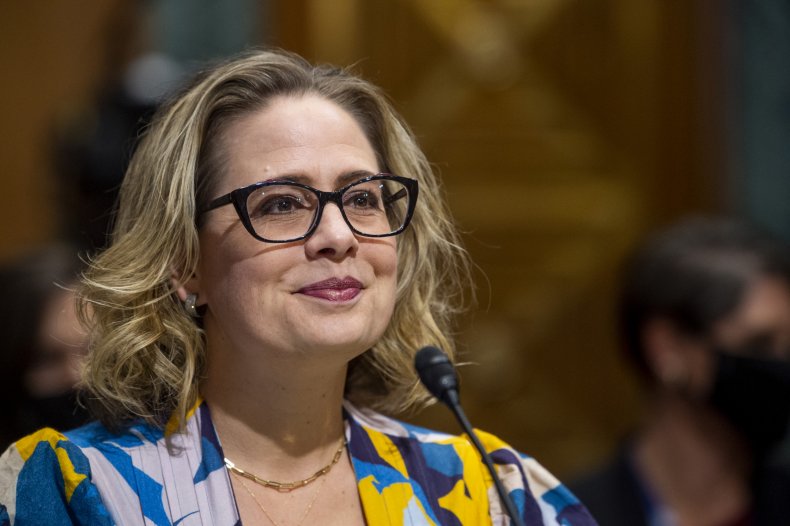 The $1.75 trillion package, which would provide funding to expand the social safety net and combat the climate crisis, passed the House of Representatives earlier this month along party lines in a 220-213 vote.
But Democrats need support from all of its caucus members for the social bill to pass via reconciliation, a legislative process party leaders are using to sidestep the Senate filibuster and the need for 10 Republican votes. No Republican has indicated they would join Democrats in getting the bill across the finish line.
Earlier this week, West Virginia Senator Joe Manchin again raised concerns about forging ahead on Biden's bill with the emergence of the new Omicron coronavirus variant. Manchin, another moderate Democrat at the center of negotiations, is another key vote for the party.
"No one knows what effect it's going to have, and you have inflation on top," Manchin told reporters on Capitol Hill. "So all these things give you cause to pause."
Newsweek reached out to Sinema's office for additional comment but didn't receive a response before publication.