Sinema Targeted in New Ad by Arizona Veterans to 'Keep Her Word' on Prescription Drugs
Senator Kyrsten Sinema is being targeted in a new ad campaign featuring Arizona veterans.
Former military members are calling on the Democrat to deliver on lowering prescription drug costs by supporting President Joe Biden's economic agenda.
The ad notes that Sinema promised to lower drug costs during her 2018 run for the Senate but has also received "more than $750,000 in donations from Big Pharma and the medical device industry."
"As veterans, we're asking Kyrsten Sinema to keep her word. Stop working for drug companies and start working for us and all Arizonans," the ad states. "Vote for the Build Back Better Act."
The ad is part of a seven-figure campaign by Common Defense, a national grassroots organization of progressive veterans. Common Defense told Newsweek the video is running in Arizona, mainly in Phoenix and Tucson, starting this week.
Marine Corps veteran Joanna Sweatt, an Arizona resident and the group's lead organizer, said Sinema has "positioned herself as a maverick in the mold" of the late GOP Senator John McCain.
"If she wants to live up to that legacy, she needs to buck her corporate donors and do what's right for Arizonans and keep the promises she made to veterans," Sweatt said.
Newsweek reached out to Sinema's office for comment on the ad but didn't receive a response before publication.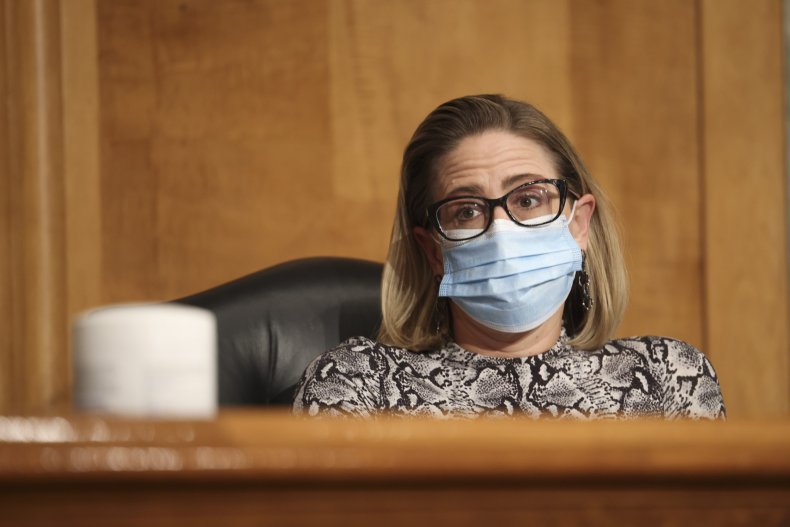 Biden's "Build Back Better" agenda contains a provision aimed at cutting prescription drug costs by allowing Medicare to negotiate prices. Medicare is prohibited from negotiating for the best deal.
The legislation also aims to put a firm cap on the amount that Medicare beneficiaries have to pay out of pocket for drugs each year. And it proposes penalties for drug companies that raise their prices faster than inflation.
Politico reported last month that Sinema opposed the prescription drug pricing proposals that were in the House and Senate bill. Democratic Representative Scott Peters of California told Politico last week that the party didn't have 50 votes yet on any drug pricing policy.
Peters also said at the time that Sinema wasn't "yet for any proposal to deal with prescription drugs," but her spokesman, John LaBombard, refuted the congressman's characterization.
LaBombard told Politico that Sinema was "carefully reviewing various proposals around this issue." It's not clear where the senator currently stands on the proposal to address prescription drug pricing.
A recent poll found that an overwhelming majority of Americans (88 percent) support federal funding for lowering prescription drug prices. The survey also showed that 84 percent of U.S. adults support expanding Medicare to cover dental, vision and hearing costs.