Singapore Holds Naval Drill With China, but U.S. Remains Top Security Partner
Singapore has held its first naval drill with China in nearly five years amid a widely perceived tug-of-war over the key city-state between Beijing and Washington.
Following Joe Biden's election victory last November, Prime Minister Lee Hsien Loong rejected the idea of Singapore ever joining the president's so-called "coalition of democracies" to counter Beijing's growing influence in Asia—a concept Lee described as a "Cold War–style" line-up.
Given Singapore's business-led approach to foreign policy, it was never likely to join an ad hoc group to contain China. Despite the potential for warming military ties with Beijing, the United States remains Singapore's "primary security partner," defense analyst Collin Koh told Newsweek.
Wednesday's military exchange between the Republic of Singapore Navy (RSN) and the People's Liberation Army Navy (PLAN)—the first since September 2016—was announced by both countries with accompanying images of vessels sailing in proximity.
Their warships rendezvoused in the northeast of the Singapore Strait, the PLA said in a press release. The exchange "built mutual confidence, deepened friendship and promoted cooperation," fleet officer Lu Dongfang was quoted as saying.
In its statement, the Singapore Ministry of Defence said RSN vessels RSS Intrepid and RSS Sovereignty took part in a passage exercise—or PASSEX—with PLAN destroyer Guiyang and frigate Zaozhuang.
The navies drilled maneuvering and communications exercises before holding a simulated joint search and rescue mission, the defense ministry said. The exchange took place in the "southern reaches of the South China Sea within international waters," Singapore's statement noted.
Guiyang and Zaozhuang, both part of the PLAN's 36th escort fleet, also took part in joint naval exercises with Pakistan this month, the Chinese military said on Thursday.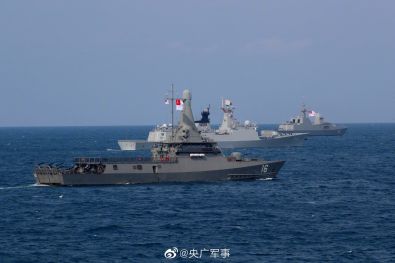 Despite significant disruptions amid the COVID-19 pandemic, Beijing managed a number of military exercises with regional neighbors last year.
Its joint military exercise in Cambodia, code-named Golden Dragon, was held in March, but it will not take place this year following a cancelation due to heavy flooding and Phnom Penh's ongoing efforts to contain the outbreak.
Notable air force drills—both last December—include a desert exercise in Pakistan and a joint flight with Russian warplanes over the East China Sea.
Observers have taken Wednesday's naval drill as a sign that Beijing was further bolstering its ties with Southeast Asian nations.
The exercise took place two weeks after Secretary of State Antony Blinken reaffirmed the U.S.'s security and economic relationship with Singapore in a call with its foreign minister, Vivian Balakrishnan.
Singapore and China's signing of the Agreement on Defence Exchanges and Security Cooperation (ADESC) in 2019 means there is room for further military exchanges in the future, but the most recent drill "isn't anything new," said Koh, who is a maritime security analyst at the S. Rajaratnam School of International Studies in Singapore.
Koh said the PASSEX, which touches on "basic itineraries," was consistent with "a longstanding position Singapore holds to maintain cordial partnership with China."
The defense expert said Beijing hopes to scale up its training exercises with Singapore, but interactions between the two navies are still "nascent." They also fall short of more complex exercises, with "warfighting elements," Singapore conducts with other regional partners and the U.S., who last held their Cooperation Afloat Readiness and Training—CARAT—exercise last December.
Balancing Act
Having inherited a bipartisan consensus on Capitol Hill about China's role as the greatest threat to U.S. interests in the coming decades, Biden ran on a promise to rally allies against Beijing's contentious economic practices and geopolitical adventurism.
Prime Minister Lee, however, was quick to distance Singapore from any potential clash between Biden and his opposite number in Beijing.
"I think not many countries would like to join a coalition against those who have been excluded, chief of whom will be China," Lee told the Bloomberg New Economy Forum last November.
"There will be countries who want to do business with China," he explained, adding: "To try and make a line-up, Cold War–style, I don't think that's on the cards."
"Politically, we can be sure that Singapore will maintain this position of close partnerships with both China and the U.S.—economics-dominant in the case of Beijing, and seeing the U.S. as a primary security partner," said Koh.
"It's clear that Singapore seeks to ensure its security partnership with the U.S. continues to expand and enhance where necessary," he added. In the months after signing the ADSEC with China, Koh notes, Singapore extended its 1990 Memorandum of Understanding with Washington, allowing the U.S. to use its military facilities for another 15 years.
Koh concluded: "While Singapore won't join the coalition of democracies envisaged by the Biden administration—a stance that of course pre-dates the Biden administration—it remains keenly invested in maintaining U.S. military primacy in the region, since the U.S. has always been seen as a benign, stabilizing presence in the Western Pacific, even more so now and in the foreseeable future as geopolitical uncertainties loom in the region, not least also attributed to China's rise and uncertainties about Beijing's strategic intentions.
"But Singapore is definitely not interested to be seen as part of any containment scheme against China, as it'll seriously damage the fundamental premise of its foreign policy."
Singapore has been "quite successful in playing a role between Washington and Beijing," said Liang-chih Evans Chen, a PLA policy analyst with Taiwan's government-funded think tank, the Institute for National Defense and Security Research. He said it was to Singapore's advantage to not pick sides.
Chen suggested Wednesday's exercise could help China demonstrate that it also has a strategic partner in the South China Sea, and that it could therefore counter U.S. military operations and deployments in the region.