Man Fined $200 for Flicking Rubber Bands Onto Public Road in Singapore
A man has been fined more than $200 for firing two rubber bands onto a public road in Singapore.
The story came to light after a ticket showing a fine for S$300 (around $217) from the National Environment Agency (NEA) began circulating on social media over the weekend. The agency confirmed on Monday that the ticket was real, CNA reported.
The incident occurred last Thursday, the NEA explained. The ticket—issued for littering—noted that the man was charged with "throwing rubber bands in a public place."
"NEA enforcement officers observed a man walking towards his vehicle and shooting two rubber bands, one after the other, into the air," the agency explained. "The rubber bands landed on the public road. Our officers thus informed him of the littering offense and issued him an enforcement ticket."
The man who fired the rubber bands was "cooperative throughout [the NEA] officers' engagement with him," the NEA explained.
Singapore is notoriously strict with regards to littering. The NEA reported another incident from May 16, in which two men were fined the same amount for leaving drink cans on a wooden box outside a metro station on the north side of the island. The offenders paid the fines four days later, CNA explained.
A first-time littering offender in Singapore can be fined S$300, though the fee can rise as high as S$2,000 for a first conviction, S$4,000 for a second and S$10,000 for subsequent offenses.
Those who continually fall foul of the littering laws can even be issued with Corrective Work Orders, under which they must clean public places for at least three hours. When doing so, they are made to wear bright yellow or pink vests to mark them out to other citizens, The Singapore Independent reported.
The NEA uses uniformed and non-uniformed officers to keep an eye out for litterbugs, and has even introduced cameras and video analytics at busy spots to help catch offenders. The Singapore Independent said that 39,000 littering tickets were issued in 2018, marking a 22 percent increase on 2017. The number of Corrective Work Orders was also up 30 percent to 2,600.
The NEA said the agency "would like to remind the public that littering has environmental consequences, and keeping our environment clean by not littering is a gracious and socially responsible thing to do."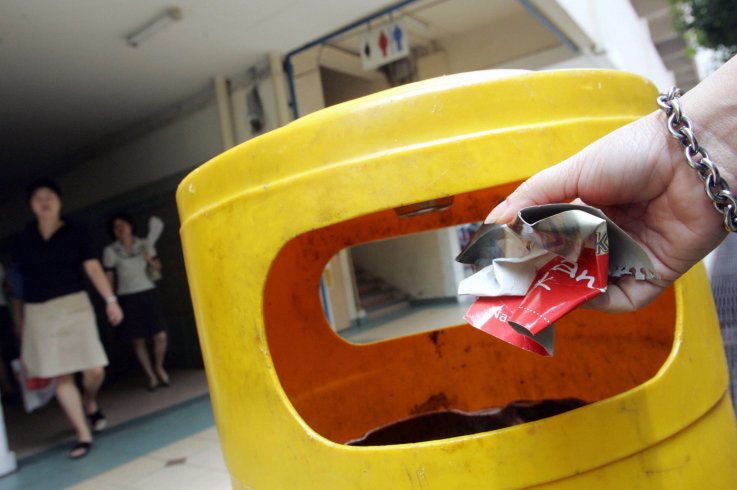 Man Fined $200 for Flicking Rubber Bands Onto Public Road in Singapore | World