Singer's Reimagined Porsche 911 Costs as Much as a House
California-based Singer Vehicle Design has been modifying Porsche 911s since 2009. It mostly focuses on the 964-generation of 911s (1989-1994), but it also restores the preceding 930 models (1975-1989) as with the white and green model shown here.
The company only works with air-cooled engines, which means their work stops at 1994 model year vehicles. After that Porsche went with more traditional water-cooled motors.
Their cars are officially and legally called Porsche 911 Reimagined by Singer, and they're some of the most sought-after custom cars on the market. Singer's motto is "everything is important," which means that nearly every one of the thousands of parts on an old 911 are fixed, improved, updated and cleaned for a concours-worthy vehicle.
The latest from Singer Vehicle Design is called Turbo Study and it was requested by an owner that wanted a sports focus in his reimagined 911. It uses design cues from both the 930 and 964 generations.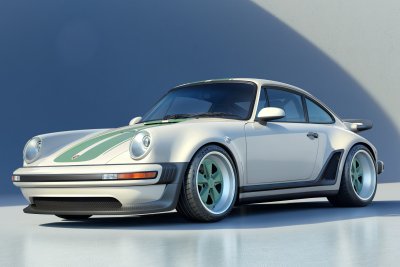 The Turbo Study uses a naturally aspirated 3.8-liter air-cooled six-cylinder engine, reworked to make 510 horsepower. It features a six-speed manual transmission sending power to the rear wheels. Other mechanical improvements include a sports-calibrated suspension, carbon ceramic brakes and a rear cross brace to keep the body stiff.
The reimagined 911 is painted in Turbo Racing White with a light green racing stripes over the top. The front decklid sports a center mounted fuel filler and carbon fiber elements for the front splitter and rear shark fin air intake. In back it gets a "whale tail" spoiler and louvred bumpers and the bumperette delete. The bumperettes are the little rubber pieces that found a home of 911 bumpers due to American crash standards.
Inside, the Turbo Study receives classic, lightweight houndstooth seats in white and green, along with lots of carbon fiber accents. The gauges are new as is the climate control setup. The reimagined 911 gets a basic radio with smartphone connectivity and wireless charging. The doors are lightweight and trimmed houndstooth material.
The company's first Porsche 911 Reimagined by Singer was shown during Monterey Car Week after the company's founding earlier that year.
Rob Dickinson is the founder of Singer and its head of design. He fell in love with Porsche 911s in the '70s and even went into car design. He dropped that after a few years, bitten by the music bug, and became the lead singer for the band Catherine Wheel. Dickinson moved to LA after the band broke up and built the first Singer-style 911E to drive around the city.
He found that people loved it and were willing to open their checkbooks for their own version of a no-compromises restoration and reimagination of a classic 911. These cars start around $350,000 and go up from there. Some have crossed the half-million-dollar barrier and ones at auction have gone for more than double that. Each one takes more than 4,000 hours to complete.
Singer Vehicle Designs introduced the Turbo Study back in February, it has received more than 70 reservations already. Singer is quoting the vehicle at $750,000 and it'll take at least two years to get one.