Singing the End of 'Mad Men'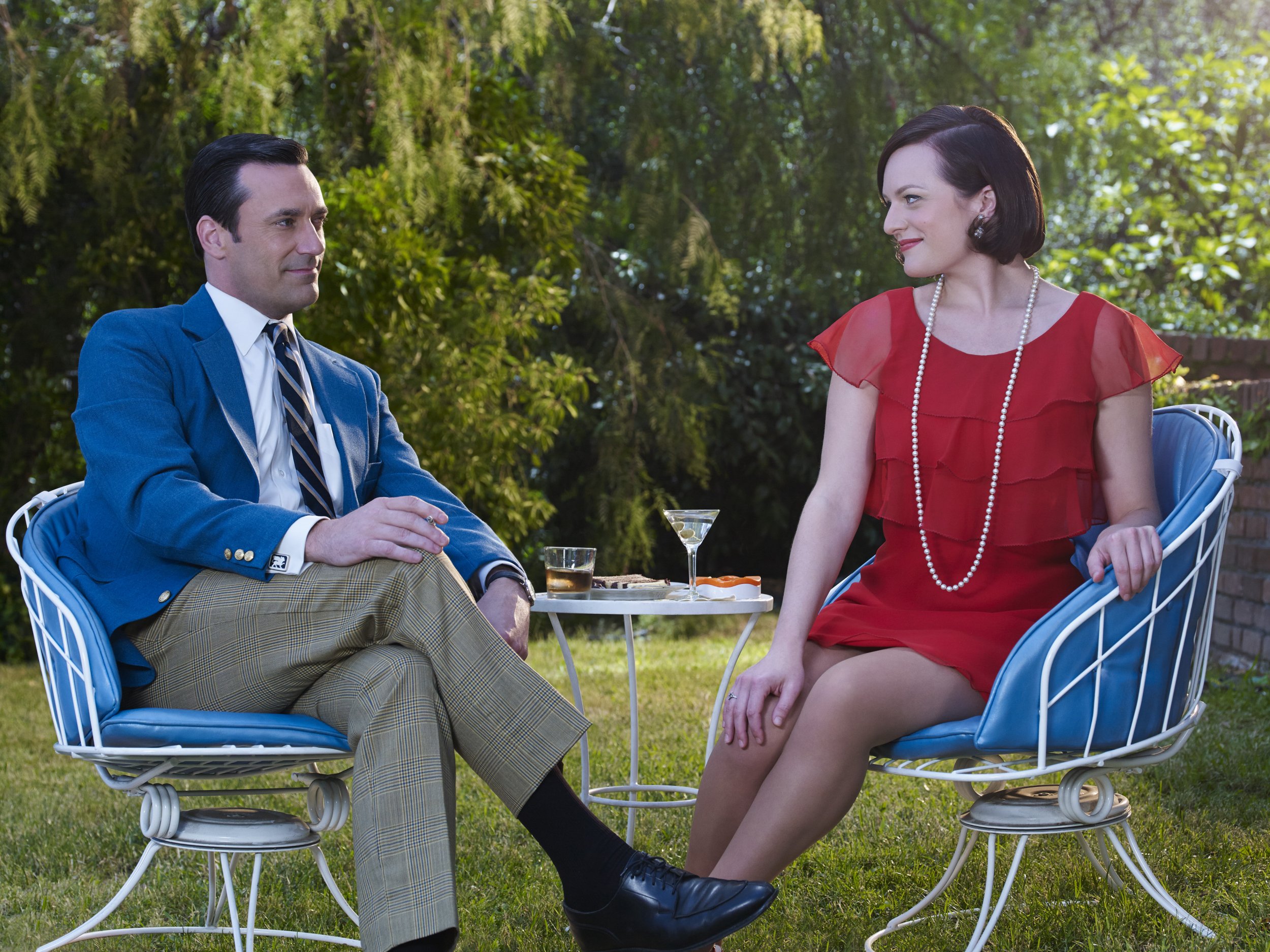 How will Mad Men end? With a song, of course. In the span of 91 previous episodes, the series' patriarch, Matt Weiner, has employed popular music of the '60s era to punctuate each final scene. Sometimes an entire installment, such as "Christmas Waltz" (Season 5), was titled after and constructed around a single tune.
The series premiere in 2007 closed with Don Draper tucking his two children into bed as his wife, Betty, looked on fawningly. In the background the dreamy "On The Street Where You Live" from My Fair Lady begins to play, suggesting an idyll of domesticity. Weiner chose the song for ironic effect: We have already been clued in to Don's clandestine endeavors—in fact, we had no idea until that moment that he was a family man. Don's charade in 1960 symbolizes the final throes of the Eisenhower era and portends a tumultuous decade, both for his character and the country, that is about to crash on all like a rogue wave.
The playlist of the '60s was a true bounty, and Weiner has taken full advantage through seven seasons. Songs from artists such as the Beatles, the Hollies, Frank Sinatra (and Nancy Sinatra), Dusty Springfield, Johnny Mathis, etc., were used and with purpose. Moreover, Weiner was as likely to select a rarity from a legendary performer ("Song To Woody" by Bob Dylan) as he was an iconic hallmark of the decade (Judy Collins's 1968 hit "Both Sides Now"). The songs always complemented the narrative, and not vice versa.
In fact, by the end of Season 6, "Both Sides Now" served as the perfect bookend to that My Fair Lady tune. Once again an episode closes with Don Draper (i.e., Dick Whitman) and his brood, which has now grown to three. This time, however, they stand in the broad daylight, on the street where Dick lived as a boy, in front of the whorehouse that was his home. The song, an ode to facing up to reality, plays as Don and his eldest, daughter Sally, share what may be the first honest look of their lives.
For many viewers, myself included, that moment was Mad Men's apotheosis. Weiner has called it his favorite scene of the series.
So what song will serve as the curtain closer for this legendary AMC series? Well, bet the house that it will not be Journey's "Don't Stop Believin'." Weiner's mentor and former boss, David Chase, extracted all of the pathos out of that 1981 song with his cryptic ending to The Sopranos. Last Sunday's penultimate episode closed in the summer of 1971, and while Weiner has never cared if a song corresponded to the year in which an episode was set, '71 was a vintage year for popular music: "Imagine" (John Lennon), "My Sweet Lord" (George Harrison), "What's Going On?" (Marvin Gaye), "American Pie" (Don McLean) and "Stairway to Heaven" (Led Zeppelin) are just a few of the worthy songs from that phenomenal year.
What tune Weiner has chosen is obviously symbolic of how the series itself will end. In essence, the 92nd episode may as well be denouement. The storylines of all the supporting players, from Pete Campbell to Roger Sterling to Peggy Olson to Joan Holloway to Betty Francis, have all been neatly wrapped in a bow. Last Sunday's closing shot of Don Draper seated at a bus stop outside Alva, Oklahoma, basking in sunshine and, for the first time in his adult life, a cleansed soul, may as well have been Weiner's final portrait.
Hence, anything is fair game this Sunday evening, May 17: a leap forward in time or a Draper-centric episode that takes place entirely outside the world of advertising is possible. To quote the title of a song that Mad Men used to end an episode in Season 5, "Tomorrow never knows."
With all of that in mind, here are our top three picks, in ascending order, for the song that will be playing when the screen fades to black shortly after 11 p.m. Eastern time on Sunday.
3) "Let It Be" by the Beatles
No entity had a greater impact on popular culture during the '60s than the Beatles. John, Paul, George and Ringo, like the gang at Sterling, Cooper, Draper, Pryce, were immensely talented but often at odds with one another. Personal lives seeped into professional ones, often with deleterious effects. The single, released in the spring of 1970, was the band's final one before McCartney announced his departure from the band. More than just a song, it is a prayer and an elegy to a turbulent era.
2) "American Pie" by Don McLean
Of course, using a song from the flagship of the British Invasion instead of one from an American artist would be akin to choosing the Jaguar account over Chevy. Mad Men is a history primer seen through a distinctly American prism, and what song better encompasses the loss of innocence and a feeling of despair than McLean's 1971 classic. As you know, the song loosely chronicles the untimely death of seminal rocker Buddy Holly, who perished in a plane crash, in 1959.
Last Sunday's episode ended with an optimistic 1958 tune, "Everyday," that was written and performed by Holly himself, as Draper sat beaming on that bus stop bench. Was Weiner setting up his audience for a sucker punch? Will Don Draper also be folded into that mortal coil before his temples even begin to turn gray?
1) "We've Only Just Begun" by the Carpenters
Weiner has an affectation for sweet, even slightly schmaltzy tunes. From "On a Carousel" by the Hollies to "I Got You, Babe" by Sonny & Cher to the aforementioned "Everyday," the showrunner has shown a fondness for sugary pop. This 1970 confection owned the airwaves—and the wedding reception halls—in the early '70s and is irresistibly hopeful. Moreover, and this may be the clincher, it started out as an ad jingle for Crocker National Bank in California.
Wildcard: "I'd Like To Teach the World To Sing" by the Seekers
We are cheating some here, but this 1972 song also got its start as an ad jingle, "I'd Like to Buy the World a Coke," which was a monster ad campaign for Coca-Cola in...1971. Doesn't McCann have the Coca-Cola campaign? And didn't a kindly innkeeper ask Don Draper to fix a Coke machine last Sunday? And didn't Peggy confess to Don that one of her dreams was to create a memorable catchphrase. Perhaps Peggy, or Don, or better yet the two of them together, create one of the most successful ad campaigns of all time to send the show out on a high note. After all, the platonic relationship of Peggy and Don has always been the soul of the show.