'She's Not Going': Single Dad Praised for Canceling Teen Daughter's Date
A father has been praised online after he canceled his teenage daughter's date because the supposed boy did not want to meet him first.
In a viral post shared on Reddit's infamous r/AmITheA**hole sub on Sunday, which can be seen here, user and single dad Main_Hippo_6627 explained a recent argument with his 14-year-old daughter, Victoria.
In the post, the Reddit user said he was typically relaxed about her going on dates as long as he meets the boy beforehand so he can "put a face to a name."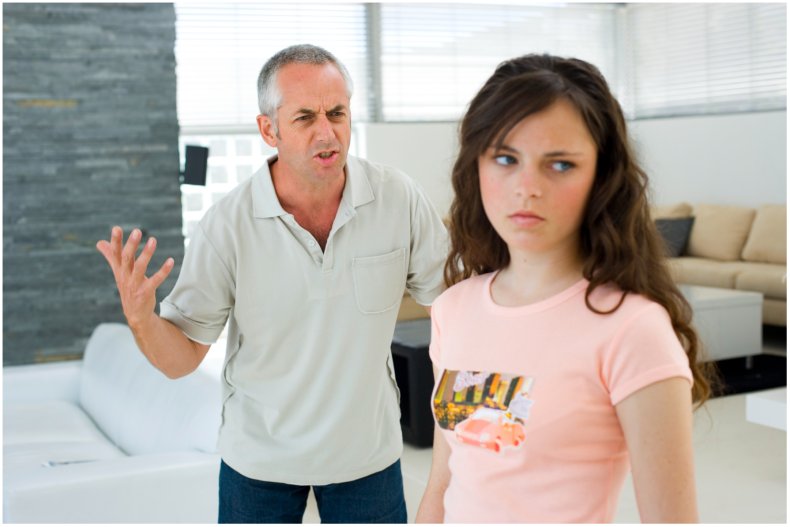 The post quickly drew attention online and Main_Hippo_6627's comment racked up some 15,600 upvotes in a matter of hours.
He added: "A few days ago, she said a guy named 'Vince' asked her out, fine. Well, Friday night came and I get told by Victoria that oh, he's 'not good at talking to parents' and 'doesn't like to do it.'
"Sarcastically I said that I love hearing that and that I was at ease hearing that this guy actively avoids parents. She's got a Ph.D. in my sarcasm, so I received an eye roll. I said he could use tonight as practice for talking to parents.
"She said that he doesn't have to do anything he doesn't want to. I said if he's not meeting me, she's not going on the date. I got a foot stomp and a 'that's not fair.' I told her I wasn't being overbearing just wanting to meet this kid."
The Redditor added: "She told me she was going to do what she wanted. I told her to text this guy that the date was off and go to her room. She started crying, sent her text, told me she hated me, went to her room and slammed the door a few times."
Unsurprisingly, many other Reddit users praised the father and took to the comment section, questioning how old Vince could be and adding that children were not the best at making serious judgment calls.
One Redditor said in a comment, which was upvoted more than 29,600 times: "NTA (not the a**hole). Grateful dad's like you exist.
Another added: "Kids don't always know how to pick up on red flags yet. It's a sad truth that lack of experience is one of the things that makes them vulnerable to manipulation.
"I hope she comes around and sees once she calms down though, especially if you explain it."
While a third commenter posted: "I'd be curious to know where exactly she met Vince and how old he is. There has to be a reason that he dosn't want to meet you."
Newsweek has reached out to Main_Hippo_6627 for comment.
According to the American Academy of Pediatrics: "Kids start dating at an average age of 12 and a half for girls and 13 and a half for boys."
It recommends parents talk to their teen or preteen about what dating entails and to keep informed about what the child wants to do on the date "before you decide whether you're comfortable with it."
If you have a similar family dilemma, let us know via life@newsweek.com. We can ask experts for advice, and your story could be featured on Newsweek.