Johnson & Johnson announced on Wednesday that its COVID-19 vaccine candidate has begun Phase 3 trials, joining Moderna, Pfzier and AstraZenca in large-scale clinical trials.
Unlike the other candidates, however, the vaccine developed by Johnson & Johnson's subsidiary Janssen won't require two doses. A single-dose vaccine should expedite results and make it easier to distribute and administer to the public, if the vaccine were to prove safe and effective.
"We're convinced that a single dose could be very efficacious," Johnson & Johnson's chief scientific officer Dr. Paul Stoffels told reporters on Wednesday.
"The single dose could be sufficient to protect people for a long time," he added.
One benefit to a vaccine that can be fully administered in one dose is that people would not have to return in a few weeks.
"A single-dose vaccine is easier to implement as it can be more challenging to get patients back in for that second dose," Litjen Tan, chief strategy officer of the Immunization Action Coalition, told Newsweek.
Multi-dose vaccines require additional administrative support to ensure that people are being vaccinated properly with the right number of doses.
"In order to improve compliance, we need to put into place systems such as "reminder-recall" to get that patient back in for that second dose," Tan said. "And we need to make sure that the documentation of vaccine receipt is done well so that we know when that patient needs to come back for a second dose and provide those interventions above."
Tan added that documenting single-dose vaccines is also essential to health records.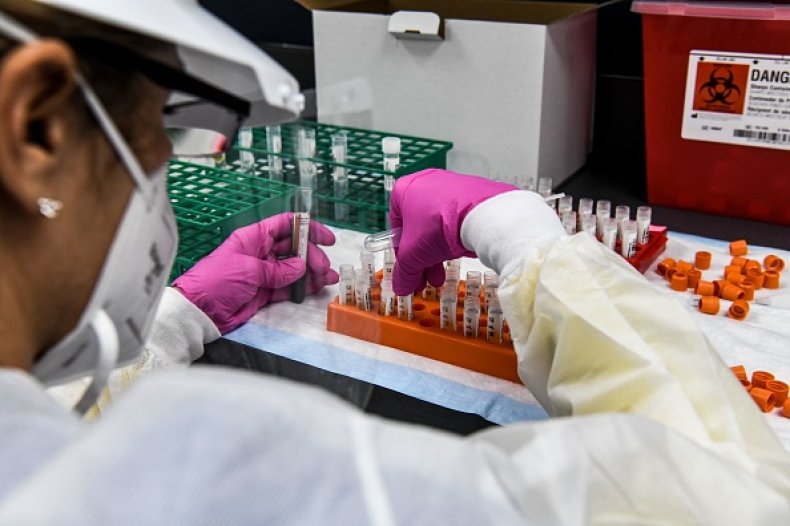 Trials for the single-dose vaccine will begin immediately and include up to 60,000 participants across nearly 215 sites in Argentina, Brazil, Chile, Colombia, Mexico, Peru, South Africa and the United States. This is a significantly larger sample group than Moderna's 30,000 and Pfizer's 44,000.
The experimental vaccine uses an adenovirus combined with SARS-CoV-2, the virus that causes COVID-19, to generate antibodies in human cells—a technique the company previously used to develop other vaccines, including one for the Ebola virus.
Although preliminary results are not anticipated for at least two months, the company expects to receive emergency use authorization from the U.S. Food and Drug Administration by early 2021 if the vaccine proves safe and effective in the final stages of clinical trials.
The FDA has said a vaccine must be proven to protect at least 50 percent of participants in order to be considered effective.
Director of National Institute of Allergy and Infectious Diseases Dr. Anthony Fauci, who worked on the vaccine research and whose agency is helping fund the trial, called the launch a "very important advance" during a call with reporters on Tuesday.
"The Janssen candidate has showed promise in early-stage testing and may be especially useful in controlling the pandemic if shown to be protective after a single dose," Fauci said.
Johnson & Johnson is also collaborating with the federal government's COVID-19 vaccine effort, Operation Warp Speed, on the Phase 3 trial.
This is the fourth vaccine candidate in the U.S. to begin Phase 3 trials. Pfizer and Moderna entered the final stages in July and AstraZeneca began its vaccine trials earlier this month. However, AstraZeneca's candidate remains on pause for safety review after a participant in the U.K. reported a serious adverse reaction.
The Johnson & Johnson vaccine also differs from the other candidates because doses only require basic refrigeration for storage rather than extremely cold temperatures like Pfizer's candidate, which requires temperatures below minus 94 degrees Fahrenheit.
Without freezing storage requirements, this vaccine could also be easier to distribute because doses can be administered at local health clinics and drugstores as opposed to advanced medical facilities.
Johnson & Johnson said it is aiming to supply more than 1 billion doses globally.