Fury as Woman Says Brother's Fiancée Chose To Be a Mom Over Getting Degree
A woman who told his brother's fiancée, who has a son, that "the real reason she couldn't go to college" was because she "had to raise a kid" has received a storm of backlash on Reddit.
According to a post on Reddit's Am I the A**hole (AITA) forum shared by the 24-year-old sister (under the username Throwra53524434), during a family dinner, the 32-year-old single mom (Michelle) said she'd only had a high school education and "always wanted to go to college and obtain a degree," but "it was so hard to do."
The original poster said: "I found that a bit cliche, especially after she started complaining about lack of opportunities and resources."
The sister said she "disagreed because colleges give all kinds of opportunities and scholarships" and "the real reason she couldn't go to college was because of the fact that she was a mom and had to raise a kid."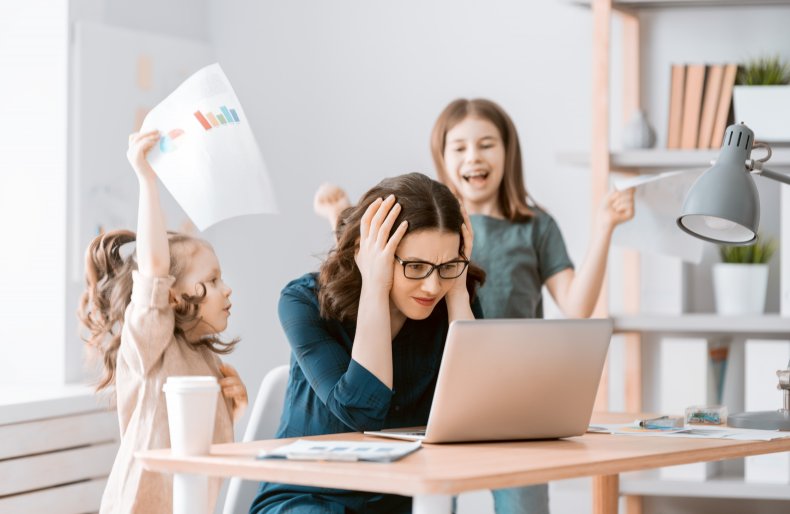 According to a September 2017 report by the Institute for Women's Policy Research, the number of single mothers in college more than doubled in the 12 school years between 1999 and 2012. Nearly 2.1 million students (11 percent of all undergraduates) were reported to be single mothers raising children without a partner, as of 2012.
The report said financial insecurity was "especially pronounced" for single student moms. "Single mothers often face major financial challenges that can impede degree completion. The vast majority of single mothers in college (89 percent) have low incomes; 63 percent live at or below 100 percent of the federal poverty level," the report said.
According to an April 2018 report by the Pew Research Center, 3 in 10 single mothers were living in poverty. "Among solo parents, mothers are almost twice as likely as fathers to be living below the poverty line (30 percent vs. 17 percent)," the center said.
Michelle, the single mom in the latest Reddit post, allegedly looked "offended" by the remarks made by her partner's sister and asked whether she was "implying that her decision to be a mom ruined her opportunities."
The sister replied "only she [the single mom] could answer this question" and "see if she's really happy where she is vs. where she could've been without the whole struggling mom thing."
Michelle allegedly got upset and said she's "happy with her life and her job at the salon" and that she "did not appreciate how judgemental and condescending I was towards her and her child."
She told her fiancée Adam about what happened and they left the dinner. "She couldn't even wait or say goodbye, she took her son and went to wait in the car," the sister said.
The sister noted that when Adam said it's "none of my business how she's [his girlfriend] living her life," she explained: "I was stating an opinion, nothing more nothing less."
While their mom said the original poster was "out of line, rude and ridiculous," the user's younger sister allegedly said: "Michelle was being too sensitive and she should get over herself already."
Newsweek has contacted the original poster for comment.
Several other Redditors criticized the original poster for being "hurtful" and "mean."
In a comment that got 37,500 upvotes, user ghostofumich2005 said: "You just insulted her, her child, and basically her way of life. Did you really expect her to say goodbye and be all hugs? Christ YTA [you're the a**hole]. You're just mean."
In a comment that received 11,500 upvotes, user pnb10 said: "Adding onto this, I never understood why people try to question when someone is hurt?? Like if someone says: hey this was hurtful! Why do people try to act like it's not. Just apologize? This isn't really up for debate."
User sheath2 said: "People who pride themselves on being 'brutally honest' are typically more interested in the brutality than the honesty." This comment received 9,800 upvotes.
In a comment that got 1,000 upvotes, user Meddit1991 said: "Honesty without tact is cruelty. OP was cruel. And for what? Ya kno?"
User Crooked-Bird-21 agreed, stating: "Yeah exactly there was absolutely no need for her to say anything about it. She can't even pretend she was 'just trying to help,' unless she owns a time machine."
If you have a similar family dilemma, let us know via life@newsweek.com. We can ask experts for advice, and your story could be featured on Newsweek.