I was sporty all through school, playing volleyball and baseball, and then I had my daughter in 2006 and my son was born in 2012. I gained a lot of weight after my son's birth and then after getting married in 2013, I put on another 90lbs.
I feel like I just forgot about myself and turned to food. It was a lot of work doing my job and taking care of my family, and there was just no time for me. My husband worked early in the morning so he would go to bed early and at the end of the night, I would turn to food for comfort. I felt really lost. There was a lot of unhappiness.
I knew I was getting to a point where I was too big when I started taking my son's baby socks and sticking them in my bra because it was so tight, it was cutting into my skin. I would also buy clothes and a week later they would be too tight. I stopped looking in the mirror for a very long time.
By the time my marriage fell apart in 2015 and I got divorced, I was around 415lb and I knew that I wanted to change. I kept passing the same gym every day and one day my sister Latoya said she was going to come in with me. We joined a group circuit training class that used dumbbells and floor exercises, and the coach didn't look at my size, he saw me as a person. The class helped my confidence and reminded me that I was once an athlete and I could get back there. That first year, I lost 100lb.
In 2017, I moved to Howard County in Maryland and was looking for a new gym but I couldn't find anything similar to that class, so I tried Tae Bo and kickboxing but they didn't really do anything for me.
Then, one day, I walked into a powerlifting gym. At that point I was still around 315lbs, so I was a little nervous walking into the gym by myself, particularly when there were no other Black women around and not really any other woman around at all. No one looked like me in the sport at the time and I didn't even know what powerlifting was, I just saw all these strong people.
Bench lifts, squat lifts and deadlifts with barbells were all new to me, and I remember people telling me that I shouldn't bench because I would look like a man. I had to stop listening to all the negative comments.
I was able to find my coach, Daniel Fox, and at the end of 2017 I was doing so well that he suggested I sign up for a meet. My first competition was in Baltimore City in 2018 and I think I ended up with a 231lb bench press, a squat lift of 385lb and a deadlift of 396lb. That was nothing compared to what I lift now.
Powerlifting just felt right to me; I was taking control of my life. I would lift 315lb and feel that if I could control all this weight then I could control everything else in my life.
But the journey was hard. At my second competition in 2019, I missed my 496lb deadlift and when I looked at the footage online afterwards, I saw a lot of comments saying things like, "why are there so many Black girls here?" I felt really defeated and as if I wasn't supposed to be there.
After that, I told my coach I wanted to get to a 600lb deadlift. He put together a program for me and I did everything he asked. I was the primary carer of my children at the time and I work in property management so I move a lot. I would always base my move around what gym was closer and if it had childcare. Each day, I worked until 5pm and my kids knew that after school they would do homework, I would make dinner and then we would go to the gym, where I would train until 8pm and then we would come home. If I had to train later I would put them to bed and then my mom would come over. My daughter is 15 now so she is able to stay home in some cases, but my son still comes with me. By the end of 2018, it got a little easier as I met my boyfriend Erin and he is now able to watch my children.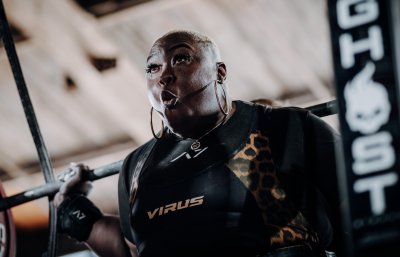 I also realized that if you're going to lift heavy, you have to eat clean. I would drive up to McDonalds, and tell myself I was only having a chicken wrap with no ranch dressing and no cheese, just lettuce. I stopped drinking soda and I stopped drinking juice and I continued to lose weight. Right now, I hover at around 280lb-290lb, but for one competition I got down to 275lb.
On September 26, I competed in the 2021 World Raw Powerlifting Federation's The Bucked Up Showdown in Kansas City, Missouri. That day, I was focused on the deadlift. I failed my first squat lift and decided not to complete that lift in order to complete the rest of the competition. I ended up with a 584lb squat and a 363 bench, which was a lifetime personal record for me. But I was the last deadlift of the day because I am in the Superheavyweight division. I achieved the all time heaviest women's deadlift in the world: a 636lb deadlift.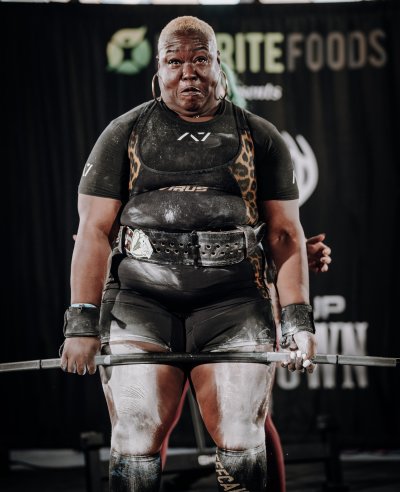 That was the number I had been striving for for so many years. In 2019, my grandmother passed away and before that she was in a hospice. I was the only one who could pick her up. She used to call me her "human crane" and she loved watching me deadlift. When I lifted 636lb, the emotion people saw was me lifting that for her. Anytime I deadlift and walk up to that bar I am channeling my grandmother and my ancestors and I am thinking about my family in the U.S. Virgin Island of St. Croix.
There are other 37 and 38 year old women who powerlift but in the community people are blown away that I'm 37 and have only been powerlifting for three years. It feels crazy to see my name next to the record for the heaviest female deadlift in the world. That day, the atmosphere in the room was electric. Everyone was walking up and wanting to take pictures, but it really didn't hit me until the next morning when I woke up and I had gone viral. I realized I had done something huge.
My daughter came back from school and said her gym teacher had shown her a video of me breaking the women's deadlift world record and she had told him that I was her mom. I was also on local news and other cities picked up the story. Through that the Ellen Degeneres Show found me; that was amazing. They flew me out to LA and I was on the show.
When I was 415lbs I was always tired and I never had time for anything, even though I was just working and sitting on the couch. The difference, mentally and physically, between then and today is that now I truly believe the impossible is possible. I believe that you make time for things that are important to you. And I don't tell my kids anymore, I show them. The mom that I am today allows me to encourage my kids that if they have a dream they can attain it. And, I will help foster that dream by believing in it too.
Tamara Walcott set a world record women's deadlift of 636 pounds on September 25, 2021. You can follow her on Instagram @plussize_fitqueen4.0.
All views expressed in this article are the author's own.
As told to Jenny Haward.