'Single Parents' Canceled: Why Was the ABC Series Axed?
ABC may not be able to film its fall TV line-up yet, but that has not stopped the network from unveiling which of its shows have been axed. Single Parents is among the series canceled by the network, a surprise to some fans of the Taran Killam and Leighton Meester comedy. The cancelation will come as an additional blow to its creator Liz Meriweather, whose Bless This Mess was also not renewed by ABC.
Why was Single Parents canceled by ABC?
As is always the case with cancelations, falling ratings may have been the reason behind Single Parents' axing. Per TVLine, the show dropped 32% in its demographic from its last season and 24% of viewers, to an average of 2.6 million.
This meant that the show was not in the network's top 10 for ratings in the current TV season. If ratings are sorted by demographic, the show was the 12th most-watched ABC scripted series of the current season and only the 16th most-watched by total viewership.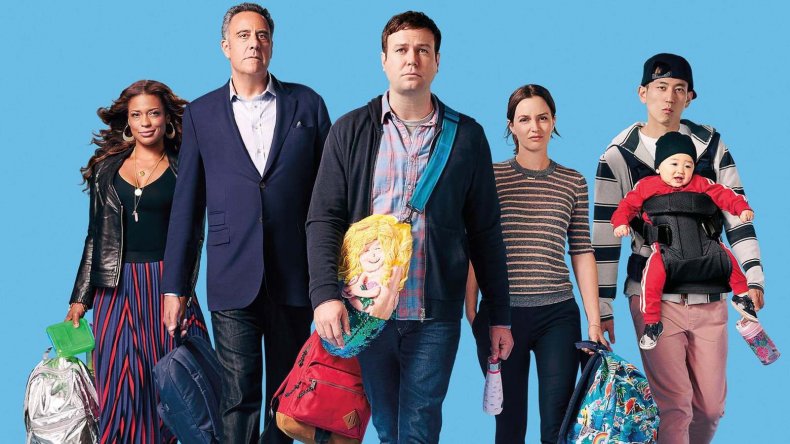 The latter metric may have been the ultimate death-knell for the series. After all, the show beat out both Black-ish and American Housewife in the demographic ratings, but both of those shows were renewed for more. The series was also the most-voted-for comedy in TVLine's poll of shows that viewers wanted to be saved. However, clearly this was not enough to rescue the series.
Though Meriweather had two shows canceled on the same night, she was able to joke about it on Instagram.
Alongside some photos from the sets of both Single Parents and Bless This Mess, she posted a caption saying: "Two shows canceled in one day? I get the message, ABC! This is my broadcast Red Wedding. But seriously, folks, thank you so much for watching these shows. We loved making them. We loved writing them. I feel so grateful to have been given the chance to work with so many incredible people. Thank you, thank you."
Killam also posted about the cancelation on his Instagram where he found time for a little shade at a certain streaming service. He said: "Bummed to not be telling more stories with these characters but overwhelmingly grateful to be given the opportunity to do it in the first place. We did 45 episodes (17 seasons on Netflix). Thank you to @20thcenturystudios @abcnetwork @jjphilbin @lizmeriwether @jasonwiner @eeomalley @popekatherine our writers, our crew, our cast and most of all our wonderfully loving fans. #HaveAGoodSummerInBarstow"
Single Parents and Bless This Mess were not the only shows axed by ABC on May 21. Schooled, Emergence and Tiffany Haddish's Kids Say the Darndest Things also got the chop. ABC meanwhile renewed 13 of its shows at the same time, including The Conners, Dancing With the Stars, Who Wants to Be a Millionaire and The Rookie.