'Singular Sensation' Chronicles 1990s Broadway With a Little Razzle Dazzle
The theater has been on the cusp of disaster pretty much ever since the Ancient Greeks dropped their subsidies. It has suffered everything from plagues and Puritans to wars and even the battle of Patti LuPone and Andrew Lloyd Webber, which some feared might require intervention of the Nuclear Regulatory Commission, the United Nations and Dr. Phil. It is at this last point in theatrical history that Michael Riedel's engaging new book Singular Sensation (Avid Reader Press) enters from stage right.
Hard-core theater fans should not be misled: The title may come from A Chorus Line, but this is the story of 1990s Broadway from the British invasion that saw, among other shows, Phantom of the Opera and Les Misérables, up to and including The Producers. Riedel spotlights the highlights, low lights and a few ghost lights of a time that saw among other things the peak in popularity of Webber, the resurgence of Edward Albee, the successes of Terrence McNally, the story Rent, the Weislers and of course a sighting or two of Stephen Sondheim. There is indeed something for everyone.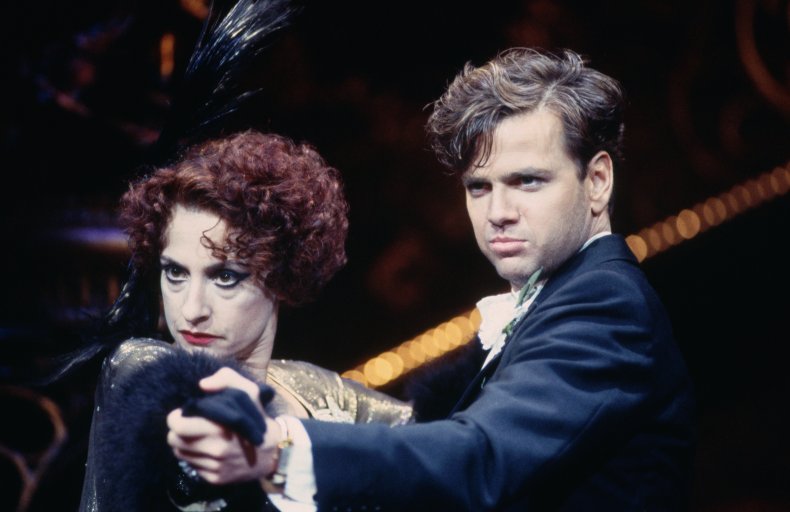 If some of these names are less than familiar to the non-theatergoing audience, rest assured that Riedel is excellent at filling in enough backstory to keep everyone up to speed. And if they are too familiar to the theater addicts who crowd the theaters (when that's legal), Times Square (when that's safe) and the chat rooms, Riedel has plenty of spicy new factoids, gossip and backstory to keep you interested. He is a great teller of tales even if some people don't like the tales he tells. And Riedel has always had some low sources in high places who can be counted on to add some spice to the stories.
In his often-irreverent columns for the New York Post, Riedel has brought backstage drama front and center with news, gossip and bold-faced names, a few of whom who told some pretty bald-faced fibs to the world. His style was and is breezy and readable, and his tongue, while sharp, was and is often planted firmly in his cheek. That style is muted, but just a little, in Singular Sensation, which picks up in the early 1990s where Razzle Dazzle, Riedel's previous book on the Broadway theater, left off.
The book covers some of the more famous stories, some like LuPone's battle with Webber moved from the arts and entertainment pages to Page Six and farther. The feud, which lasted from 1994 till about 2018, began when LuPone was all set to play Norma Desmond in the musical version of Sunset Boulevard on Broadway—she was playing it in London—until the producers saw Glenn Close play the role in Los Angeles. Then, as they say, mayhem ensued. Close got the part; LuPone got the shaft; and the world got a soap opera. It was a bare-clawed cat fight—between LuPone and Webber—that matched almost anything Tennessee Williams in his prime could dream up. And in black and white Riedel recounts the episode in all its four-color glory.
Singular Sensation is filled with plenty of stories that will be catnip for theater-starved readers. From the fall of British glitz plays to the rise and premature demise of Jonathan Larson. Here, Stephen Sondheim gives advice to the stressed-out creator of Rent that should be over every theater artist's desk: "You've chosen your collaborators, and now you have to collaborate." That advice helped Larson go on to create one of the biggest hits of the 1990s.
Probably the lowest light of the book, theatrically speaking, is the story of Garth Drabinsky, head of Live Entertainment Corporation of Canada (Livent), who it seems could have taught Bernie Madoff a few things about how to do business. Drabinsky was found guilty of fraud and forgery. The Livent saga was not really theater, but it was high drama of the lowest order. People could not believe the level of deception that went on. But then this was the 1990s, and we've seen a lot since then.
Finally, the story of The Producers brings us into 2001, which is the really modern era of Broadway with its premium pricing and star casting. The musical won 12 of its 15 Tony nominations, and the three that were lost saw actors competing against fellow cast members. While in retrospect its success seemed to be a foregone conclusion, there were a few speed bumps along the way.
The pandemic may have put the theater on hold for now, but Singular Sensation will give theater rats plenty to gnaw on while they wait. The theater has always lived life on the cusp of destruction. In fact, it seems to eternally facing the abyss, living Thornton Wilder's The Skin of Our Teeth and George S. Kaufman and Moss Hart's Fabulous Invalid in constant repertory, but it will survive and there will again be drama, some of it on stage. And when there is, hopefully Riedel will be able to give us all the news, gossip and a little bit of razzle dazzle too.