The Sinister Reason Behind Disney's Splash Mountain 'Princess and the Frog' Reimagining
Disney has revealed its plans to transform Splash Mountain into a Princess and the Frog-themed ride.
The reimagined log flume ride will open in both Disneyland in California and Walt Disney World in Florida.
The ride has been among the parks' most popular and first opened in Disneyland in 1989 and 1992 in Walt Disney World.
Earlier this week, new concept artwork and story details for the ride were released.
The ride's new story picks up where the movie left off in New Orleans, following Princess Tiana, Naveen and Louis as they prepare for their first-ever Mardi Gras performance featuring songs from the film.
New music inspired by the soundtrack will also feature as riders float along colorful canals with Tiana.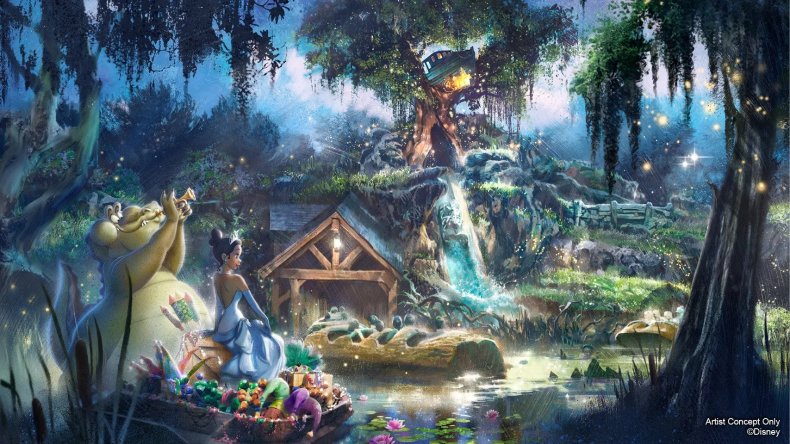 In a video discussing the ride's reimagining, Charita Carter, senior producer for Walt Disney Imagineering, explained: "The ride system, in terms of its ebbs and flows, will be something we'll be consistent with, but we're going to wrap a new story around that."
Disney's Imagineers also spent a lot of time ensuring that the finished product was authentic to the city of New Orleans, taking multiple research trips there and commissioning artwork by local artist Sharika Mahdi.
"We want our guests who are from all places around the world to say, 'OK, this is a really special place,'" Carter explained.
"But it's also important for our guests who come from New Orleans to say, 'Yes. This is my home. They did it. They got it right.'"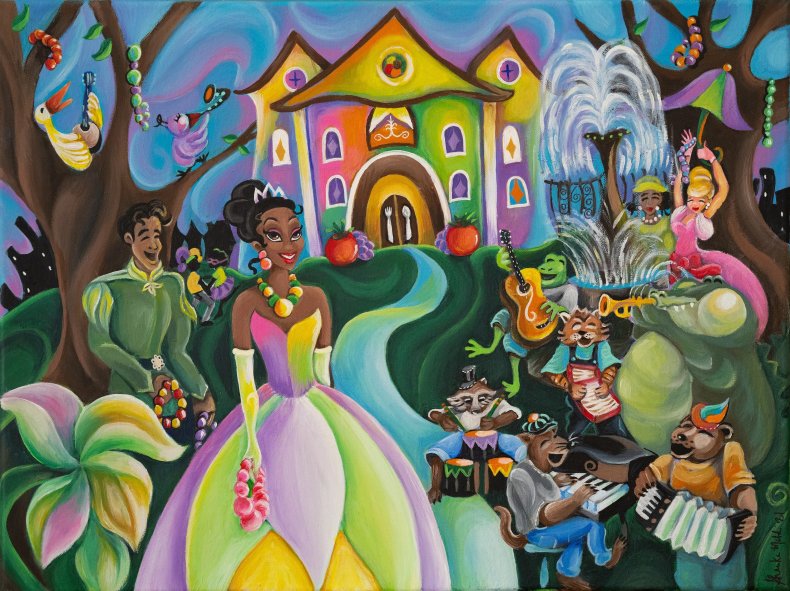 Disney has also committed a $50,000 donation to the New Orleans Center for Creative Arts (NOCCA), a regional, pre-professional arts training center that offers students intensive instruction in many subjects including culinary arts, dance, media arts, classical instrumental music, and jazz instrumental music.
It is not clear when the redesigned Splash Mountain will open.
Why was Splash Mountain redesigned?
Splash Mountain was originally based on the 1946 movie Song of the South.
The movie has been criticized for its depictions of race relations in the south.
When it premiered in Atlanta, the film's leading man James Baskett was unable to attend due to segregation in the city.
The NAACP picketed the movie's release, with the organization's executive secretary Walter Francis White saying in a statement at the time that the movie helps "to perpetuate a dangerously glorified picture of slavery."
Adam Clayton Powell Jr., who was a congressman representing Harlem from 1945 to 1971, also condemned the film, calling it an "insult to American minorities [and] everything that America as a whole stands for."
Song of the South was subsequently re-released in theaters in 1956, 1972, 1980 and 1986, though has never been available for home viewing.
The movie was never available on VHS and will not be streamed on Disney+, with former Disney CEO Bob Iger admitting that the film is "not appropriate for today's world."
Though many will not have seen the film, they may be familiar with its most popular song, "Zip-a-Dee-Doo-Dah," which won the movie an Oscar and has been covered by stars including Louis Armstrong and Julie Andrews.
The song has since been removed from Disney parks.
In June 2020, following racial justice protests and a Change.org petition, Disney announced plans to reimagine Splash Mountain around the movie the Princess and the Frog.
The animated feature was released in 2009 and features Disney's first black princess, Tiana.
In a June 2020 statement, Disneyland Resort's Public Relations Director Michael Ramirez explained that the redesign had been in the works for the past year, adding: "The new concept is inclusive—one that all of our guests can connect with and be inspired by, and it speaks to the diversity of the millions of people who visit our parks each year."