Truck Falls Into Sinkhole After Driver Thought Barricades Were for July 4th Celebrations
A giant sinkhole in the middle of a Missouri road nearly swallowed a driver and his pickup truck whole.
A man in his 50s, whose identity was not revealed by authorities, drove his pickup truck right into a sinkhole in the St. Louis area of Forest Park on Wednesday. He reportedly said that he didn't realize the barriers blocking the road were to keep drivers away from the construction site. The man told police that he thought the barriers had been placed on the road for Fourth of July celebrations, so he drove around them, according to St. Louis' Fox affiliate.
The sinkhole formed in the middle of the road on Tuesday following a water main break, according to the St. Louis Water Department. The barriers were placed around the hole by construction crews who had been excavating the road to fix the water main.
Although the man's truck suffered a few scratches and a smashed fender and hood, the driver and two passengers left the scene unscathed.
The site of the crash is the same area where a massive sinkhole emerged in Forest Park in July 2019. A 30-inch water main break was to blame for that sinkhole, which stretched across three middle lanes of the road while cracks extended over to the opposite side of traffic, as per St. Louis' NBC News affiliate. The busted pipe also caused massive flooding to the surrounding area.
Named the transmission pipe, the Forest Park water main is responsible for transporting water from an underground pumping station to various areas of St. Louis.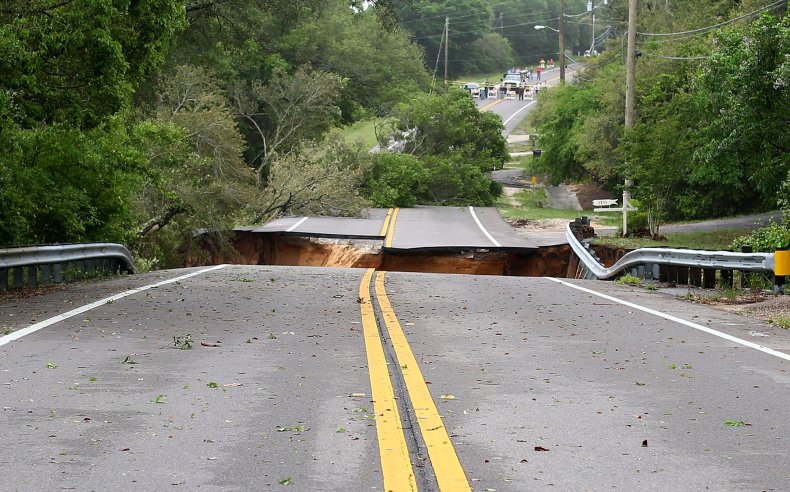 Sinkholes in Missouri are not uncommon. Along with the major hole in Forest Park, dozens of smaller sinkholes—some reaching 12 feet deep—have sprung up in various other parts of the state in recent years, causing property damage and excessive flooding, among other headaches. In 2019, the Associated Press reported that Caruthersville—a city not too far from the Mississippi River—suffered an estimated $4.5 million in damages after dozens of sinkholes popped up in people's yards and on main roads throughout 2019.
Although flooding is a major cause of sinkholes in Missouri, Water Distribution Superintendent Vincent Foggie told St. Louis' NBC News affiliate in 2019 that there can be a number of contributing factors to forming sinkholes.
"Weather, heat, expansion, contraction, road and the piping itself," Foggie explained following the July 2019 incident. "You name it, it could be that. When you're pushing certain temperature water through the pipe, that can be part of it."