'The Sinner' Season 4, Episode 3 Recap—Don't Trust the Muldoons
The Sinner Season 4 is well underway with Episode 3 taking a closer look at Percy Muldoon's (played by Alice Kremelberg) closest family and friends, including an old roommate and her birth mother. As per usual in The Sinner, anybody and everybody is a suspect and at the moment, it looks very likely that Percy's paternal side of the family, the Muldoons, could have something to do with her disappearance and possible death. Newsweek has a full recap of Episode 3 below.
The Sinner Season 4, Episode 3 Full Recap
Episode 3 of The Sinner Season 4 began with (retired) Detective Harry Ambrose (Bill Pullman) watching Meg (Frances Fisher), as she headed for the port, instantly begging the question "why would you leave the island where your granddaughter was last seen alive?"
Arriving on the mainland, Meg accepted a brown envelope from a man at a dock but in this episode, its contents are never revealed but audiences should keep note of the exchange. Meanwhile, Ambrose is hot on her tail and he watched on as Meg then proceeded to argue with a woman outside her home, leaving when the door was slammed in her face.
In true Ambrose style, he approached the house and spoke to the woman, who happened to be Percy's mother. She shared that she gave birth to Percy at just 16 years old and gave Percy up to the overbearing Meg Muldoon, Percy's grandmother.
Before Ambrose left, Percy's mother made sure to get her feelings about the Muldoon family across. She described Meg as a "tyrant" and shared her theory Percy had been trying to escape Meg and her small-town life for years.
She then revealed to Ambrose nine months ago, Percy had turned up on her doorstep unexpected, only staying for one evening. At the time she noticed Percy was carrying a whole load of cash, without any explanation.
After leaving Percy's mother, Ambrose visited Caroline, a former roommate of Percy's. A flashback (a common feature in The Sinner) showed the girls out clubbing, marking Percy's first night out on the mainland. On the drunken walk home, Percy told her new housemate, she felt "cursed."
Caroline recalled to Ambrose a time she and Percy were at work together and Percy had run out the door, threatening her not to tell an unknown man she was there. On a night out the following week, Percy began hallucinating a hooded man with blood-stained hands standing in front of her in the club. The following day, Caroline said Percy had left the apartment, her room featuring signs of a struggle, without any explanation and without saying goodbye.
Midway through the episode, Ambrose and his partner Detective Lou (Joe Cobden) had found something of significance in the woods near to where Percy's car was found.
On a tree stump, there were unusual items resembling bone fragments and skulls, which Ambrose believed may be related to the "night-swimming" he saw taking place in the same woods where Percy was last seen alive. He described what he saw as "ceremonial," a "ritual king of thing." The items were taken as evidence, with the hope they fill in the missing part of the Percy puzzle.
On the way to dinner, Ambrose and Sonya (Jessica Hecht) stopped by Meg Muldoon's house (as you do), to ask her a few questions about Percy, marking one of The Sinner's most awkward dinner parties of all time.
At the table, Ambrose proceeded to tell the Muldoon family he had met with Percy's mother and you cut have cut the tension with a knife. He also spilled he had met with Caroline, who told him Percy had a breakdown on the mainland and left.
After the mention of Caroline, Meg shared Percy simply wanted to go home and she and the family helped bring her back, which was a big shock to some members of the family who had been kept in the dark about her disappearance and return. In particular, Percy's father was very concerned.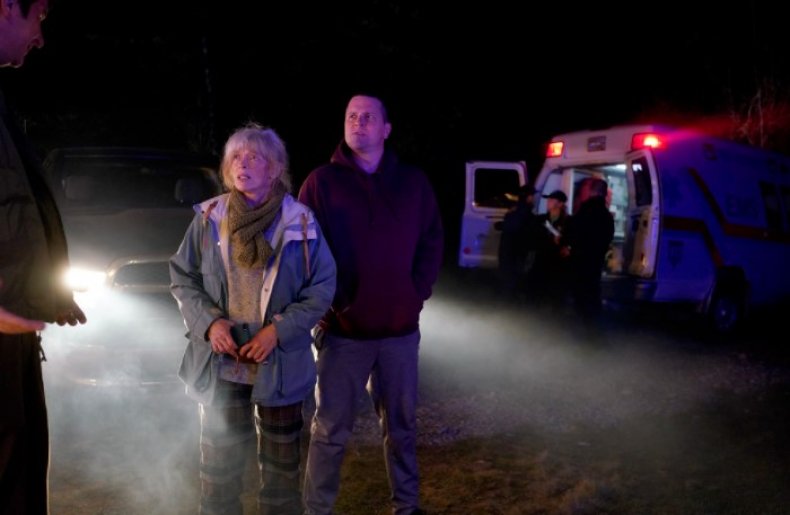 Towards the end of the episode, Ambrose let Meg know he was aware she was lying about the last time she saw Percy. A flashback then revealed Percy crying to her grandmother after she was pushed to the ground by CJ Lam (David Huynh) the night of her disappearance.
In the flashback, Percy is seen lying in bed, crying and moaning "go away" and "leave me alone" despite nobody being in the room with her.
The end of Episode 3 came with two major cliffhangers, beginning with Percy's father Sean (Neal Huff) explaining to Ambrose why he and Meg lied about the last time they saw Percy.
Truth be told, Percy had been confronting her father about his drug use. He shared he had taken Percy's car into the woods to get drugs that evening and had abandoned it there on a high.
He also inadvertently raised his suspicions about Percy's uncle Colin (Michael Mosley) who he described as being "incredibly close" with Percy.
One thing is for sure, the mention of Colin and Percy's close relationship was unsettling for Ambrose who attempted to press Sean more on their relationship.
In a jaw-dropping twist, Colin may be next on Ambrose's murder suspect list, after a woman's body, closely resembling Percy's, was found washed up on the beachfront.
The Sinner airs Wednesdays at 10 p.m. ET on the USA Network.