'The Sinner's' Showrunner on CJ Lam and Meg As Suspects
The Sinner is back with an incredibly gripping fourth season. This time around, Detective Harry Ambrose (played by Bill Pullman) is trying to enjoy retirement but finds himself quickly pulled back towards the world of crime and justice, working voluntarily on the case of Percy Muldoon (Alice Kremelberg). Ambrose believes he saw Percy jump, while others in the town believe she has run away, been abducted or worse, killed.
So far, there has been one suspect, CJ Lam (David Huynh), Percy's former love interest. In Episode 2, audiences learned the pair had a complicated and dark relationship, featuring violence and drugs.
Through Episode 2, things were looking pretty bad for CJ, his fingerprints were found in Percy's car, the dirt on his car matched the clay specific to the area where Percy's car was found and he owned the same statue as Percy, despite claiming he "barely knew her."
Later, his phone GPS placed him at the pub where Percy was seen to be bleeding from her head. A flashback revealed CJ and Percy had argued at the back of the pub that evening and things had turned physical, with CJ pushing Percy to the ground where she hit her head on the way down.
In the end, CJ confessed to Ambrose he initially wanted to hurt Percy when they reunited at the pub, but could not and would never to do, stating he felt bad after their fight and insisted he had nothing to do with her disappearance. In a surprising twist, Ambrose admitted he believed CJ.
Speaking to Newsweek about CJ's role in Percy's disappearance, showrunner Derek Simonds said: "I think we learned by the end of Episode 2 is that CJ was deeply involved in a secret relationship with Percy and fell in love with her and that she was tortured by something that she needed to confess to him that she never did.
"So their relationship was, was intimate, and dysfunctional at the same time and so he's haunted by her and what he doesn't know about her and she kind of opened up darker elements in his own life that he's still grappling with, like drugs. And, you know, he's still sort of living with his parents and in this kind of stultified state."
As for the secret Percy was close to telling CJ, Derek Simonds said: "Part of that confession is what Ambrose will be working towards to uncover throughout the season."
Episode 2 also ended on a pretty big cliffhanger, introducing Percy's grandmother Meg (Frances Fisher) into the suspect pool.
Meg is convinced CJ is responsible for Percy's disappearance. She even brought up the cut on Percy's she sustained in the evening before she died.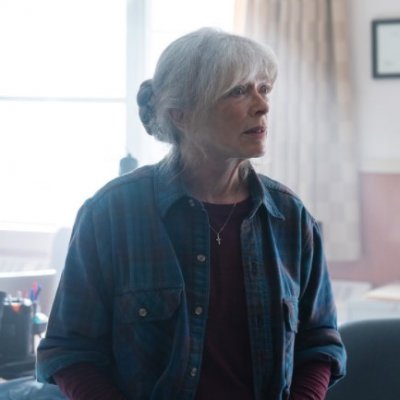 Ambrose was quick to note Meg had previously claimed she had last seen Percy at 5 p.m. that evening, two hours before Percy was injured by CJ. Additionally, Ambrose and other detectives on the case had not disclosed to Meg or anybody, the cut on Percy's head.
As the episode came to an end, Ambrose looked on at Meg as she drove away, mouthing "she's lying."
Simonds teased to Newsweek Meg will become a "major character" in future episodes but downplayed her role in Percy's mysterious disappearance.
He said: "Meg is a formidable character and a major character in this season. She is the matriarch of a notable old family on the island. She's a very tough woman who works like hell to ensure the survival of her family business, which is lobster fishing.
"She's a character who exemplifies someone who doesn't want change, and who wants to hold on to what they have and the old ways of doing things and is seeing that slowly slip away as the world changes around her. She is desperate to recover Percy, not only because she loves her granddaughter, but because Percy is the person who can continue her legacy and the way of life that she's so invested in.
"So, in that character, we see this very fierce, opinionated, strong woman who's ready to fight very hard to keep What she has, and that's gonna lead her into some interesting territory with Ambrose as we go forward."
Without giving too much away, Simonds also teased what fans can expect to see in the coming season.
He said: "I think Harry Ambrose is going to get pushed to his absolute limits and I think we're going to see a much broader web of characters and responsibility for the crime at the center of this story. I mean, I do think the tease is sort of like this is Ambrose's kind of last, last, last chance at some kind of redemption and to see him get pushed to his limits in trying to reach for that and not always the right way."
The Sinner Season 4 airs Thursdays at 10 p.m. ET on the USA Network.