Siri's Answer to 'How Old is the President?' Has Got Conspiracy Theorists Triggered
A batch of videos being shared on social media appear to show Apple's Siri assistant wrongly declaring Kamala Harris as the U.S. President, unleashing speculation a high-level conspiracy has been hatched to hand her control of the White House.
Footage posted on Twitter by an array of iPhone users purportedly shows the virtual aide making the error when asked the question: "How old is the president?"
In one video, shared by Malachi O'Brien, senior pastor of The Church at Pleasant Ridge in Harrisonville, Missouri, Siri appears to reply: "Kamala Harris was born 56 years ago, on Tuesday, October 20, 1964."
Responding to O'Brien's post, several other Twitter accounts also shared footage of the supposed phenomenon.
"Here's mine. It's real," Twitter user @CharlieFCastle captioned a video that appeared to mirror O'Brien's.
Others posted screenshots highlighting the same alleged error.
"More proof, with this very thread in the background," Twitter user @scottonjesus captioned one such image.
While much of the content appeared to be shared by conservative-leaning accounts, San Francisco based ABC7 investigative reporter Dan Noyes also took to Twitter to share a screenshot of the alleged error.
"Ask Siri, "How old is the president?" And she answers, "Kamala is 56." How'd that happen?!," he wrote in a caption accompanying the image.
Newsweek was unable to verify the content, which meanwhile prompted a slew of comments suggesting the alleged error was proof of a political "conspiracy."
"Apple knows something and it got leaked," Twitter user @ModernSculpting wrote.
Newsweek contacted Apple for comment.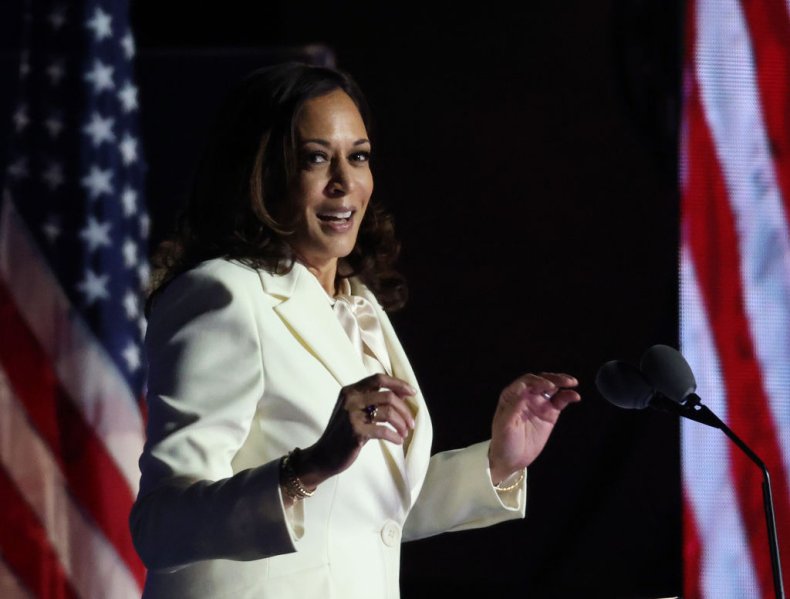 Harris has represented California in the Senate since 2017 and is the first woman, and woman of color, to be elected Vice President.
She swept to victory over the weekend as Joe Biden's running mate after days of counting following the November 3 election saw national ballot reporting confirm the pair's win over incumbent President Donald Trump and his Vice President, Mike Pence.
Biden will now remain President-elect until January 20, when he is set to be inaugurated as the nation's 46th leader.
Trump, for his part, has refused to concede defeat following the poll and there is mounting concern he could limit cooperation and make the typically respectable transition process between White House administrations a messy affair.
On Sunday, Biden's campaign urged the U.S. General Services Administration (GSA) to approve an official transition of power despite Trump's refusal to concede defeat in the election.
The President-elect's campaign warned that national security and economic stability were dependent on a clear signal that Trump's White House would engage in a "smooth and peaceful transfer of power."
But GSA Administrator Emily Murphy, who was appointed to her position by Trump in 2017, has not yet determined that "a winner is clear," Reuters news agency quoted a spokeswoman as saying.
Murphy's stance effectively delays the Biden team's access to millions of dollars in federal funding and the ability to meet with officials at intelligence agencies and other departments.