Sirius XM's Unpaid Intern Problem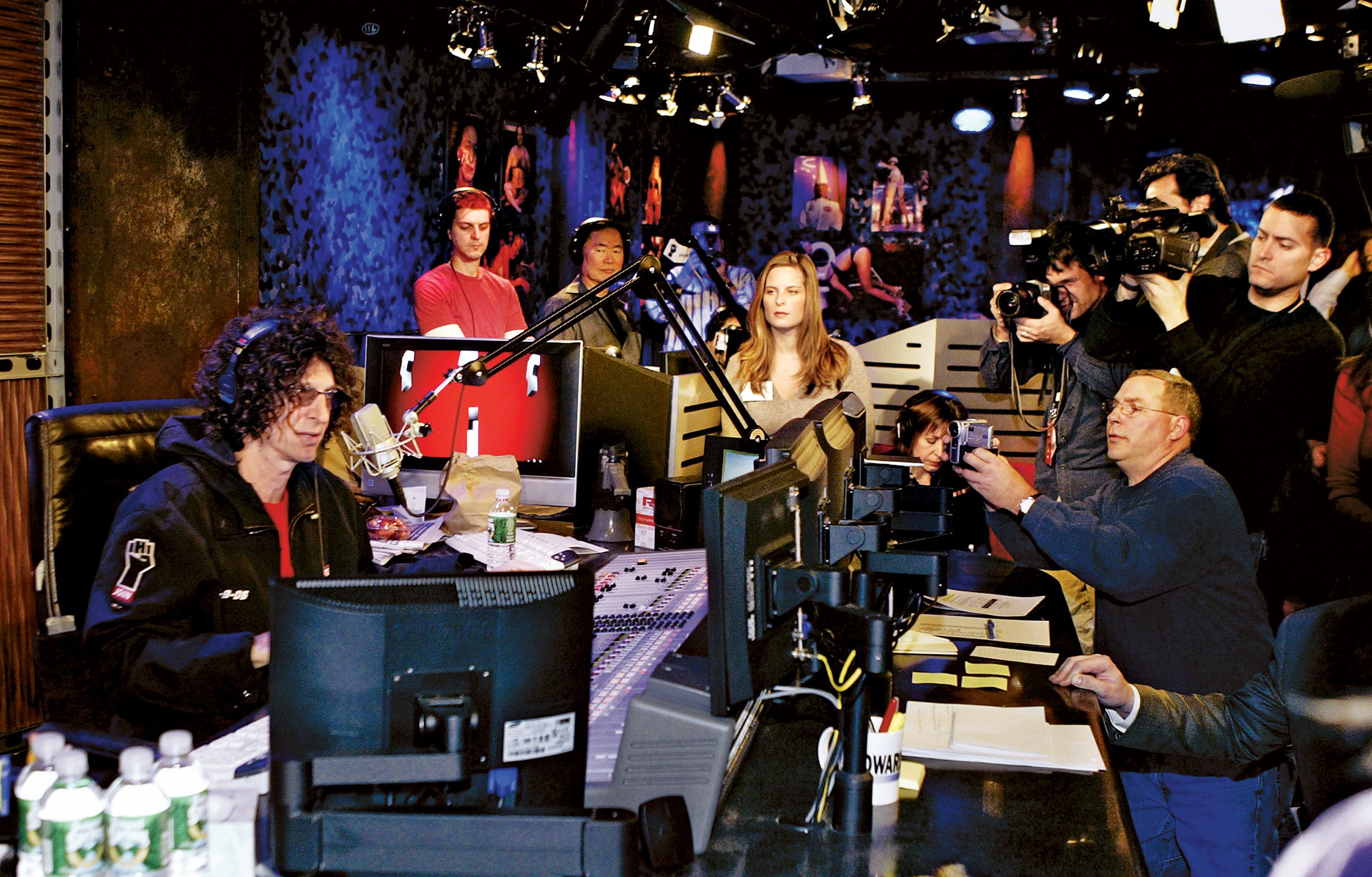 Eddie Talaske was 21 when he landed a programming internship at Sirius XM. A college student from a Michigan town so small it has just one stop light, he'd never spent more than a weekend in New York City. The opportunity was alluring, but expensive: The satellite radio broadcasting company, which posted 2013 revenue exceeding $3.5 billion, does not pay its interns, instead offering only college credit for their labors. So Talaske found shared housing on NYCintern.org, then turned to bank bonds, tax returns and months of bake sales to cover the cost (roughly $3,000) of living in the city for the summer. "I was so in awe of where I was at the time," he says, that it never occurred to him to even think he was being mistreated.
Now a freelance TV production assistant, Talaske doesn't regret the experience. "I learned a lot in such a high-caliber entertainment hub," he says. "I figure it's a place where you have to pay your dues." This month, though, he will have a decision to make. Talaske is among more than 1,000 former Sirius XM interns who recently received a class-action notice from Virginia & Ambinder, LLP, a law firm in New York. The message is fairly simple: Would he like to become a party plaintiff in a suit accusing Sirius of flouting minimum wage laws? The risks are uncertain, but the total payoff—if the plaintiffs prevail—could be enormous.
The situation arose in April, when a former Howard Stern Show intern named Melissa Tierney sued the show's broadcaster. Working for the shock jock, it seems, isn't as glamorous as it sounds: Tierney declared in a federal complaint that she spent her four months "running errands, placing orders, obtaining breakfast orders" and performing other menial tasks for Stern's crew without compensation. Her suit cited the Fair Labor Standards Act (FLSA), which the Labor Department clarifies with a six-point test to determine if an internship may legally be unpaid. Such a gig, for instance, "is similar to training which would be given in an educational environment" and doesn't displace paid employees. The complaint was clear: Sirius "wrongfully classified [Tierney] and others similarly situated" as unpaid interns in order to deny them wages. (Sirius XM spokesman Patrick Reilly declined to comment on this or any of the allegations contained in this piece.)
The suit is one in a recent spate of cases taking media companies to court for allegedly exploitative internship programs. The list of defendants is long, and it reads like the attendance sheet at a media-themed college career fair: Warner Music, the Charlie Rose show, Marvel Entertainment, Condé Nast, Hearst. One by one, disgruntled members of a perpetual intern class point to their coffee-fetching days and demand to get paid. In a landmark case, a judge ruled in 2013 that two former Fox Searchlight interns should have been paid when they ran errands on the set of the 2010 movie Black Swan. In December, a federal judge approved a $5.85 million payout to former Condé Nast interns; even more recently, former NBCUniversal interns received notice about another proposed settlement.
"I'm almost always surprised by how similar these cases are," says LaDonna Lusher, a partner at the firm taking on Sirius. The case hit a roadblock in December, when Tierney decided to withdraw as the named plaintiff and Justin Vitetta, a musician who spent nine months as a Sirius programming intern, agreed to take her place. (Tierney remains a member of the putative class; both plaintiffs declined to be interviewed for this piece.) In a court declaration, Vitetta said he paid his alma mater $500 a semester to work at the broadcaster; like Talaske, who used student loans to cover the cost of those credits, he was effectively paying to work for free. After Sirius tried to block the plaintiff substitution, Virginia & Ambinder filed a court motion making the request. It was approved at the end of January, and the firm sent out its collective action notice on February 3.
According to Vitetta's statement, as many as 50 unpaid interns pass through Sirius each semester. They are spread throughout dozens of departments and radio stations at the midtown Manhattan office—each with their own tasks and supervisors. "It's not right to work like that, to be taken advantage of like that, and get nothing in return," says Farnoosh Zarnighian, who, when she was in her mid-30s, interned for Judith Regan's radio show in 2010. The work entailed making phone calls, booking guests, keeping them entertained when they came in for the show and sometimes getting coffee for Regan. Zarnighian says she expected the work to lead to an entry-level job. "They led me to believe that that was the direction I was headed to.… I was just shocked when the internship ended, and they didn't want me to come back."
A former programming intern, who spoke on condition of anonymity, had a similar experience: "I was told a number of times that I would be a job prospect there, that I would be more viable in getting hired." He says he has a recording of a staffer promising him a job, but he never landed one. Sirius, it seemed, was only interested in his labor when it came without a paycheck.
Accounts of the work environment at Sirius vary widely, and not all interns feel exploited. "I really, really did feel like I was part of a little team family," says Benjamin Goldsmith, a Queens College senior who interned for the NFL channel last semester. "I don't feel like they owe me any monetary compensation." Barrett Rosenbaum, who worked in music programming for '80s on 8 and The Pulse, was grateful that his boss sometimes bought him lunch. A former programming intern, meanwhile, says the work was fairly educational, but grueling and overwhelming. "Most interns usually volunteer to work a couple hours extra just to show that they have a really [strong] work ethic—it's very much encouraged in that environment," she says, while asking to not be identified for fear of jeopardizing her current media job. Morning show interns, she says, regularly made breakfast runs while the hosts stayed on-air; the environment was stressful, and interns were "worked to the bone."
"I'm not gonna lie, it did seem like the mentors did take advantage of their interns," she adds. "Just because you work as much as an employee at the establishment. They're so understaffed that they leave so much for the intern to do. The intern is usually pressured. I know a bunch of interns definitely broke down [emotionally] because of all the work that they had to do."
Like most unpaid gigs in the New York media world, Sirius's internship program operates on prestige and cachet in lieu of money. You might not get paid, but you get to amass experience, in the abstract, sought-after sense of the term, and meet famous people and maybe have their names on your résumé. This has been dubbed the "Prestige Economy," and for employers, at least, it's worked well for years. Legality aside, as long as unpaid opportunities flourish, the unpaid laborers will show up. For many of those weaned on the internship economy, the attitude is: We're lucky just to be here.
"I know that it can be frustrating at the time to not get paid money, but the experience you get is worth way more than money," says Rachel Frank, who interned for The Howard Stern Show in 2005, shortly before the DJ moved to Sirius. "I kind of found it exciting, because I knew that's...putting your foot in the door. You have a job with an opportunity to get coffee for those people, and you work your way up."
When she returned to college that fall, students shared their internship experiences in one of her classes. "It was really cool getting to tell everyone about my summer working for The Howard Stern Show," she says. "I probably had one of the best stories."