Sisi Set to Take Presidency as Egyptians Vote for Stability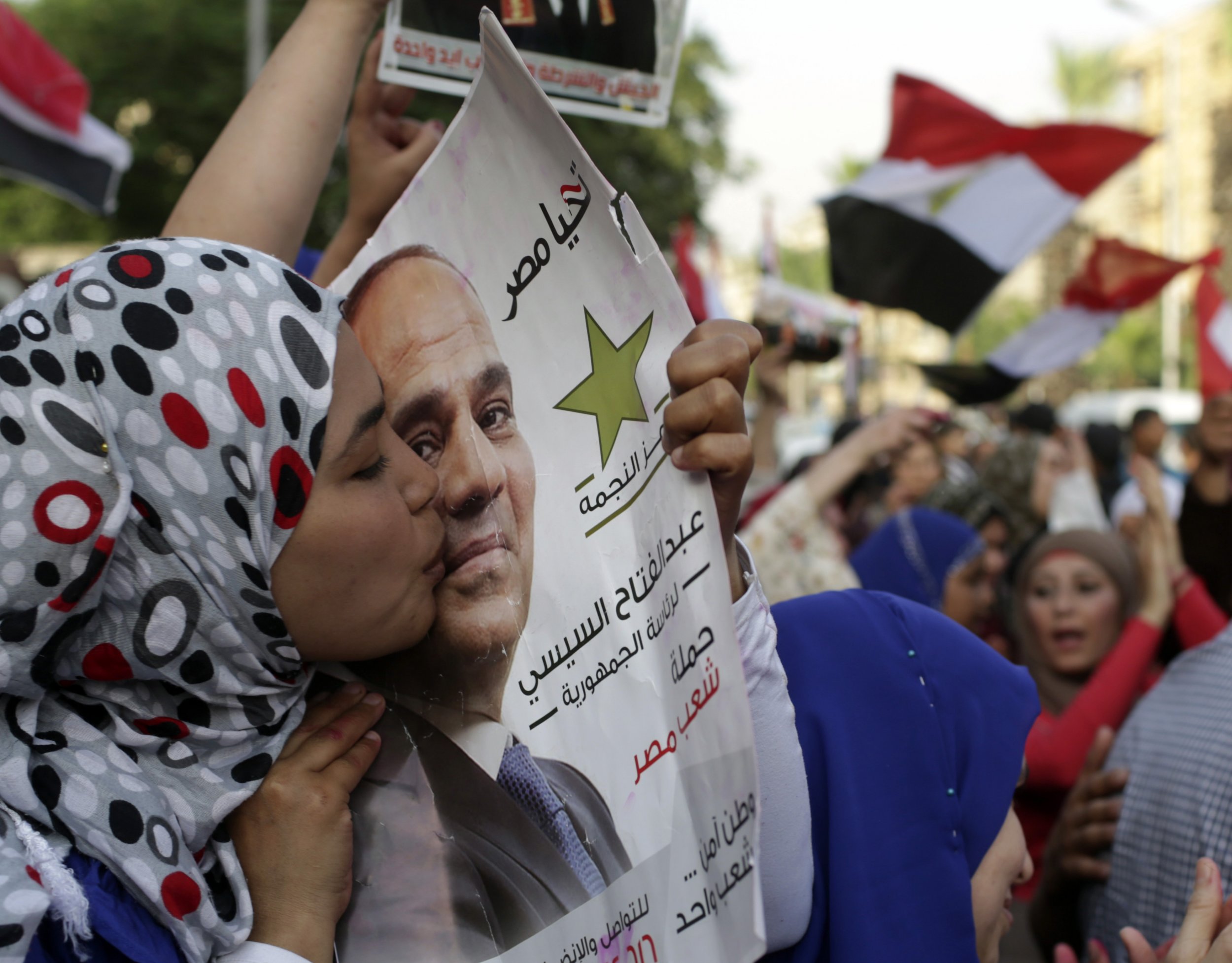 CAIRO (Reuters) - Egyptians voted on Monday in an election expected to anoint Abdel Fatah al-Sisi as president, with supporters hoping another military strongman can end three years of turmoil despite fears for democracy in the Arab world's most populous nation.
After the overthrow of Hosni Mubarak in 2011 raised hopes of new freedoms, the vote means Egypt will likely revert to rule by men from the military after Sisi toppled the country's first freely elected leader, Mohamed Mursi of the Muslim Brotherhood.
Former army chief Sisi faces only one challenger in the two-day vote: the leftist politician Hamdeen Sabahi. Other candidates dropped out complaining about the security climate.
Early into the election, it was hard to find anyone who planned to vote for Sabahi in lines of voters where young Egyptians - the generation that drove the "Arab Spring" uprising - were conspicuous by their absence.
"We see Sisi as a real man. Egypt likes a strong man," said 64-year-old Saber Habib, clenching his fist to make his point as he waited to vote in the city of Suez, east of Cairo.
"We want the country to move forward and for the people to have bread," said Habib, a contractor.
Widely regarded as Egypt's de facto leader since he toppled Mursi after mass protests, Sisi, 59, faces manifold challenges including an economy in crisis and a campaign of Islamist violence that has spiraled since he overthrew Mursi.
To the Islamists, he is the author of a coup followed by a bloody crackdown that killed hundreds of Mursi supporters and landed thousands more in jail. Secular dissidents who led the January 25 uprising against Mubarak have also been imprisoned.
Human Rights Watch estimates the number of political dissidents and Islamists in detention at more than 20,000.
At the same time, several hundred members of the security forces have been killed in a campaign of violence by radical Islamists since last July. The last year has been the bloodiest period of internal strife in Egypt's modern history.
BOYCOTT CALL
The Brotherhood and its allies, which had declared it "the election of the presidency of blood", issued a statement saying their call for a boycott had been widely observed. The group has been declared a terrorist organization by the state, which accuses it of turning to violence - a charge it denies.
While it was not possible to verify claims of a low turnout, lines at 20 Cairo polling stations visited by Reuters consistently over the past three years appeared shorter than in previous elections. The interior minister said turnout was good.
"What happened in Egypt was wrong and the best message against it is to boycott this vote," said Abdel Karim Mohamed, a 45-year old accountant and Mursi supporter, speaking in hushed tones as he parked his motor-bike near a polling station.
Others who had opposed Mursi's rule said their hopes had been crushed. "I feel I was manipulated after the January 25 by the deep state so it could make a comeback," said Mohamed Mahmoud, a 26-year-old banker. "This vote is not worth wasting time for."
In the rural province of Fayoum, south of Cairo, and in the city of Alexandria, both places where Islamists have strong support, voter queues were short throughout the day.
Sisi won 95 percent of votes cast in advance by Egyptians abroad, but an opinion poll by the Washington-based Pew Research Center suggests a more mixed picture, with Sisi viewed favorably by 54 percent and unfavorably by 45 percent.
EGYPTIANS "WRITE THEIR HISTORY"
As Sisi voted in Cairo, he waved to supporters, who shouted "President, President!"
"Today Egyptians are going to write their history," said Sisi, who hopes a big turnout will give him a strong mandate.
At a polling station in one Cairo neighborhood, women danced to a song written to build up voter enthusiasm for the election. It is the second time Egyptians are electing a president in two years.
And it is the seventh vote or referendum since the 2011 uprising that raised hopes for democracy. But three years on, with democracy seen by some as an experiment that failed, many Egyptians say stability comes first.
At one polling station reserved for male voters in Cairo, all except one person in a line of around 50 said they would vote for Sisi, who has been lionized by media run by the state and big businessmen who overwhelmingly back the army.
MILITARY MEN
"I'm voting for Sabahi because of his program and because Egypt needs a civilian president to begin building a democratic society like other countries have," said Fathi Abdelhamid, 58, a manager at an engineering firm.
Interrupting him, the person next to him said: "But most people want someone with experience, and that person is Sisi. Look at his experience in military intelligence. He knows how to work with the state."
Sabahi's campaign team complained of violations including the arrest of one of its members.
Since the army overthrew the king in 1952, Egypt has been ruled by a succession of military men - Gamal Abdel Nasser, Anwar Sadat and Mubarak. That pattern was briefly interrupted by Mursi's divisive year in office, during which important institutions of state resisted his authority.
The 2012 election won by Mursi was a tightly contested race fought by around a dozen candidates.
Ayman Nour, a liberal politician who ran against Mubarak in a 2005 presidential election, said the election "was not real".
"Even in Mubarak's time we didn't see this obvious level of monopoly in the election process, although there was a high level of corruption then, now we are seeing a huge pressure being put on the media to change people's view," he told Reuters on the sidelines of an event hosted by Al Jazeera TV.
The Egyptian authorities have banned Al Jazeera, a channel run by the Gulf emirate of Qatar whose coverage was generally sympathetic to the Muslim Brotherhood. Several Al Jazeera journalists are on trial on charges of aiding a terrorist group.
Witnesses and security officials said 400 Mursi supporters staged a march against the election in Kerdasa, a town on the Cairo outskirts where 14 policemen were killed last August after the security forces killed hundreds of Mursi supporters.
Eleven Brotherhood supporters were arrested in Alexandria, Egypt's second city, when police broke up a protest there.
Sisi, quietly spoken former head of military intelligence, has in turn mobilized religion against the Islamists, presenting himself as a God-fearing defender of Islam.
Critics fear he will rule Egypt with an iron fist.
The United States has cited concerns about "the shrinking space" for dialogue, peaceful protest and press freedom, urging Egypt to adopt a path that "doesn't lock up people just for expressing dissent".
The election will have a bearing on relations with the United States, which has linked the future of its long-standing military ties with Cairo to the political transition.
Following Mursi's overthrow and the crackdown, the U.S. administration suspended much of its $1.3 billion in annual military aid to Cairo. But last month it announced it would resume some aid, partly to help in the fight against militants.
Sisi has listed security and the economy as his primary concerns and said Egypt is not ready for a Western-style democracy - a view with echoes of the Mubarak days.
Monitors from the European Union and U.S.-funded Democracy International are observing the vote, and more than 400,000 members of the security forces have been deployed to secure polling stations across the country.