Mom Who Married Brother's Best Friend Backed for Kicking 'Rude' Sibling Out
A woman has been backed by online supporters after admitting she kicked her brother out of her home at a recent family celebration—all because the siblings have been feuding for eight years for what the brother felt was a betrayal he could never forgive.
Reddit user ThrowRa_ttf shared a post on January 22 admitting that she has had a "difficult relationship" with her 33-year-old brother since she started dating his best friend eight years ago. The original poster, now 28 years old, wrote: "for him that was an unforgiveable betrayal, and I know that to this day he still thinks the same, that's why our relationship is almost non-existent now."
The couple is now married and has three children, but the poster's brother didn't attend the wedding nor did he rush to meet any of his nieces when they were born. The siblings now "only see each other at family parties and that's it".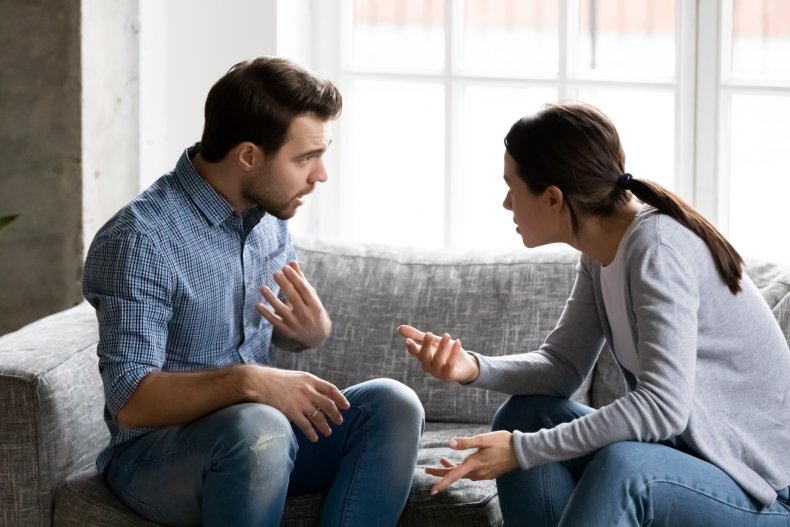 A poll conducted by NOW TV in the UK found that 51 percent of adults have a competitive relationship with their siblings, and 43 percent of the 2,000 people who were polled noted that occasions such as birthdays or Mother's Day heightened their sense of rivalry.
Not all sibling rivalries have to be irreparable, however, and there can be ways to resolve them. Legal analyst and mediator Tracy Pearson told Newsweek: "Conflict is complicated and many times results from misunderstandings or assumptions. If you want to repair a relationship that is not abusive, you might consider mediation. The mediator can help by asking questions and reframing what is said so that individuals can appreciate the message.
"The first step would be to decide that you want to repair the relationship and to reach out to the other sibling to ask if they would like to talk, and suggest that use of a mediator may make the conversation more comfortable."
However, this may not work for all feuds, and Pearson added that "you should also be prepared to hear no", but there is still something to take away from that. "Sometimes the outcome is that after a conversation, one or both parties don't want to repair the relationship. Then there will be closure and you can move forward knowing you tried."
The Reddit post explains that while celebrating their mom's recent 62nd birthday, the siblings reunited, but the grudge continued. "Since he arrived he made it clear that he was only there for our mom and that he was not interested in playing happy family with me or my kids," the post continues.
The poster's mom was gifted a photo album full of cherished moments throughout her life. Unfortunately, the brother made a sarcastic comment at the sight of an old photo of his former best friend and now brother-in-law: "What a nice picture, no one would suspect that you would f*** my little sister a few years later."
After the lewd comment, she demanded her brother leave, but now, the poster is feeling guilty for her reaction. The post reads, "I got tired and asked him to leave my house, I told him that he was being rude and inconsiderate with our mother, that I didn't want him there. And of course he stormed off and now he thinks that the villain of the movie is me."
Many other users have supported the woman and insisted her brother was in the wrong, not her. The post has received over 6,000 votes since it was shared, with more than 900 comments. One Reddit user commented on the post: "Seemed awful weird that he had such an issue that his best friend fell in love with his sister."
Other Reddit users have devised their own theories for his jealousy, asking "Is your brother in love with his former best friend?" The original poster saw how many people jumped to this conclusion and spoke to her husband about this theory, to which he said "nothing ever happened", she wrote in an update on the post.
Newsweek reached out to u/ThrowRa_ttf for comment. We could not verify the details of the case.
If you have a family dilemma, let us know via life@newsweek.com. We can ask experts for advice, and your story could be featured on Newsweek.