Sister of Olympic Refugee Swimmer Arrested in Greece for Allegedly Smuggling Migrants Into Country
The sister of a Syrian refugee who competed in the 2016 Summer Olympics was arrested on Tuesday for allegedly smuggling migrants into Greece.
Sarah Mardini's lawyer Haris Petsikos made the announcement on Friday, maintaining that the 23-year-old has denied all of the charges. "She was strictly doing volunteer work. There is not a piece of evidence against her," Petsikos told Reuters.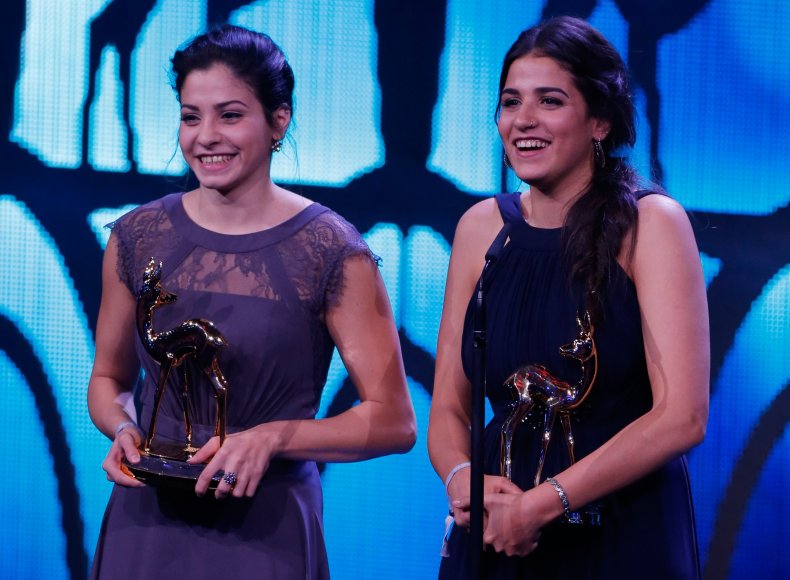 Mardini was volunteering with Emergency Response Centre International, an NGO on the Greek island of Lesbos, when she and two other volunteers were arrested as part of what authorities called an action to break up "a criminal network."
Charges against Mardini, Greek national Nassos Karakitsos and Irish volunteer Sean Binder include money laundering, violating state secrets, establishing and joining a criminal organization, counterfeiting, espionage and offenses against the immigration code and electronic communication legislation, Reuters reported.
Sarah and her sister Yusra, both refugees from Syria, first made headlines in 2015 when they saved 18 people after the boat they were on began to sink in the Aegean Sea. The pair swam for three hours pushing the boat to land.
Yusra went on to compete in the 2016 Olympics as part of the refugee Olympic team, while Sarah attended Bard College in Germany, where she received a scholarship to study economics and social sciences.
"We are in close contact with Sarah's legal counsel and these clearly unsubstantiated charges seem more about halting the operations of the NGO in question than about any actions of Sarah or her fellow volunteer. The priority is to get her out of prison," said Florian Becker, the managing director of Bard College.
The United Nations High Commissioner for Refugees (HNHCR) said on Friday that the conditions on the islands in the Aegean Sea, including Lesbos—which received nearly 1 million refugees in 2015—are quickly deteriorating.
"The situation is reaching a boiling point at the Moria reception identification center on Lesbos, where more than 7,000 asylum seekers and migrants are crammed into shelters built to accommodate just 2,000 people," said Charlie Yaxley, a spokesperson from the UNHCR, according to the CBC.
"We are particularly concerned about woefully inadequate sanitary facilities, fighting amongst frustrated communities, rising levels of sexual harassment and assaults and the increasing need for medical and psychosocial care," he continued.
Children as young as 10 years old have reportedly attempted suicide on the island, where bad conditions have made charities leave in protest.