Bridesmaid Backed for Refusing to Change Her Dress at Brother's Wedding
A woman has received support online for a social media post describing an unpleasant situation at her brother's wedding that was "so disastrous that it's being talked about a month later."
In the post, she describes how despite disliking wearing dresses "due to personal issues," she agreed to wear one for her brother's wedding that the bride, Jess, had helped her pick out for style and comfort.
"It was a dark green dress with black lace covering it and spaghetti straps. Jess said I could wear doc martins and keep my piercings in (I only have like 5). Looking at myself all dolled up was the first time in forever that I actually liked my appearance."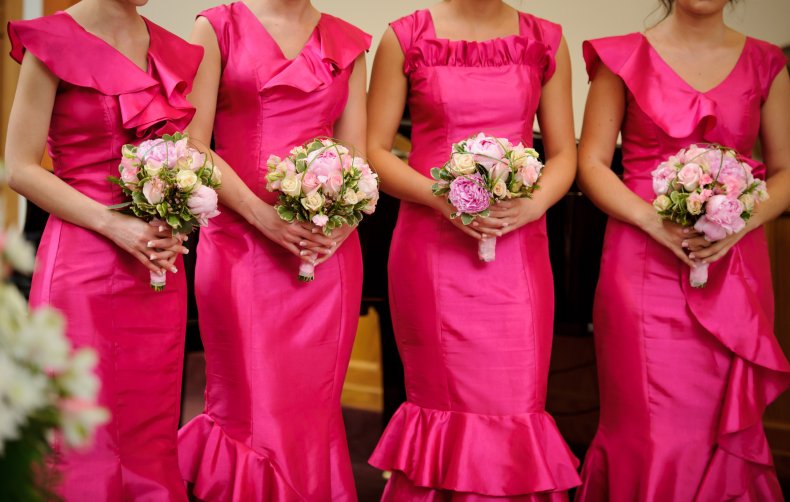 She then goes on to explain how at the wedding reception: "My brother comes up to me and tells me I need to change. I ask why. He says Jess is upset that I've 'upstaged her.' I was super confused - she picked the dress. I asked what the issue is. Well, apparently the dress is more fitted than Jess initially realized, and was feeling insecure about her body."
Many commenters accused the bride of sabotaging her with one user writing: "NTA. She literally picked out the dress for you. Just because you looked better in it than she thought you would doesn't give her the right to try and have you change." The comment received more than 12,000 likes.
The sister refused to get changed, saying: "I told my brother he's marrying a model (not that they can't have insecurities) but that I'm sure my 5'1 180lbs self looks like a goblin next to her. He told me to get changed or leave."
Things remain frosty with her brother and his wife a month later, and the wife's aunt has been making comments about the situation online.
Until 1880, the bridesmaids would have worn dresses identical to the bride in a tradition that dates back to ancient Rome, apparently to act as decoys to protect the bride from potential kidnappers, or to confuse evil spirits on the auspicious day.
It wasn't until the late 19th century that the fashion changed for bridesmaids to look different from the bride, but similar to each other, as the bride began to take center stage.
Ugly bridesmaids' dresses—we all dread the day we may be asked to wear one—call to mind images of Rachel's flamingo pink meringue in Friends, or Rebecca Bloomwood's rainbow skirts in Confessions of a Shopaholic. And who can forget the easter egg monstrosities worn by Cameron Diaz's bridesmaids in My Best Friend's Wedding? With dresses like these, who can blame a bridesmaid for wanting to give her dress a bit of a makeover?
In an article written for Refinery29, Jessica Wilkins writes: "Everyone cannot be trusted to select appropriate dresses for a group of women with different body types. Everyone simply does not have the vision.
"If you want to know how the bride feels about you, look at the neckline she chooses for your dress. She is either devoid of an understanding of proportions, or this is her one opportunity to get you back for some shit you did in like third grade.
"Why was I, at a pre-breast reduction H cup, expected to wear anything that didn't offer the same structural support as the Eiffel tower? Why? I am still trying to figure out what my past offence was."
'Definitely a Setup'
Some people in the comments believed something was afoot in this Reddit user's experience.
"This definitely reeks of a setup," argued one user. "Either OP looked better than the bride thought she would, or the bride knew it would look great on her and picked it out so she'd have something to throw a fit about at the wedding."
Another user agreed this was sabotage: "I'm guessing the bride thought the dress would look ridiculous w/ Doc's and dismissed it is a look that can really work, someone said it looked stylish and the bride had a fit. It 100% sounds like a set-up."
One user was flat out indignant at the behavior of the bride: "This is the second post I've read on here this week where someone has insisted someone change their clothes at a wedding. WHO THE HELL TAKES AN EXTRA SET OF CLOTHING TO A WEDDING??? Sorry for yelling, but Geez Louise! Unless someone shows up in a wedding gown or naked, making a stink at your own wedding over what someone else is wearing is insane."
Has a wedding come between your relationship with a loved one? Let us know via life@newsweek.com. We can ask experts for advice, and your story could be featured on Newsweek.