'Sister Sister': Fans Heartbroken By Brittany Murphy Guest Appearance
Sister Sister is the latest classic Black sitcom to come to Netflix, and fans have been rewatching the show and noticing all the future stars who appear in the show. Among the guest stars who appear in the former ABC and The WB comedy are Taraji P. Henson, Gabrielle Union and RuPaul. However, the guest star that viewers have been the most moved by the appearance of is Brittany Murphy.
Murphy appeared on the show for six episodes between 1994 and 1995, in what was her last role before being catapulted into movie stardom by Clueless the following year.
In Sister Sister, the Sin City and Just Married actress played Sarah, a school friend of Tia and Tamera (played Tia and Tamera Mowry). Her first appearance was in the second episode of the show's first season, and she would go on star in five more episodes of the series' first two seasons.
Viewers of the Netflix show have found themselves moved by the appearance of the 17-year-old Murphy, knowing as they do that she was already halfway through her life.
The actress died in 2009, at the age of 32. At the time, L.A. County Coroner Assistant Chief Ed Winter told People: "She was really sick with pneumonia, very anemic, and she was taking medication, and all that combined killed her." He also added, "it was only prescription and over-the-counter meds."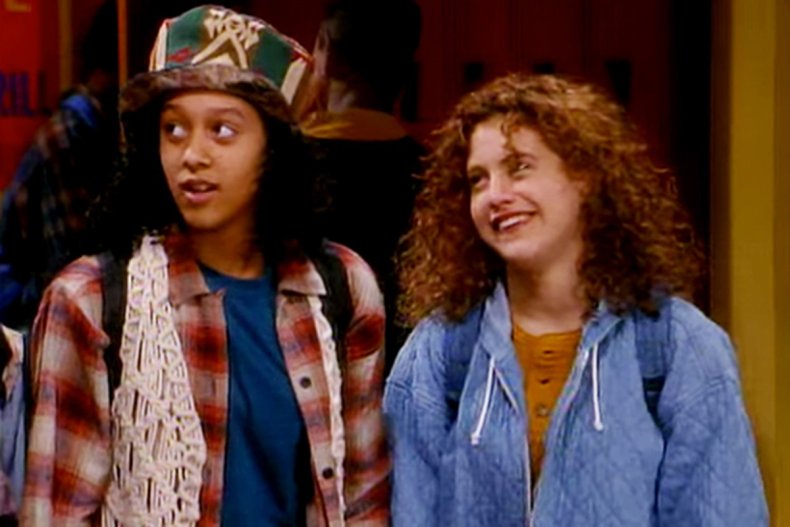 Sister Sister fans have been taking to Twitter to pay tribute to Murphy after seeing her in the show. One, for example, wrote: "Brittany Murphy really was too iconic, I'm happy her spirit still shines through her movies/shows." Another tweeted: "everytime i see Brittany Murphy on a show or movie i instantly get sad.. she was such an angel."
In 2014, Tia Mowry paid tribute to her former co-star. Asked by OK! who her favorite Sister Sister guest star was, she said: "Unfortunately my favorite, she passed, Brittany Murphy. She was so fun. She played our best friend for several episodes. It never felt like work working with her. And even after the show I would see her and she was always so sweet and so nice. What a beautiful soul."
Sarah in Sister Sister is not the only Brittany Murphy which is now streaming on Netflix. For example, the streaming service also has the movie that made a generation fall in love with the actress, 1996's Clueless, in which she plays the fashion-challenged Tai. Netflix users in mainland Europe, meanwhile, can watch her role as Eminem's love interest in 8 Mile.
Sister Sister Seasons 1 to 6 are streaming now on Netflix.