'Sister Wives' Meri and Christine Brown Vacation On Same Cruise But 'Don't Talk'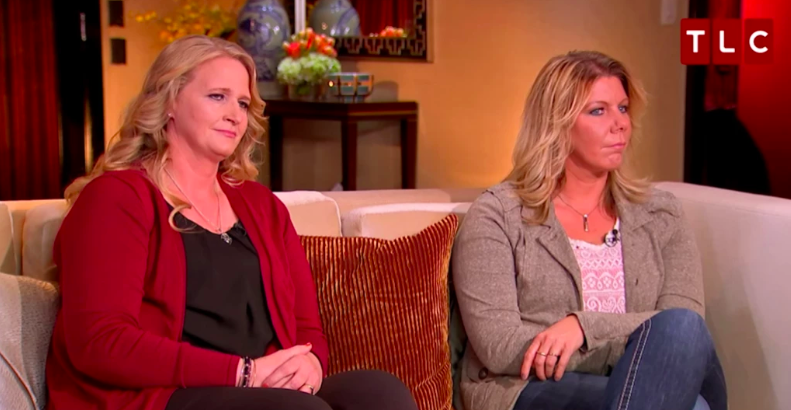 Sister Wives star Meri Brown first announced that she was vacationing to Puerto Rico "with friends" Saturday, but it actually turns out that fellow sister wife Christine is on the same cruise. Despite sharing a life and a husband together, the two traveled separately and have not posted any pictures together since the two both announced on Instagram they would be going on a LuLaRoe-hosted cruise.
"You guys, Puerto Rico is beautiful! So looking forward to the next week's cruise travels," first-wife Meri captioned a photo Sunday.
Third-wife Christine posted a picture the same day but was being dropped off by her daughters. Many in the comments started asking whether she would be with Meri, but Christine didn't directly answer and hasn't posted since.
Meri has continued posting on Instagram and has even included a picture with her daughter Mariah and fiancée Audrey Kriss. While Mariah's fiancée commented "SEE YOU SOON" on Christine's picture, Meri didn't seem to acknowledge her sister wife either in the comments or posts.
The two sister wives not hanging out doesn't seem to be anything new. In a February Sister Wives episode, Christine sits down with Meri and acknowledge that the two "don't talk."
"We don't have any sort of conversations. Nothing real," Christine said to Meri.
"We used to hang out and have fun and laugh and be crazy," Meri replied.
She went on to explain that she knows how to do all that with her friends, to which Christine responded, "Yeah, you're comfortable with your friends. You're not comfortable with me."
"It's not like I go talk to Robyn and Janelle all the time," third-wife Christine continued. "I'm not that close to them either."
The newest season of TLC's hit reality show has seemed to mainly showcase the tribulations of first-wife Meri. From desiring to operate her own bed-and-breakfast to refusing to move from Las Vegas to Flagstaff at the same time as her husband and fellow sister wives, some fans have come to the conclusion that Meri wants out.
Following her Sunday selfie in Puerto Rico, many people voiced in the comment section that the seemingly unhappy, on-screen Meri was "glowing."
"Wow, you look so happy...I never see that smile around 'the family,'" one follower wrote. "They definitely don't deserve you."
"You always look so happy and pretty since you found your own life," another commenter added. "You are my inspiration."
Meri hasn't posted a photo to Instagram showing family patriarch Kody since her birthday in January, and a picture poster more than a year ago with Kody's fourth wife Robyn is the most recent image she's shared of any of the sister wives.
During a Sister Wives episode earlier this month, Kody and Meri were clearly at odds about the approximately 250-mile move from Vegas to Flagstaff—to the point that her husband threatened to "move on" without her.
"We're begging you to tell us, is it still okay?" Kody asked her during the episode.
"You want me to be honest?" Meri responded as tears welled in her eyes.
"It feels like we're moving on without you," Kody said.
"Whatever," Meri replied.
Find out what's next for the Brown family when Sister Wives returns to TLC Sunday at 8 p.m. ET.