The Situation in Zimbabwe Is Unclear, and Fake Twitter Accounts Are Making It Murkier
It has been a breathless morning in Zimbabwe.
The country's military has launched a shock takeover of the state-run broadcaster and has confined President Robert Mugabe to his home, according to South African President Jacob Zuma, who spoke with Mugabe on Wednesday.
Unconfirmed reports abound that the military action has been orchestrated by Emmerson Mnangagwa, Zimbabwe's former vice-president who was fired by Mugabe last week in what was interpreted by many as a power grab on behalf of the first lady, Grace Mugabe.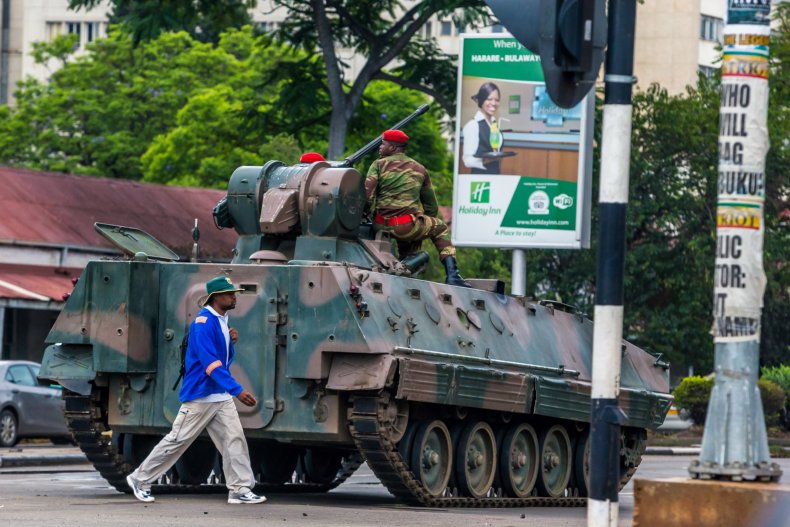 Much of what is going on in Zimbabwe remains unclear. But what is clear is the potential for misinformation as observers, particularly on social media, struggle to keep up with an unprecedented move that could herald the end of Mugabe's 37-year rule.
Read more: Who is Emmerson Mnangagwa, the man who may be Zimbabwe's next president?
One Twitter account purportedly associated with Zimbabwe's ruling ZANU-PF party, in particular, has been cited by numerous major news organizations as the basis for claims that Mnangagwa has taken over leadership of the party from Mugabe.
Much of what has been shared from the account—with the handle @zanu_pf—has already proved or may turn out to be accurate. But it is unclear who is managing the account—which is not verified by Twitter—and multiple analysts and journalists have told Newsweek that the account is not official.
The BBC, one of the news organizations that quoted the account, apologized for describing it as "official."
The account has previously shared slightly bizarre messages that suggest it may be an informal outlet for ZANU-PF supporters, rather than the party's official social media mouthpiece. There is also a competing account—with the handle @ZANUPF_Official—which claims that it is the proper handle for the ruling party.
There are also numerous Twitter accounts purporting to belong to Mnangagwa. One that had thousands of followers and the handle @ED_Mnangagwa has been taken down as of Wednesday morning.
The proliferation of such accounts has led to rumor and gossip spreading like wildfire and has frustrated journalists trying to establish the facts of what's going on.
With the situation in Harare tense and tanks on the streets, many are pointing out that the last thing that is needed in Zimbabwe is an escalation of tensions through misinformation spread over social media.