Chef and TV host Anthony Bourdain has died at the age of 61.
CNN, which broadcast Bourdain's show Parts Unknown, confirmed on Friday morning he died of suicide while he was filming an upcoming episode of the program in France.
The network said in a statement: "It is with extraordinary sadness we can confirm the death of our friend and colleague, Anthony Bourdain.
"His love of great adventure, new friends, fine food and drink and the remarkable stories of the world made him a unique storyteller. His talents never ceased to amaze us and we will miss him very much. Our thoughts and prayers are with his daughter and family at this incredibly difficult time."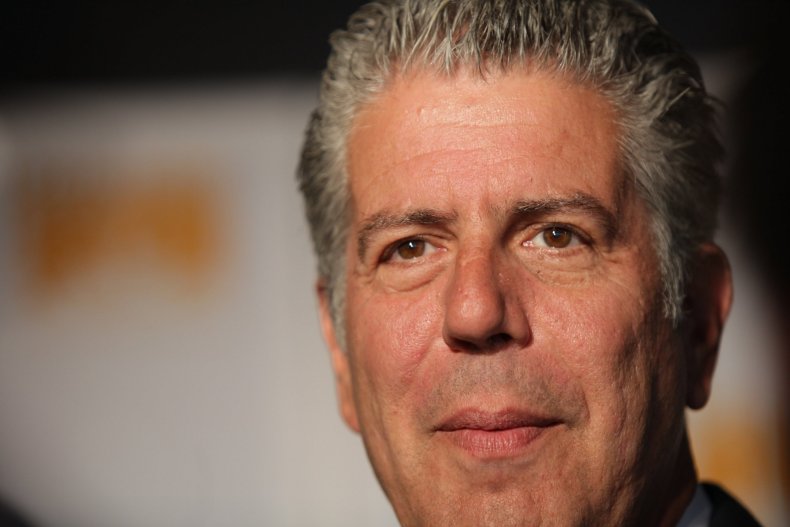 Here are six of his top quotes.
He was always an adventurous eater
In an interview with The Guardian, he spoke of how his adventurous palate blossomed at a young age—partly to spark a response from his parents.
"At the age of nine, I went on the Queen Mary—being served vichyssoise, a word I loved—for my first trip to France, where boys were allowed watered-down wine and cigarettes on Sundays. But our parents left me and my little brother in the car outside La Pyramide (in Vienne), while they dined inside. I reacted by requesting oysters and dishes they found repulsive and becoming increasingly adventurous in my tastes. It wasn't about the food but about getting a reaction," he said.
He wasn't a fan of vegetarianism
As a committed carnivore, Bourdain's distaste for veggies was famous. "Vegetarians, and their Hezbollah-like splinter-faction, the vegans, are a persistent irritant to any chef worth a damn. To me, life without veal stock, pork fat, sausage, organ meat, demi-glace, or even stinky cheese is a life not worth living," he said in his 2000 bestseller Kitchen Confidential.
He loved a drink as much as the food
"Even on the Serengeti, it ain't a barbecue if there ain't some kind of beer," Bourdain said during an episode of Parts Unknown Tanzania.
And in an episode of his award-winning series in New Mexico, he spoke fondly of the lip-loosening benefits of tequila: "I believe—to the best of my recollection, anyway—that I soon made the classic error of moving from margaritas to actual shots of straight tequila. It does make it easier to meet new people."
The most important lesson he learned from traveling was trying not to take too much in
"The sort of frenzied compression of time needed to take the tour, to see the sights, keeps you in a bubble that prevents you from having magic happen to you," Bourdain told Money. "Nothing unexpected or wonderful is likely to happen if you have an itinerary in Paris filled with the Louvre and the Eiffel Tower."
Tokyo is the only place he said he'd settle down in
To say he had a travel bug would be an understatement. But in an interview with Maxim, he revealed that Tokyo was the only place he'd considering sticking around in. "It's so different than the aesthetic I grew up with, the society and culture I grew up with," he said.
He recognized his recovery from addiction was unusual
Bourdain was open about his battles with heroin and cocaine addiction. In a Reddit AMA in 2014, a user asked him how he is still able to drink after struggling with substance abuse. He responded: "I am a very unusual case. You are correct. Most people who kick heroin and cocaine have to give up on everything. Maybe cause my experiences were so awful in the end, I've never been tempted to relapse."
If you have thoughts of suicide, confidential help is available for free at the National Suicide Prevention Lifeline. Call 1-800-273-8255. The line is available 24 hours, every day.
Read a note from Newsweek's editor in chief about covering suicide.