Six Children Still Critical After Waukesha Parade Crash: Hospital
Six children were still listed in critical condition after the tragedy in Waukesha, Wisconsin, where a red SUV plowed through a holiday parade on Sunday.
During a press conference on Monday, Dr. Michael Meyer, the director of the critical care unit at the Children's Hospital Wisconsin said, "there were 18 patients who came to Children's, and 10 of them were admitted to the pediatric intensive care unit."
"Currently we have six patients who we list in critical condition, three that are in serious and one that is in fair [condition]," he continued. "We also have eight other patients that are listed in fair condition, that are not in the intensive care unit and are in other units within the hospital."
Three sets of siblings are among the 18 patients that were admitted to the hospital on Sunday night, according to officials at the hospital, which Meyers said was "unique and truly demonstrates the devastating effects of this on our community."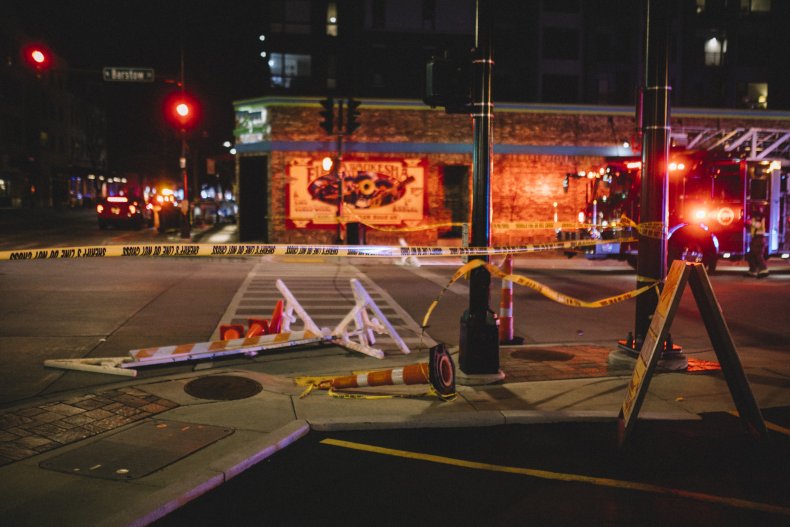 During the press conference, the medical director of the hospital's emergency department and trauma center, Dr. Amy Drendel, said that the ages of the 18 patients range from 3 to 16.
"Injuries range from facial abrasions to broken bones to serious head injuries," Drendel said. "Six of these patients were sent to the operating room last night and two additional patients are undergoing surgeries today."
The city of Waukesha confirmed that five individuals died during the incident and at least 40 others were injured. Videos posted across social media showed the red SUV driving through the parade as community members participated in the parade.
Law enforcement officials, speaking anonymously to the Associated Press, confirmed that they had a person of interest in custody, who was identified as 39-year-old Darrell Brooks. Brooks was recently arrested on several charges but was released this past Friday after posting a $1,000 bond. He currently has two open criminal cases in Milwaukee County, according to the AP.
On Monday, Wisconsin Governor Tony Evers ordered flags in the state to be flown at half-staff to honor those who died and were injured.
"My heart goes out to everyone affected by the devastating incident today in Waukesha. I'm grateful to the law enforcement officers, first responders, health care workers, and many others who helped get care to those who were injured as quickly as possible," Wisconsin Attorney General Josh Kaul wrote on Twitter.
In a subsequent tweet, Kaul wrote, "DOJ is assisting with the response to this incident and will provide any resources needed to assist with the investigation as it moves forward. What took place in Waukesha today is sickening, and I have every confidence that those responsible will be brought to justice."