Six Don Shula Quotes in Honor of the NFL's Winningest Coach
On Monday, Don Shula, the NFL's winningest coach died at the age of 90, according to Barry Jackson of the Miami Herald.
"Very sad news: Dolphins Hall of Fame coach Don Shula passed away this morning at age 90, one of his children confirmed," Jackson wrote on his Twitter.
"Don Shula was the patriarch of the Miami Dolphins for 50 years. He brought the winning edge to our franchise and put the Dolphins and the city of Miami in the national sports scene. Our deepest thoughts and prayers go out to Mary Anne along with his children Dave, Donna, Sharon, Anne and Mike," the Dolphins announced on their Twitter account.
From 1970 to 1995, Shula coached the Dolphins and gained the most regular season wins as an NFL head coach (328). During his time as the Dolphins head coach he led the team to a pair of Super Bowl victories in 1973 and 1974. He also won the AP NFL Coach of the Year award four times (1964, 1967, 1968, 1972). On top of these accolades, Shula also holds the NFL record for most total wins, including postseason, as a head coach, 347 and he is the only NFL coach to complete an undefeated season through the regular season as well as the playoffs.
Shula also coached the Baltimore Colts from 1963 to 1969, where he led the team to seven straight winning seasons. Shula was inducted into the Pro Football Hall of Fame in 1997.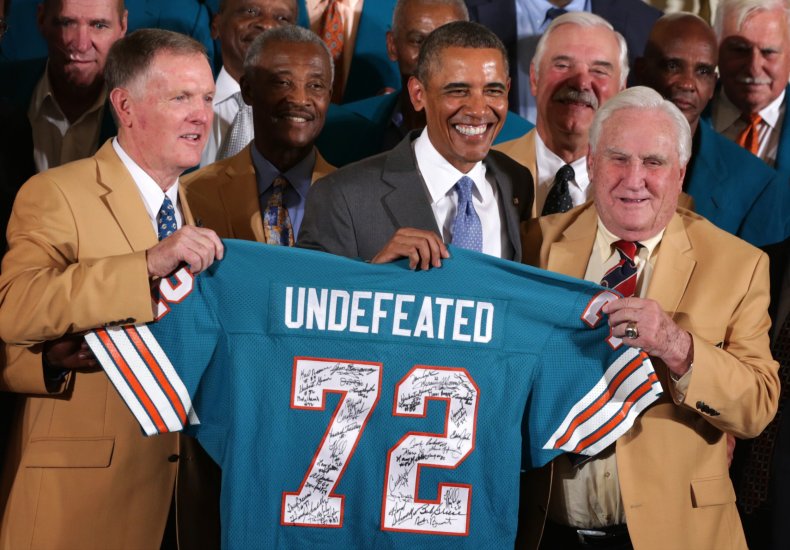 During his time as a head coach, Shula was known for his inspirational quotes and Newsweek has listed some of his most famous ones below.
"The superior man blames himself. The inferior man blames others," Shula once said.
"Success is not forever, and failure isn't fatal."
"The problem with most leaders today is they don't stand for anything. Leadership implies movement toward something, and convictions provide that direction. If you don't stand for something, you'll fall for anything."
"I think what coaching is all about is taking players and analyzing their ability, put them in a position where they can excel within the framework of the team winning. And I hope that I've done that in my 33 years as a head coach."
"Sure, luck means a lot in football. Not having a good quarterback is bad luck."
"The ultimate goal is victory. And if you refuse to work as hard as you possibly can toward that aim, or if you do anything that keeps you from achieving that goal, then you are just cheating yourself."