Six Earthquakes Shake Small Nebraska Town in Eight Days
A series of small earthquakes have shaken central Nebraska and become the talk of the area.
According to data on the U.S. Geological Survey's website, there have been six quakes since April 9 in the heart of the state, centered on the town Arnold, which is about 225 miles west of capital Lincoln. The first, a 3.3-magnitude tremor, happened early that morning, followed by three on April 10, another on Sunday, and then the most recent earthquake on Monday. The strongest quake was the first one that struck on April 10, which reached a 3.7 on the scale.
The earthquakes were picked up from nearby Stapleton and were detected about three miles below the surface.
There haven't been any reports of human injury or structural damage related to the seismic activity, according to KWBE-TV.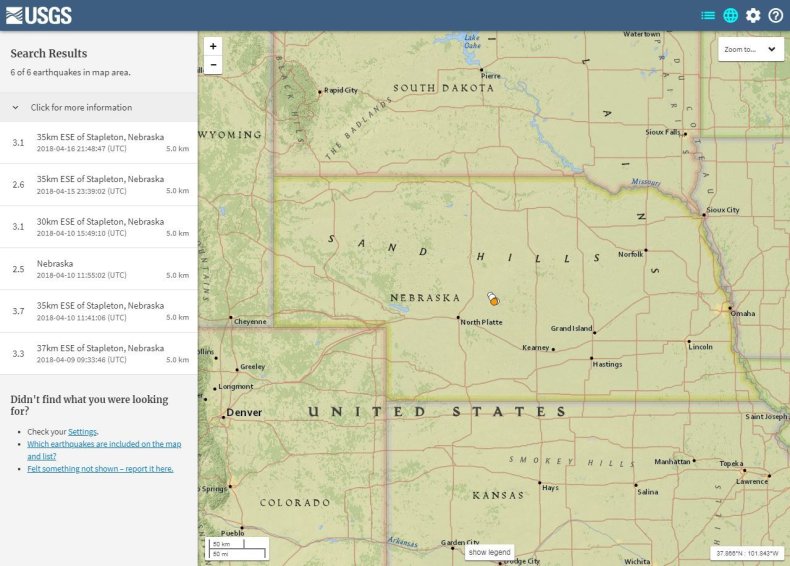 "It's just kind of weird," Arnold Chamber of Commerce Treasurer Becky Dailey told that station, adding that people around town are buzzing about the tremors.
Small quakes like these are not unusual. Just two minutes before Nebraska's most recent earthquake, a separate one shook a city in the Dominican Republic, reaching a 2.5 in magnitude. A couple of hours later, a 2.7-magnitude earthquake rattled an area near Aguanga, in Southern California's Riverside County. There were two more that day, in different areas of Puerto Rico: a 2.9-magnitude and a 3.1-magnitude, according to USGS data.
Those were all minor, but stronger quake regularly rock the world—just not as often.
Earthquakes happen when there's movement in the planet's crust, the outermost layer that we stand on. The crust is made up of tectonic plates, which rub up against one another in places where they are broken apart, known as fault lines.