Six Flags to Host Largest-Ever Screening of Cult Classic 'Rocky Horror Picture Show'
Six Flags St. Louis will be hosting what's been touted at the largest-ever screening of the cult classic film on November 1, and what will also allegedly be the largest screening ever of the movie in Missouri history, according to KSDK.
The audience participation heavy screening will have live accompaniment by Flustered Mustard, which is St. Charles, Missouri's shadowcast for the Rocky Horror Picture Show. Shadowcasts perform scenes from the movie onstage as the movie is projected onscreen behind them, lip-syncing along with the dialogue and music. Flustered Mustard will be selling vintage Rocky Horror memorabilia at the screening as well.
The screening and merchandise sale will benefit the restoration of the local St. Andrews Cinema, where Flustered Mustard usually performs their Rocky Horror shadowcast and which was damaged in a recent fire.
The Rocky Horror Picture show is a 1975 cult classic movie which took off in fame, thanks to midnight screenings of the film in which the audience shouted lines (and threw toast, toilet paper and rice) at the screen in concert with the film. The above-mentioned supplies will be available at the screening for all who choose to pay in a single convenient bag.
The screening will begin at 11:30 p.m., and all attendees must be over the age of 18, due to thematic material contained within the movie.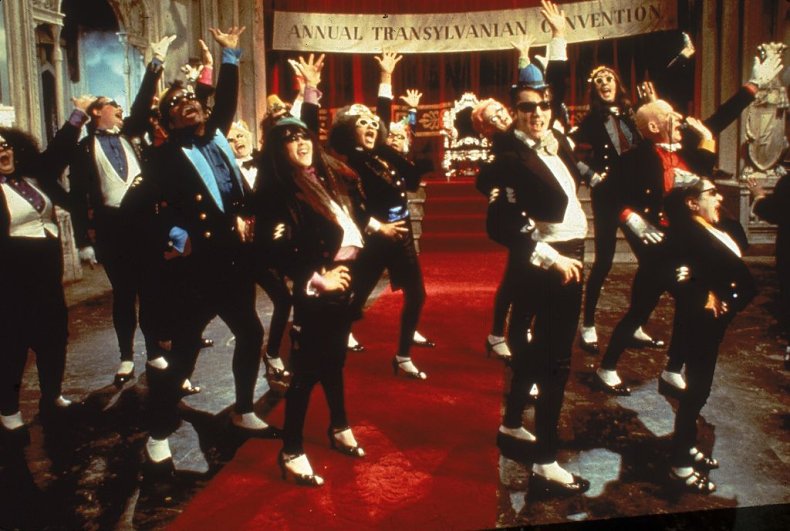 The film—based on the hit play, The Rocky Horror Show—tells the tale of naive young Brad Majors and virginal Janet Weiss' stop at the old Frankenstein place during a rainstorm. Over the course of one long evening, they go from wide-eyed, underwear-sporting naifs to sex-hungry adults.
The twosome become tangled in the lives of "transexual Transylvanian" Doctor Frank N. Furter, who is accompanied by his bitter manservant, Riff-Raff, jazzy, lovelorn groupie Columbia and Raff's incestuous sister, Magenta.
They and the conventions of Transylvanians in attendance are waiting with excitement for the birth of Rocky Horror, the man whom Frank has created to be his perfect lover. But the hedonism and Hollywood tributes end with a blast of cold reality.
The film has spawned everything from a Fox Live musical version to multiple Broadway restagings to a Glee episode entirely dedicated to the movie.
The movie launched Susan Sarandon and Tim Curry to worldwide fame, and spawned a controversial sequel Shock Treatment, featuring some of the same characters—but only Richard O'Brien, Patricia Quinn and Little Nell returned from the original cast, each in a new role.
Six Flags to Host Largest-Ever Screening of Cult Classic 'Rocky Horror Picture Show' | Culture