Six Flags Reopening: How to Make the Required Reservations Before Visiting the Park
Once the amusement parks reopen across the country, Six Flags visitors will have to reserve tickets ahead of time to limit the number of people within the park.
Earlier this week, CEO Michael Spanos targeted six locations in Georgia, Missouri, Oklahoma, Texas, and Mexico to open first. However, an exact reopening date has yet to be announced.
The parks will reopen with strict social distancing measures in place, including face masks and temperature checks. Six Flags theme parks will be operating with mobile ordering and cashless transactions. The rides will be sanitized more regularly and hand-washing and hand-sanitizing stations will be installed throughout Six Flags parks.
The social distancing measures include guests remaining six feet from each other with floor markers and fewer people admitted to the rides, plus virtual queuing, which could be introduced in the next few months.
But one of the major measures Six Flags is introducing to encourage social distancing is reduced attendance. Therefore, guests will now have to reserve their slot ahead of time, instead of turning up.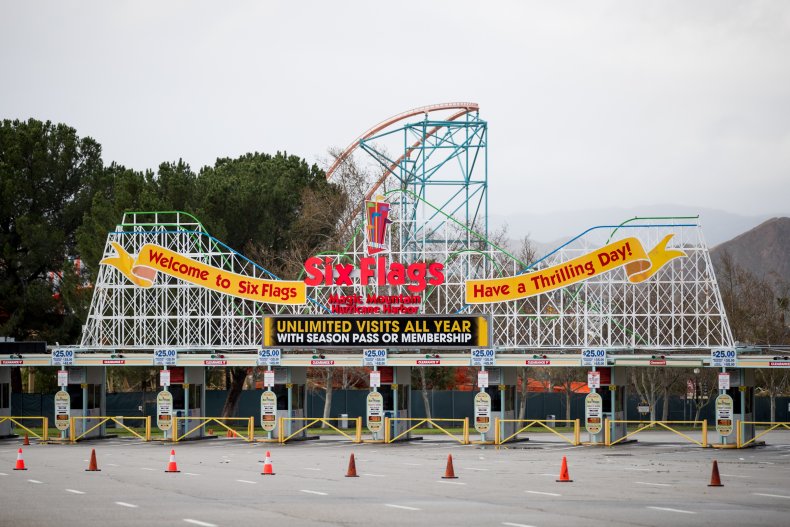 Six Flags New England stated on its website: "To meet state social distancing guidelines and ensure the health and safety of our guests, all visits to the park must be pre-scheduled using our online reservation system."
Online reservations will be available once the parks reopen. Once the online reservation system becomes available, head to the Six Flags website and choose your desired location. Then, head to "plan visit" and then "calendar," where the reservation should be located.
Any unused, pre-purchased one-day tickets dated 2020 can be used on any operating day through December 31. Season pass holders will have their passes extended for every operating day the park is closed during the 2020 season, and members will be upgraded to the next highest level of membership.
Six Flags has 23 locations in the U.S., with four locations in California, three parks in New York, and two parks in New Jersey, and parks in Arizona, Illinois, Maryland, Massachusetts. There are also international locations in Canada, Mexico and Saudi Arabia.
The Six Flags locations in the U.S., Canada and Mexico have been closed since mid-March and were initially set to reopen at the end of March before the closures were extended to mid-May.
In a statement, Six Flags said: "The top priority at Six Flags is the safety and well-being of our guests and team members. We continue to monitor and follow the guidance of federal, state, and local officials regarding COVID-19.
"We thank you for your patience and understanding as we all work through this challenging situation."