Six Indicted in Plot to Provide High-Powered Weapons to Dangerous Mexican Cartel
The Department of Justice (DOJ) has indicted six men who allegedly plotted to provide high-powered weapons to the Cártel de Jalisco Nueva Generación (CJNG), the most dangerous criminal organization in Mexico.
The accused face 23 criminal counts connected to a conspiracy to violate federal export laws by illegally transporting weapons and ammunition to CJNG operatives in Mexico, the DOJ said in a press statement.
The indictment said that Marco Antonio Santillan Valencia—a 51-year-old resident of Whittier, California—led the conspirators' group. Using money from narcotics sales, Valencia's group allegedly purchased assault rifles as well as machine gun parts and accessories, along with hundreds of thousands of rounds of ammunition, according to the indictment.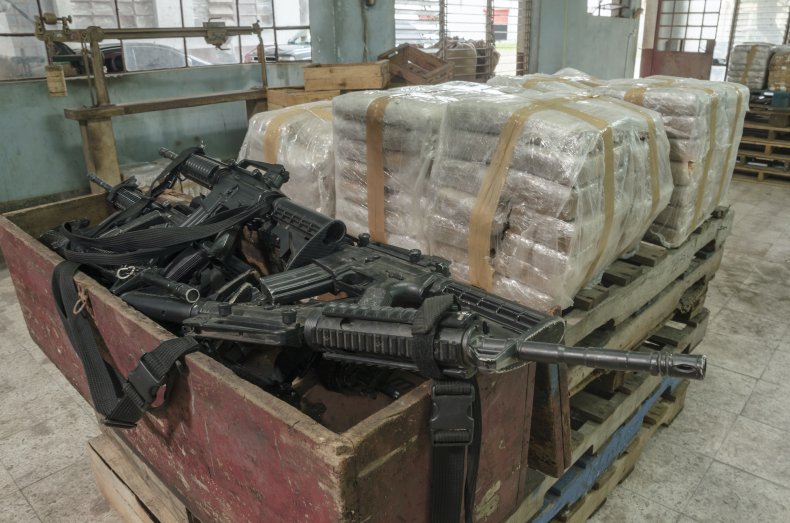 The alleged conspiracy began no later than March 2020 and continued for one year, according to prosecutors. During that time, the alleged conspirators ordered firearms in Oregon and Nevada. They also allegedly ordered ammunition from other states anonymously and kept the ammo in a Nevada location. The weapons and ammo were then consolidated in Pahrump, Nevada, and Whittier, California, before being smuggled into Mexico.
In doing so, the DOJ wrote, the alleged conspirators violated U.S. laws which "restrict the export of items that could make a significant contribution to the military potential of other nations or that could be detrimental to the foreign policy or national security of the United States."
The law carries a penalty of 20 years in prison. Each count of smuggling also carries a maximum penalty of 10 years in prison.
During the investigation, authorities seized "six assault rifles, over 250,000 rounds of assault rifle ammunition, over $300,000 worth of weapons parts and kits to assemble several 'mini-guns' – six-barrel rotary machine guns capable of firing up to 6,000 rounds per minute," the DOJ reported.
The other men named in the indictment include Valencia's 29-year-old son Marco Santillan Jr., 30-year-old Anthony Marmolejo Aguilar, 33-year-old Michael Diaz, 51-year-old Luis De Arcos and 34-year-old Rafael Magallon Castillo.
Aguilar was already in a North Carolina prison on separate state charges. Castillo is believed to be in Mexico. The FBI has asked for the public's help locating him.
"The defendants in this case smuggled sophisticated weaponry out of the United States to one of the most violent cartels in Mexico whose members target not only rival gangs, but innocent Mexican citizens and Mexican law enforcement," said Kristi Koons Johnson, the assistant director in charge of the FBI's Los Angeles Field Office.
CJNG has been linked to multiple massacres in Mexico in which police recovered numerous bodies that had been handcuffed, tortured, burned to death and/or dismembered, sometimes with a note proclaiming the cartel's responsibility.
The group is also known for positioning itself as a "righteous" and "nationalistic" group that claims to target other dangerous criminals or to provide safety in neighborhoods plagued by violence, The Wall Street Journal reported.
Newsweek reached out to the Department of Justice for comment.