At Least Five Injured in Explosion at Louisiana Chemical Plant
At least five workers were injured in an explosion at a chemical plant in Louisiana on Monday night, according to authorities.
The explosion occurred at Westlake Chemical's Petro Complex 2 Unit located at LA Hwy 108 and LA Hwy 27 in Sulphur at around 11 p.m. Local media originally reported that six people had been hurt in the incident.
However, Trooper Derek Senegal, of the Louisiana State Police, later told Newsweek that at least five contract employees were transported to an area hospital for treatment.
He said he could not elaborate on the condition of the injured employees or extent of the injuries they sustained. According to KPLC, two of those employees have since been transferred to hospitals in Hammond and Lafayette.
Senegal said the fire caused by the explosion has been put out and the cause is under investigation.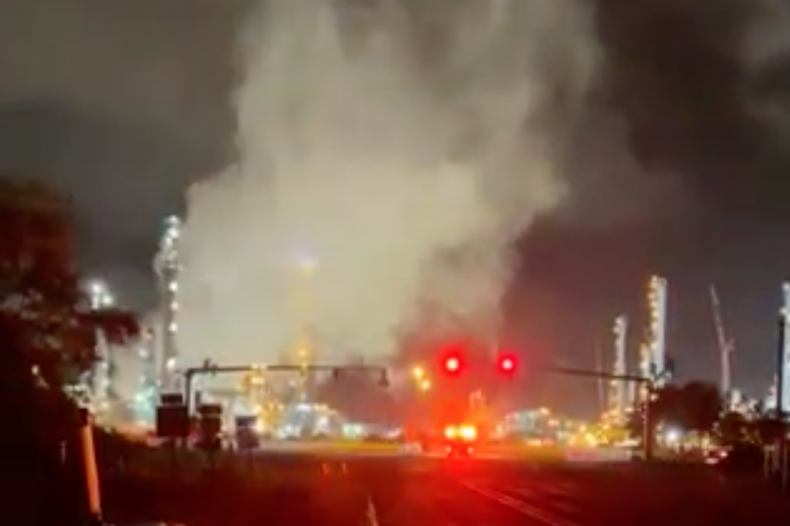 "The actual cause of the explosion is still under investigation. The fire is out and the emergency services technicians have left the scene and are expected to return later today," Senegal said.
Joe Andreport, a spokesperson for Westlake Chemical, told KPLC that Petro Complex 2 Unit, which is used in the production of ethylene, was undergoing maintenance when the explosion occurred.
Andrepont told the station that the explosion was a flash fire, and that there was no sustained fire after the incident. All other personnel at the plant were safely accounted for, Andreport added.
Meanwhile, a video posted on Facebook late on Monday night purported to show plumes of smoke drifting into the sky over the plant after the explosion.
Shawn Carter, who filmed the video, told Newsweek that he had learned that one of the employees who was injured had sustained severe burns over at least half of their body.
Several people who commented on Carter's video they had felt the impact of an explosion from their homes. "I heard and felt the explosion in Sulphur," Tina Wing said.
"Yeah i live right off beglis by interstate and it shook my whole house. scared me," MeLicia Hines added.
Others expressed relief that loved ones who work at the plant were not hurt.
"My husband works at petro 2 but out due to knees surgery lord have mercy," Gaybernell Raby said.
Susan Acheson wrote: "My son works there. He is ok. Thank you Jesus. Prayers for those that were hurt."
Westlake Chemical has been contacted for additional comment.
Update 11.45 a.m. ET: This article has been updated with additional information.