Six Members of 'Three Percenters' Militia Indicted on Capitol Riot Charges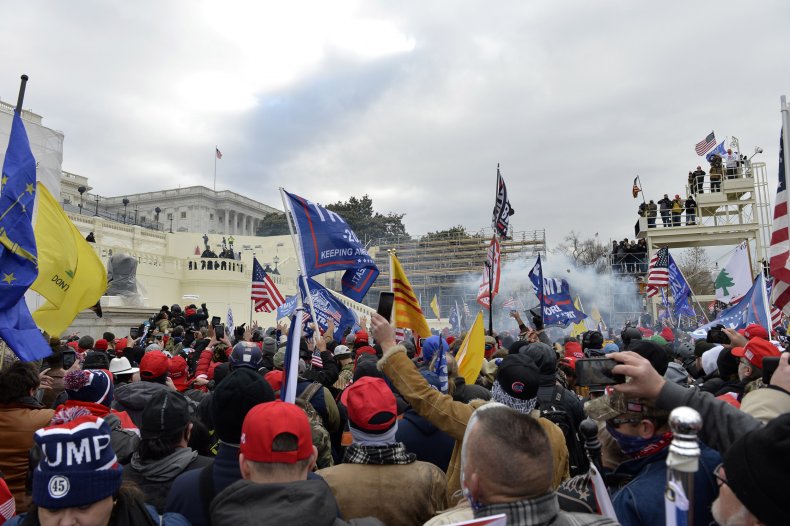 Multiple California men associated with the "Three Percenters" militia movement have been indicted on federal charges related to their alleged participation the January 6 riot at the U.S. Capitol.
Among those indicted Thursday were Alan Hostetter, 56, and Russell Taylor, 40—key members of a group called the American Phoenix Project. As leaders of the group, they organized a Washington, D.C. protest in support of former President Donald Trump's false claims of a "stolen" 2020 presidential election one day before they allegedly took part in the Capitol riot. Both of their homes were raided by the FBI in late January.
The other named defendants were 45-year-old Erik Scott Warner, 47-year-old Felipe Antonio "Tony" Martinez, 39-year-old Derek Kinnison and 51-year-old Ronald Mele. Each of the six defendants were charged with one count conspiracy to obstruct an official proceeding, one count of obstruction of an official proceeding and aiding and abetting and two counts of entering and remaining in a restricted building or grounds.
Taylor was also charged with one count of obstruction of law enforcement during civil disorder and aiding and abetting, as well as one count of unlawful possession of a dangerous weapon on Capitol grounds or buildings—which the indictment describes as "a knife having a blade over three inches in length." Kinnison was charged with one count of tampering with documents or proceedings for allegedly attempting to erase or obscure potentially incriminating messages in a group chat the defendants shared with each other using the Telegram messaging app.
The indictment includes a large number of messages that authorities say were part of the group chat. On the morning of January 6, a message allegedly sent by Taylor boasted that he wanted to "be on the front steps and be one of the first ones to breach the doors." Days before the riot, members of the group allegedly sent messages to each other that suggested bringing weapons including knives, hatchets, bats and bear spray to the Capitol.
The far-right "Three Percenters" is an anti-government militia movement that took its name from a misconception that only three percent of Americans fought against the British during the American Revolutionary War. The national group, which described itself as "America's insurance policy" and vowed to "combat all those who are corrupt," dissolved after the January 6 riot while condemning those who participated in the violence.
Hostetter retired from his job as chief of police for La Habra, California, in 2010. His career course took a somewhat unusual turn after that, becoming a yoga instructor catering to wealthy suburbanites in Orange County, according to a January opinion article published by The Washington Post. A 2017 article published by The San Clemente Times recalls Hostetter hosting a "restorative yoga session" to a class of 40, featuring guided "sound meditation" using "Tibetan and crystal bowls, didgeridoos and a large gong."
During the summer of 2020, Hofstetter was involved in leading protests against public health restrictions amid the COVID-19 pandemic, according to the Los Angeles Daily News. Hofstetter's attorney, Bilal A. Essayli, told the paper on Thursday that he believes his client "did not enter the Capitol" and he is "very concerned that the government is charging him with multiple felonies."
Newsweek reached out to Hostetter for comment.