Six Standout Moments From Trump's ABC News Town Hall
President Donald Trump defended his record on tackling coronavirus, commented on whether he acts presidential, and reiterated his law and order stance, during an ABC News town hall on Tuesday.
As November 3 approaches, Trump faced audience questions as well as being scrutinized in follow-up points by host George Stephanopoulos in the event at the National Constitution Center in Philadelphia.
Below, Newsweek looks at some of the key takeaways from the president's comments.
Trump Says He 'Up-Played' COVID-19
Defending himself over comments—made to journalist Bob Woodward—in which the president said he downplayed the virus, Trump claimed his actions showed he actually took it seriously.
"Well, I didn't downplay it," he said. "I actually—in many ways I up-played it in terms of action. My action was very strong."
Asked about having said himself he downplayed it, he went on: "Yes, because what I did was, with China—I put a ban on with Europe, I put a ban on. And we would have lost thousands of more people, had I not put the ban on.
"So that was called action, not with the mouth, but an actual fact. We did a very, very good job when we put that ban on. Whether you call it talent or luck, it was very important. So we saved a lot of lives when we did that."
He went on to also add that he did not feel he could have done anymore than what he has to stop the spread of COVID-19.
"I really don't think so. I think we did a very good job," he said.
Trump also suggested the U.S. is doing better in certain statistics than others, and reiterated his stance that figures are high due to the level of testing, despite some experts having argued against that claim.
"If we wouldn't do testing you wouldn't have cases. You would have very few cases," he said.
On excess mortality, he said the U.S. had done "very well."
"If you look at what we've done compared to other countries, with the excess mortality, the excess mortality rate, we've done very, very well," he said.
He has previously claimed the U.S. mortality rate is significantly lower than Europe's.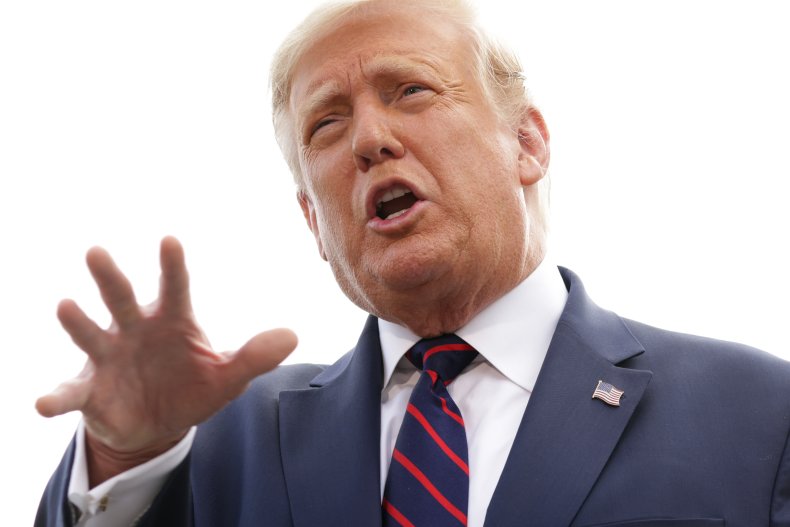 However, analysis from FactCheck.org suggested this was not the case based on figures it assessed, while the premise of comparing excess mortality rates has also been questioned.
Janine Aron and John Muellbauer, research fellows at the University of Oxford, told the site that: "Whether he means all of Europe or particular countries, President Trump is not comparing like-for-like."
They suggested issues such as the size of the nations, population densities and demographics could make comparisons difficult.
In other comments on COVID-19, Trump said: "There are a lot of people think that masks are not good."
Asked who they are, he said: "I'll tell you who those people are—waiters."
Trump went on to say that sometimes people are "playing with the mask" which "can't be good."
The president had previously downplayed the use of masks and avoided wearing them publicly, before then saying it was patriotic to wear them.
Tragic Events Due to 'Mistakes': 'People Choke'
The president was asked, with reference to the deaths of George Floyd and Breonna Taylor, as well as the shooting of Jacob Blake: "Do you feel racial injustices are occurring in this nation?"
Trump was asked if so, what he felt could be done to address them.
In response, he said he thought police do a "phenomenal job" but people "make mistakes."
He said: "Well I think they were tragic events. And I do feel that we have to also take into consideration that, if you look at our police, they do a phenomenal job. You'll have people choke, make mistakes, and they happen.
"It happens, where they have to make a fast decision and some bad things happen.
"And you also have bad apples. But you have 99 percent great people."
While he said he agreed there had been "terrible events," he said the police needed support, reiterating his law and order messaging.
"We have to give the police the respect that they deserve, and we have to give them their mojo. We have to let them protect us," he said.
'Herd Mentality' vs Coronavirus
Trump spoke of the coronavirus going away "without a vaccine," and said: "It is going to disappear. It's going to disappear, I still say it."
Discussing how, he said: "Sure, over a period of time. Sure, with time it goes away.
"And you'll develop, you'll develop herd, like a herd mentality.
"It's going to be, it's going to be herd-developed. And that's going to happen. That will all happen."
There have been discussions that "herd immunity" could stop the spread of coronavirus. However, trying to reach this without a vaccine has been described as "very dangerous" by the World Health Organization.
Doesn't 'Have Time' to Be Presidential
Trump, the 45th president of the United States, was asked about whether his behavior is always presidential.
He said that sometimes he does not have time to focus on this, while bemoaning the number of adversaries he has.
"I'm fighting a lot of forces. Sometimes you don't have time to be totally, as you would say, presidential," he said. "You have to get things done. I think I've done more than any other president in the first three and a half years."
He claimed being presidential might be simpler than how he behaves, claiming he has achieved more than other leaders.
"But the fact is, being presidential is easier than what I have to do, but I get things done. I get things done like nobody has ever gotten," he said.
Touts 'Tremendous African American Support'
The president was quizzed about his slogan "Make America Great Again," and asked: "When has America been great for African Americans in the ghetto of America? Are you aware of how tone deaf that comes off the African American community?"
To this, he responded that his administration has "tremendous African American support."
"You've probably seen it in the polls. We're doing extremely well with African American, Hispanic American at levels that you've rarely seen a Republican have," he said.
Previous polling has shown Trump trail Democratic presidential candidate Joe Biden in terms of support with Black Americans.
Asked to "acknowledge that there's been a race problem in America," the president responded: "So if you go, well, I hope there's not a race problem. I can tell you, there's none with me, because I have great respect for all races, for everybody. This country is great because of it."
He said that pre-pandemic there was "the best single moment in the history of the African American people in this country," having referred to job numbers and income figures.
He has long boasted over such figures, although questions have been raised over the veracity of his claims in the past, and the economic fallout from COVID-19 has posed further issues.
Issues All in 'Democrat-run' States and Cities
Trump commented on "Democrat-run" states and cities throughout the town hall, pinning blame for issues in such areas on the local Democrat leadership.
He was asked by Stephanopoulos: "Why do you keep talking about Democrat states, Democrat states?"
The host said: "They're American states, American states."
To which Trump replied: "No. The Democrat-run states are the ones that are doing badly, George."
He went on: "They have things that the Republicans don't have. So they are—I mean, I don't want to say—look, I'm the president of everybody, but—I don't want to say it, but they're Democrat-run cities. It is what it is."
Newsweek has contacted the White House and the Trump campaign for comment.