Six Stories That Will Shape Sub-Saharan Africa in 2017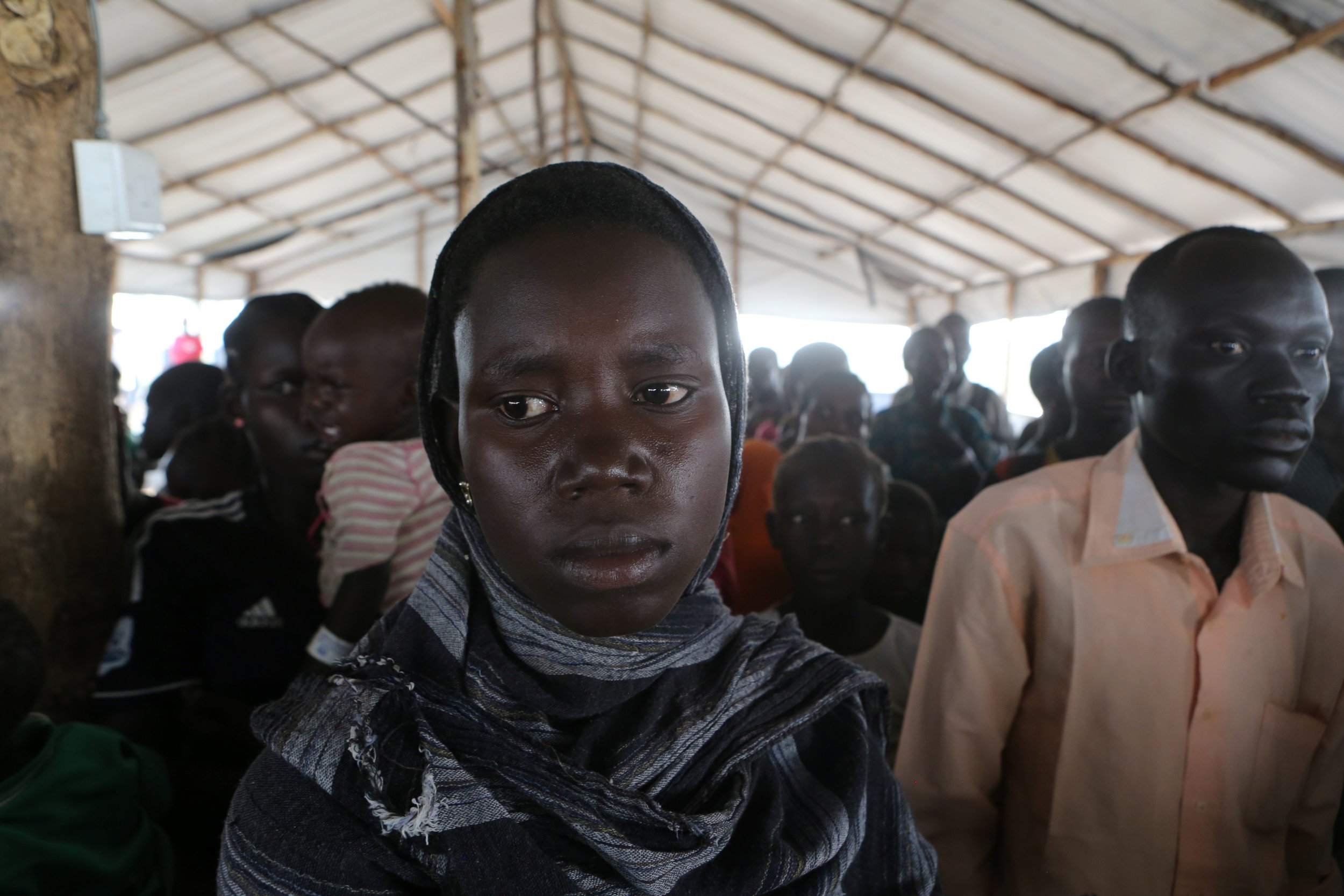 Like much of the world, 2016 has been a struggle for sub-Saharan Africa.
The region recorded its slowest overall growth in more than two decades, as low commodity prices and political uncertainty elsewhere put the brakes on economic progress. Civil conflicts have continued raging in countries including South Sudan and the Central African Republic, while extremist and Islamist groups have posed significant threats in nations including Nigeria, Somalia.
As 2017 approaches, Newsweek looks ahead to six stories that could shape the next year on the continent.
The Risk of Genocide in South Sudan
"The stage is being set for a repeat of what happened in Rwanda." That was the stark warning from Yasmin Sooka, the head of a U.N. human rights commission that reported at the end of a 10-day fact-finding mission to South Sudan in November. Sooka was, of course, referring to the 1994 genocide in Rwanda, when extremists from the Hutu ethnic majority killed more than 800,000 members of the Tutsi minority and moderate Hutus.
Since fighting broke out between President Salva Kiir and former vice-president Riek Machar's forces in December 2013, South Sudan's civil war has had a devastating impact on the world's youngest nation. Thousands have been killed; 3 million have been displaced; the economy has gone into freefall. The signing of a peace agreement in August 2015, and the return of rebel leader Machar to the capital Juba in April, provided tantalizing glimmers of hope. But these were washed away as fresh blood was spilled in July; Machar and his troops fled, and the country reverted to a situation of war, alleged human rights abuses and large-scale displacement.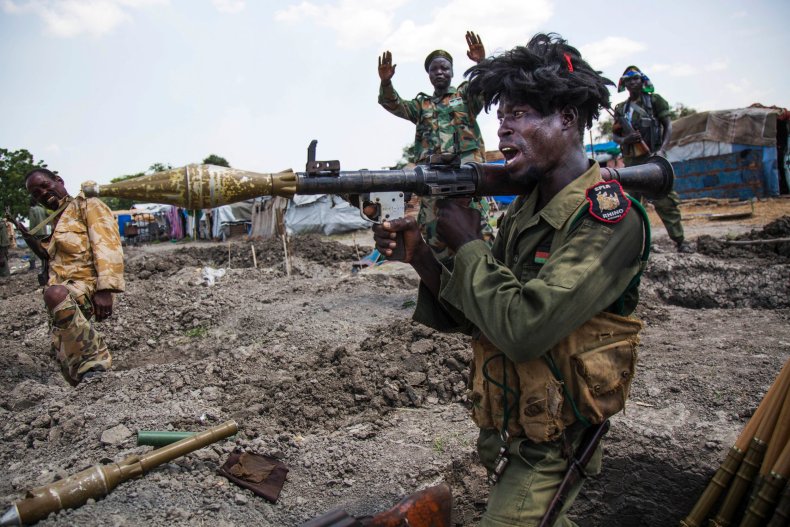 In Rwanda in 1994, the international community looked on as extremist Hutus carried out ethnic cleansing on a scale not seen before in Africa. The outgoing U.N. Secretary-General Ban Ki-moon, writing in Newsweek, urged the world not to let the same thing happen in South Sudan. "Time is running out as the warring parties ready themselves for another vicious cycle of violence," said Ban. "If [the South Sudanese leaders] fail [to restart an inclusive dialogue], the international community, the region, and the Security Council in particular, must impose penalties on the leadership on both sides. We owe this to the people of South Sudan, who have suffered far too much, for far too long."
The African National Congress Reinvents Itself
Nelson Mandela, South Africa's first black president, was vigilant about putting party loyalty to his African National Congress (ANC) ahead of justice for South Africa's people. "If the ANC does to you what the apartheid government did to you, then you must do to the ANC what you did to the apartheid government," Mandela told a trade union congress in 1993.
It has been 22 years since the ANC came to power, bringing to an end decades of racial segregation and heralding a liberated South Africa. 2016 must rank as one of the party's worst years since that pivotal moment. South African students have risen up against the party, accusing it of marginalizing them with expensive tuition fees; the party leader, Jacob Zuma, has been dogged by seemingly endless scandals; and in August's local elections, the ANC lost control of key metropolitan areas, including the commercial hub Johannesburg, as urban voters made clear their disillusionment with the party.
Those results gave rise to factional infighting within the party and calls for Zuma to resign before the expiration of his second, and final, presidential term in 2019. The ANC is due to hold its elective conference in December 2017; if he survives until then, Zuma is expected to bow out at the conference. There are several prominent candidates to succeed him—his deputy Cyril Ramaphosa, and outgoing African Union chief Nkosazana Dlamini-Zuma, who happens to be Zuma's ex-wife, seem the most likely.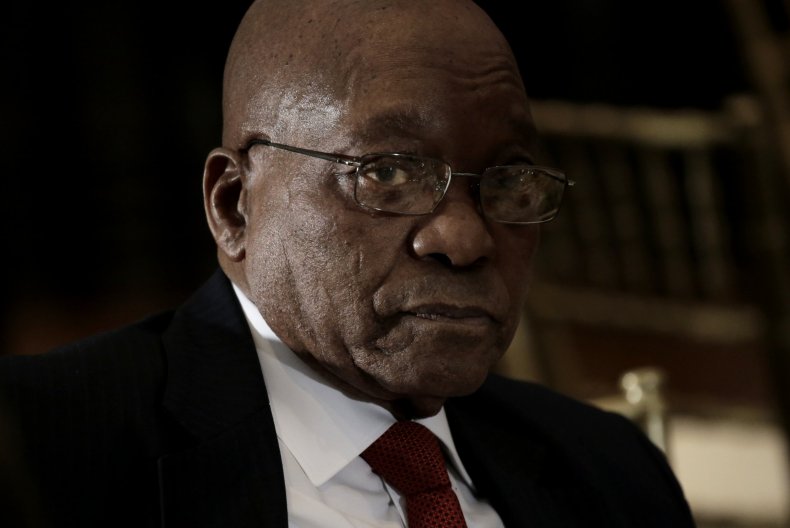 The ANC is far from being on the brink of defeat: it still took 53.9 percent of the national vote in August, way ahead of the Democratic Alliance (DA) on 26.9 percent. But the choice of its next leader, and how the party negotiates a difficult economic climate and deals with tense protesters, will be important ahead of 2019. Both the DA and left-wing Economic Freedom Fighters are fronted by charismatic, if diametrically-opposed, leaders—Mmusi Maimane and Julius Malema—who will be keen to pounce on any further mistakes South Africa's liberation party makes.
Leaving a Dictator Behind in Gambia
2016 was a year of shock results in elections and referenda. While Brexit and Donald Trump's victory grabbed the headlines, perhaps just as astounding was the presidential election held on December 1 in the smallest country on the African mainland.
After 22 years of authoritarian rule by Yahya Jammeh—or His Excellency Sheikh Professor Alhaji Dr Yahya A. J. J. Jammeh Babili Mansa, as he prefers to be known—Gambians threw off their shackles and voted for Adama Barrow, a property developer with next to no political experience.
But now comes the hard part. After graciously accepting the result on December 2—"this is the will of Allah," Jammeh said—the outgoing president pivoted a week later and announced he was annulling the result. Regional and international leaders went into uproar, demanding Jammeh immediately step aside.
But the former army officer, surrounded by a military whose loyalty he has cultivated for more than two decades, dug himself in. "I am not a coward. My right cannot be intimidated and violated. This is my position, Nobody can deprive me of my victory except the Almighty Allah," he said.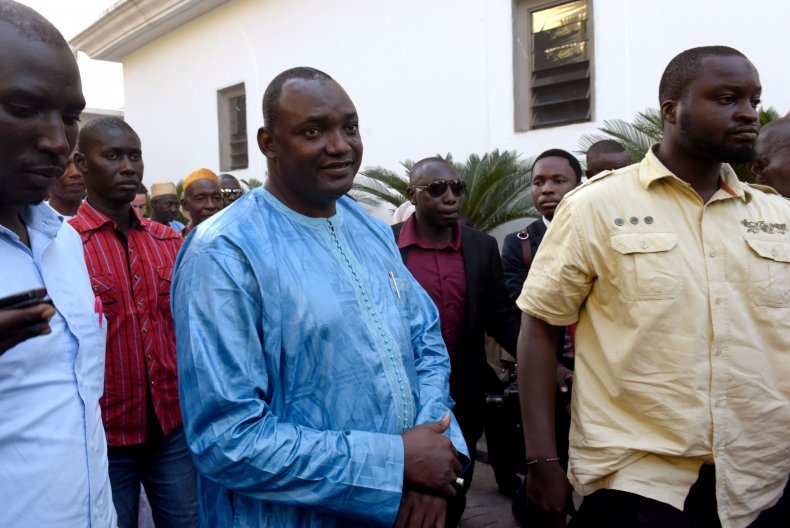 What happens next is somewhat unclear. Jammeh has submitted a petition to Gambia's Supreme Court, which hasn't sat in over a year and would need to be reconstituted before hearing the appeal. The president of regional body ECOWAS has threatened military intervention if Jammeh refuses to relinquish power. The region and the international community seems set on making an example of Jammeh, an archetypal African strongman leader, but he appears unlikely to go without a struggle.
Ethiopia's State of Emergency
Ethiopia has been one of sub-Saharan Africa's economic success stories in recent years; the Horn of Africa state has averaged 10.8 percent growth between 2003/04 and 2014/15, double the regional average of 5.4 percent. But such rapid expansion has masked a delicate situation in a country with clear ethnic divisions and where much of the population still lives in poverty.
Tensions exploded in November 2015 with the outbreak of the so-called Oromo protests—led by members of the majority Oromo ethnic group—against government plans to expand the capital, Addis Ababa, which protesters said would result in forced evictions of Oromo farmers. The government abandoned the plans in January, but the fuse had been lit: security forces were heavy-handed in dealing with the protests, killing and injuring demonstrators, while the government accused protesters of damaging private property and outside forces, including Eritrea, of fueling the discontent. Amnesty International estimates that at least 800 people have been killed since the protests began, thousands have been detained, and authorities have cracked down on media freedom.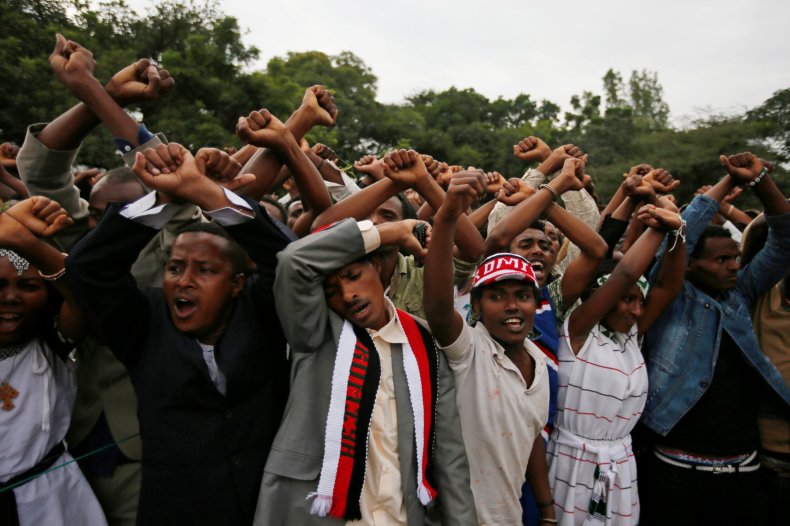 Ethiopian Prime Minister Hailemariam Desalegn imposed a six-month nationwide state of emergency on October 9, hoping to defuse the protest movement. The government has began releasing thousands of detained protesters, but this may simply be a way of papering over the cracks in the country. The ruling Ethiopian People's Revolutionary Democratic Front (EPRDF), in power since 1991, is dominated by the Tigrayan ethnic minority; Oromos and other ethnic groups have complained of being discriminated against and deprived of socioeconomic opportunities. The country's parliament is also 100 percent-controlled by the EPRDF and a coalition partner, leaving little room for opposition voices. The state of emergency may be simply a sticking plaster, rather than an antidote, for the country's problems.
Burundi's Increasing Isolation
A tiny, landlocked country with the lowest GDP per capita in the world, it'd be reasonable to think that Burundi would want all the friends it could get. But since President Pierre Nkurunziza's controversial decision in April 2015 to run for a third term in office, Burundi has increasingly withdrawn from international organizations and severed regional ties.
The country has rejected attempted interventions by the United Nations, including the sending of an almost-300 strong police force; the European Union has suspended aid worth 432 million euros ($451 million) over six years to the country; and Nkurunziza announced in October that he was pulling Burundi out of the International Criminal Court, despite the court's chief prosecutor Fatou Bensouda opening a preliminary investigation into the country's situation in April.
Closer to home, Burundi has consistently accused neighboring Rwanda of arming refugees—83,000 of the almost 330,000 Burundians who have fled the country have gone to Rwanda—in a bid to topple Nkurunziza. Rwanda has denied these allegations and expelled some Burundian refugees.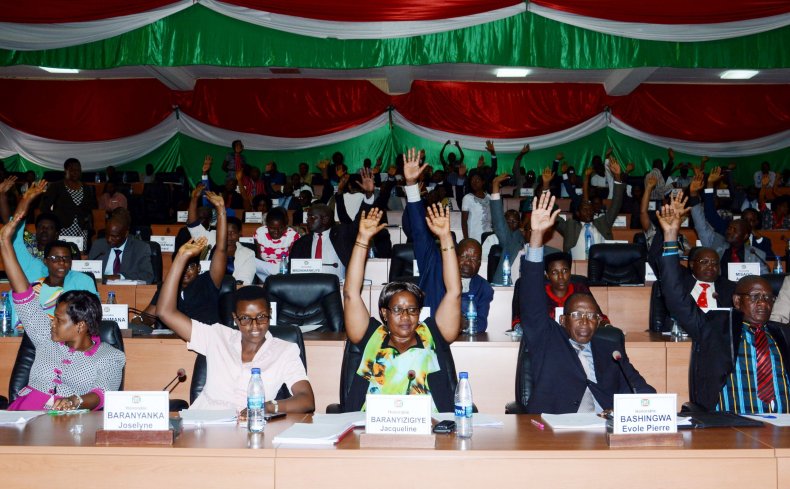 According to the United Nations, almost 500 people have been killed in clashes between security forces and anti-Nkurunziza protesters since April 2015. Burundi has been accused of muzzling its media and cracking down on free speech: pupils have been sent home from school for allegedly defacing pictures of Nkurunziza. The concern for Africa and the international community is, as Burundi withdraws further within itself, the conflict and human rights abuses may continue without any independent observers to record them.
Holding Things Together in Nigeria
Things are never quiet in Nigeria. But 2016 has been a busy year even by its hectic standards: the country has made huge gains in fighting Boko Haram, but a seemingly endless whack-a-mole of insurgencies and protest movements have arisen elsewhere.
Militants in the Niger Delta decimated oil production, a major factor that pushed the country into recession; government forces continued clashing with a Shiite group in northern Nigeria; roaming Fulani herdsmen have clashed with settled farmers in the Middle Belt; and separatists in the southeast kept up their campaign for an independent republic of Biafra.
At present, Muhammadu Buhari and his government seem to have a tentative grip on some of the crises. Nigeria's military is pressing into Boko Haram's dark heartland of the Sambisa Forest; the Niger Delta Avengers, the main aggressors in the oil-rich Delta, have not claimed an attack on oil pipelines since November. But there are still big challenges. Various states have banned the country's main Shiite group, the Islamic Movement in Nigeria (IMN), an action that could force it underground; and human rights groups have demanded investigations into the killing of pro-Biafra activists.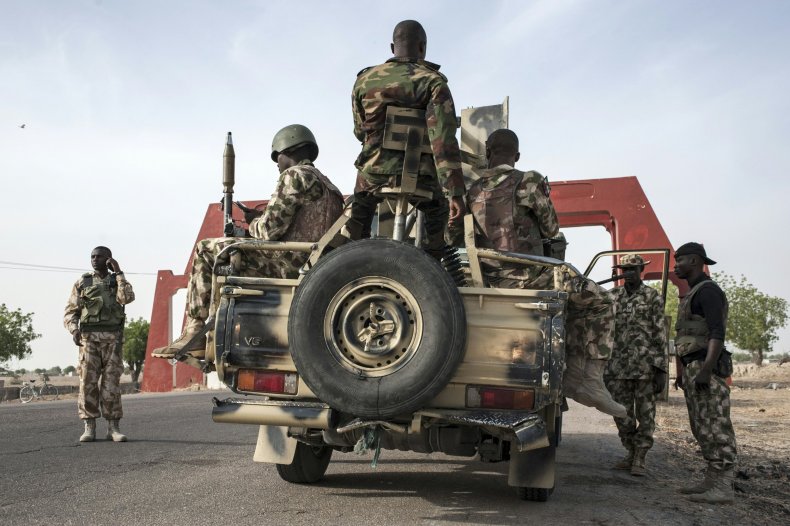 While one of the richest countries in Africa, its resources are also limited: the military has been stretched in recent months after having to deploy to the Niger Delta while keeping up the tempo against Boko Haram. One false move by the security forces—take the clashes with the IMN in December 2015, in which almost 350 people were killed—can open up a new frontier that may push the administration beyond its limits.
And in a country with a melting pot of often-competing ethnicities, religions and political groups, things can quickly fall apart.