Six Strange iPad Accessories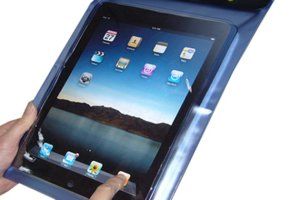 We've been here before: the period right after a major gadget is released when strange doodads—like an entire bed made to complement the iPod—start to pop up. Yeah, it sounds like interesting stuff, in the same way that non-prescription glasses seem "cool," but it's really just weird. (OK, and maybe a little funny.)
The latest accessory victim is none other than Apple's iPad. To be fair, there actually are some great gadgets to compliment it. Two very nice lists can be found here and here. And given the hype, it's not surprising that the iPad has picked up some kooky bedfellows since it was introduced into the market earlier this year. (Who doesn't want to get up close and personal with one of the world's most valuable technology companies?) But there is a line, people. When we start talking bacon-inspired or feminine pad–shaped anything, I like to think that line has been crossed. Don't believe me? Check out six of what are sure to be the first of many weird iPad accessories. And please, feel free to share others.
iMaxi
This one was a given. Part of the description on Etsy reads as follows: "With its durable vinyl outer layer and plush, quilted-cotton sleeve, the iMaxi helps keep your iPad clean and dry." And yes, it looks like it sounds. It even has wings.
iClothing
The line of iPad-compatible T shirts and even a little black dress is being touted as a way to "store your iPad on the go" with the added bonus of making it virtually undetectable. Um, news flash, when a 1.5-pound screen hangs from your chest like a Chihuahua in a baby sling, it's detectable.

Bacon Case
The makers of this case have already blessed the world with an iPod Shuffle and iPhone bacon case, so an iPad wrap was a "natural" progression. The handmade slab look-alike is also brought to you by Etsy. It really does look like bacon—and I love bacon— but unless you're some kind of grill master with a fetish, this seems gross.
SCOTTEVEST
Two words: Steve Wozniak. He sits on the board of advisers for this travel-clothing company and has even done a few Woz-i-sodes (I didn't make that up) to show off products like "the first jackets and vests with a pocket for the iPad." Yes, it's as embarrassing as it sounds.
iPad Suit
Already, it's a scandal-ridden piece of clothing. Mohan's Custom Tailor Shop in Manhattan began offering the suit with a pocket for the iPad, which royally pissed off Stephen Colbert who claims he created the swanky/overpriced outfit months ago. Actually, Colbert did wear his to the Grammy Awards. And sure, ignoring his contribution to men's fashion was probably a bad idea. But do you really want the credit? It's like taking that Chihuahua in a baby sling I was talking about and placing in front of your belly button. It's not a pretty look, Stephen. And don't lie, you're into pretty.
WaterGuard Waterproof Cover
The idea: the case is supposed "to guard against any wet environment that the iPad might be exposed to." The reality: the thing is an expensive Ziploc bag. In fact, you could do what Amazon founder Jeff Bezos does with his Kindle when he reads in the bathtub—stick it in an actual Ziploc bag. That way you're only out 20 cents as opposed to $20.
Six Strange iPad Accessories | Tech & Science