Six Teachers Suspended After Group Chat Leaks With Racial Slurs and Discussion of Students' Sex Lives
Six Alabama teachers have been suspended after group chats leaked in which they called students racial slurs, made transphobic remarks and speculated on their students' sex lives.
The teachers were employed by Ashford High School in Houston County. Houston County Superintendent David Sewell announced that an executive session would be held to "indirectly" discuss what to do about the suspensions at a regular school board meeting held on Monday, in order to protect the privacy of the teachers involved. He told the Associated Press that the teachers likely wouldn't be fired because of a lack of extant policy for such allegations.
"We have been in contact with attorneys on the local and state level," he said. "We continue to investigate." The Alabama State Department of Education confirmed to WDHN that they are looking into the situation.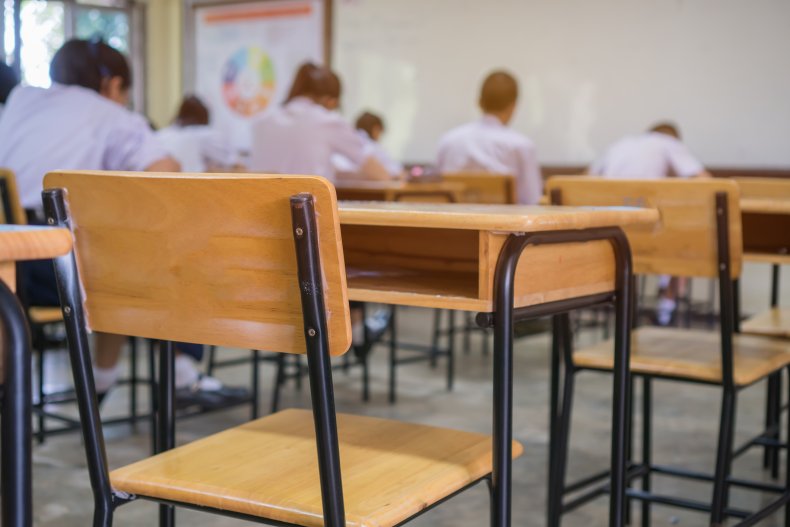 The group chat, entitled "Bad A B's," was accessed by a student and subsequently leaked on November 15. The student became privy to its existence when a teacher gave him her phone during school hours. The student captured the chat via video, and he sent to to several people. It eventually ended up on Facebook. A post featuring the video—and filled with comments from frustrated parents—has reached 5,000 views as of press time.
One of the leaked discussions allegedly included the teachers talking about the possible pregnancy of a student who was allegedly deemed "quiet" and "not smart" by the group.
"I guess she mime sex," one of them wrote.
Other students' sex lives were speculated about, including a former student, who was referred to by a racial slur. "[Student name] got 3 girls pregnant?!!?! That [n-word] so slow he can't walk and chew gum," another wrote.
Another teacher declared their desire to "b-slap" a person identified as another teacher by WTVY.
There were also transphobic messages in the group chat. The teenager spoken about in the chat, Kian Bradley, came forward and spoke to WDHN about how he felt about what was said about him.
"One teacher who was talking about me had mentioned my name, my legal name, and the name I go by at school and seemed like she didn't have too much respect for it. I've been scared, to say the least... I just wish people wouldn't focus so much on me being trans... I'm just a person, and I'm just trying to live."
The teachers involved in the message are being kept anonymous due to the legal grey area of how the text messages were released.
"There are a lot of gray areas when it comes to anything that takes place on a cellphone," Sewell told The Dothan Eagle. "I hate that it happened. We try to put policies and procedures in place to make sure things like this don't happen. We'll go back and try to reinforce."
Only one of the students, according to Blativity, has received an apology from one of the teachers.
"I don't like this school, period," said Preyun Wilson, a student at the school. "They racist, all of these folks racist."